Aix-en-Provence, a healthier market
Aix-en-Provence is the most attractive address in Provence. It offers a delightful lifestyle, and a property market which responds to the needs and requirements of the locally employed, transferees, retirees, investors and tourists in search of a pied-à-terre. Overview of a multifaceted market...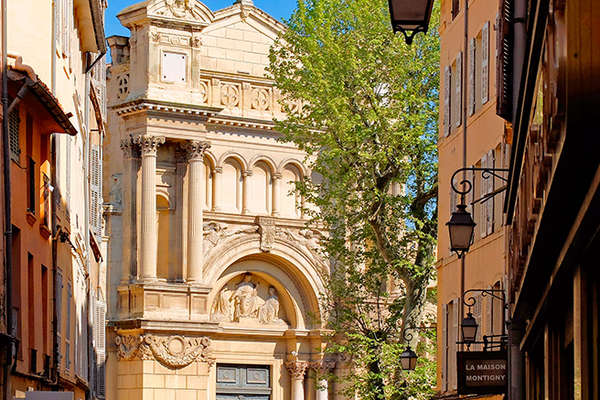 Surrounded by well-preserved countryside with numerous "bastides" offering Provençal charm, Aix-en-Provence with its little flowery squares, fountains and private mansions is the most highly coveted address in Provence.
Opened 10 years ago by two real-estate professionals, the Bec Capron agency is on the legendary Cours Mirabeau in Aix-en-Provence. Specializing in charming and prestigious properties in Provence, it offers many enviable homes within the town and on the outskirts in a radius of 20 km, in Puyricard, Le Tholonet, Eguilles, Les Pinchinats, Luynes and Saint-Marc-Jaumegarde. "The sales we handle mainly involve permanent homes for local retirees and clients from Paris and northern France," explains Michel Capron. "The most frequent budgets we see range from 1 to 1.5 million euros for houses, though sales over and above 2 million euros are not rare." With a budget of 1.2 million euros, buyers now benefit from an interesting choice of "mas", "bastides" and recent villas of 200 to 250 m2 in extensive grounds with swimming pools. "Some contemporary properties also attract this high-end clientele. We are currently offering a few villas designed by architects in Puyricard, Saint-Marc-Jaumegarde and Montaiguet, towards Meyreuil." The market seems to have regained a certain stability, thanks especially to sellers accepting estimates by experienced professionals more easily. "They have realised that they can no longer sell at unrealistic prices. When we propose a property at a price we consider fair, the sale usually goes through within 6 to 12 months. The market has become healthier." Very highly-prized, Puy­ricard, Le Tholonet, Les Pinchinats and Saint-Marc-Jaumegarde are up-market addresses in luxuriant surroundings. Families, on the other hand, are keen on the area south of Aix, especially Luynes which plays host to the IBS, a private international secondary school.
An independent family group founded in 1989, La Provençale recently inaugurated its 7th agency in Aix-en-Provence. Experts on the property market in the area around Aix and the Vallée de l'Arc, the agency's team handles all kinds of properties, sales, rentals and management. "40 % of our portfolio of properties in Aix is comprised of villas, 60 % apartments," says manager Pierre Blachère. "In Aix intra-muros, studios in good condition in acceptable neighbourhoods now sell from 100,000 to 120,000 €, and are mainly targeted by rental investors. The highest demand is for 1- and 2-bedroomed apartments. In this sector, supply is becoming rather tight, especially as 2017 was exceptional in terms of the number of transactions completed. Stocks are therefore pretty low." Previously often ignored as considered obsolete and energy-consuming, residences built in the 1950's, 1960's and1970's on the outskirts of the town now find favour among local families in search of large apartments. By way of example, Pierre Blachère mentions the recent sale of a 4-bedroomed apartment of 78 m2 in need of renovation, priced at 190,000 €, ie. about 2,500 € per sq.m. What about houses ? "Near Aix, in Luynes, Venelles, Eguilles or Les Milles, a terraced house with 4 main rooms, a garage, terrace and garden of 300 m2, will now be proposed from 380,000 to 450,000 €. A larger house with a garden of 700 m2 will fetch around 500,000 €." Pierre Blachère nevertheless stresses that availabilities are scarce and that in this sector a property in good condition and correctly estimated will sell within a week. Whence the importance of reacting immediately whenever a property crops up corresponding to one's needs.
You will also like