Aix, a multifaceted market
The appeal of the historic capital of Provence is constantly growing. Investors, retirees, foreign clients, local families, first-time buyers..., all in search of their ideal property. Agencies thus tend to specialize and fine-tune their targets in order to cater as efficiently as possible for a clientele with diverse budgets and needs.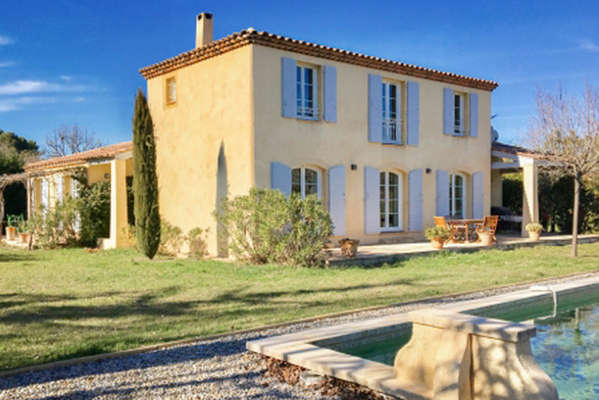 Located north of Aix, this country house of 180 m2 set in 4,000 m2 of grounds with a pool has just found a new owner. 910.000 €. Immobilière Saint-Jean (04 42 93 42 93).
Specializing in seasonal rentals in Aix-en-Provence for almost a decade, Kim and Léa Jolly have extended their activity by introducing a sales service in their agency, Aix City Apartments. "Our clients were asking us more and more frequently whether we could find properties for them to buy," explains Kim Jolly. "Setting up a sales department thus became inevitable. Our expertise in high-end seasonal rentals in fact enables us to offer a selection of handpicked properties meeting the precise requirements of investors who, as well as benefiting from their assets a few weeks a year, entrust them to us the rest of the year for the management of short-term rentals. However, we also propose properties more suitable as main residences, in particular houses on the outskirts of Aix." As an exemple of properties representative of the agency's "collection", she mentions a house with a parking place in the Mazarin neighbourhood. In a quiet spot and renovated in contemporary style, this property of approx. 200 m2 benefiting from two terraces is up for sale at around 2 M €. An exceptional example which is likely to capture the heart of more than one client. Another rare property, an old mill a few minutes from the centre of Aix, now comprised of seven apartments. The ideal solution for anyone wanting to embark on a self-catering rental activity, it is priced at 1,090,000 €. "Demand is very steady from investors looking for fast returns from rentals. Though we also present properties for the more usual type of budget. There is high demand for studios from 120,000 to 140,000 €, and apartments in desirable locations, such as a 2-bedroomed apartment refurbished as new, near Rue d'Italie, between Cours Mirabeau and the Mazarin neighbourhood, on offer at 370,000 €."
Based for 20 years in the centre of Aix-en-Provence, the Immobilière Saint-Jean agency handles a vast majority of transactions involving year-round residences in both the centre of Aix and the most sought-after areas north of the town : Puyricard, Eguilles, Venelles... "Our clientele mainly consists of retirees and locals aged 50 or more, wanting to settle in Aix. Demand remains high, and many clients are confronted by slim pickings if they are looking for properties within walking distance of the centre," explains Françoise Lebreton. Even if they need renovating, properties near the centre sell quickly and at prices close to the asking price. As demonstrated by an apartment of 70 m2 with a terrace and garage in the Allées Provençales neighbourhood. Even though it is in a noisy urban setting, it sold for 455,000 € within two days. Faced by these high prices, young first-time buyers with tighter budgets turn their attention to areas further out, such as Saint-Jérôme. Here, they can find apartments in 1960's residences at significantly lower prices. Françoise Lebreton has just handled the sale of one such example of 65 m2 priced at 185,000 € : ideal for a first acquisition.
You will also like