"Le Pays Cathare" : a region, a designation
In 1991, the General Council of L'Aude filed a patent to protect the brand name, emphasize the attributes offered by the "département" and provide its support for local producers. If the term now has a connotation more associated with tourism than history, the area's geographic particularities and cultural identity are clear to see.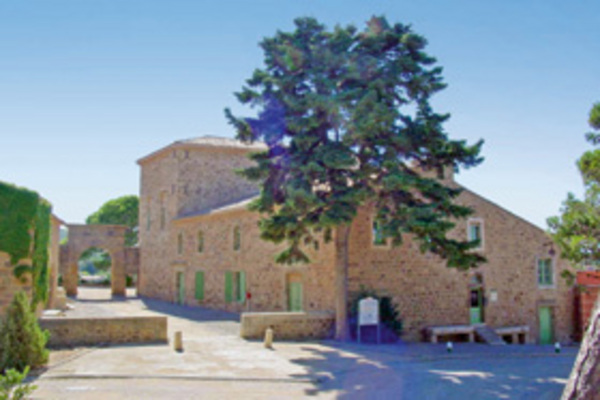 At the heart of Les Corbières, not far from Narbonne and the Mediterranean, this restored château built of exposed stone offers living space of 3,700 m2, which could be supplemented by a further 4,200 m2 with permit already approved, all set on 8.64 acres of wooded land. 2,4 M €. Must Propriétés (04 68 49 63 12).
In the 12th century A.D., a branch of Christianity began to spread through the south of France, on the fringes of Catholicism. Catharism extended to all four corners of Occitanie. Pope Innocent III soon ordered a crusade against the Albigensians. Some nine centuries later, the movement, still violently opposed, was seen as "one of the symbols of the tolerance, freedom and open-mindedness of Occitan culture"*. The extent of Cathare "contagion" spread well beyond the borders of "département 11" : nevertheless "the castles, abbeys and museums which make up the rich heritage of L'Aude are both witnesses to, and story-tellers of, these events"*. It was with this in mind that the "Pays Cathar" label came into being.
"Lézignan, the only motorway exit between Narbonne and Carcassonne, is booming : many companies are moving in, a second intermediate school is in the pipeline, large retailers are reserving sites. Moreover, prices are tending to stabilize in an upward direction," says Olivier Alteresco of the Lezimmo agency. The locality holds a highly popular market and offers a very pleasant setting for year-round living. The locals pay 120,000 to 170,000 € for village houses with terraces and garages. Baby-boomers from all over France spend on average 200,000 € for villas of 90-100 m2 with gardens of 350-500 m2. Once you aim for living space of 150 m2 in grounds of 1,500-2,000 m2, you can expect to pay from 300,000 to 450,000 €.
Nadège Sarda of Sélection Sud is fully convinced of the positive effects brought by the "Pays Cathare Sud de France" label : to explain the dynamism observed in Lézignan, she does, however, mention a combination of several factors, including the mild climate and good value for money. A criterion which is even more significant since L'Aude boasts a Mediterranean coastline. Nadège points to strong demand on the part of first-time buyers from within the region, keen to pay 80,000 to 130,000 € for a house in need of refurbishment with an outdoor area, a market segment meeting stiff competition from new developments. With the same budgets, other clients opt for building plots costing around 50,000 €. Periodically, senior citizens and workers looking for a fundamental change in their lives, mostly from northern France, the Ile-de-France and the Rhône-Alpes region, acquire villas ranging from 170,000 to 300,000 €, depending on their quality. Very often, these clients pay cash. Our estate-agent estimates a total of 75 transactions per month within this "community of communes", which is constantly working to promote its image : current projects include golf-courses and a sky-diving centre.
"Le Minervois, to the east, has one particular asset in the form of the Canal du Midi, much to the taste of Belgian owners of holiday homes," continues Olivier Alteresco. Village houses with terraces or gardens cost from 120,000 to 150,000 €, villas from 180,000 to 270,000 €. One property with 9 main rooms is currently on offer at 540,000 €, very close to the canal. Building land is available from 90 to 120 €/m2. The region in immediate proximity to Lézignan on the Corbières side is the most sought-after area in this undulating Massif, dotted with Cathar castles. Prices naturally rise the closer one gets to Narbonne. Saint-André-de-Roquelongue is also highly-prized.
"Sharing a border with L'Hérault, Le Minervois is traditionally more expensive than Les Corbières," says Harry Goossens of the agency Les Oliviers, originally from the Netherlands. "Fans of authentic old buildings head for Les Hautes Corbières with its wild scenery, off the beaten track when it comes to pools of employment, shops and services." For equivalent properties, this area in fact posts prices 20 % lower than those within the first belt around Narbonne : financial appeal cannot, however, be the only motivation for these buyers who have to put up with a 40-minute drive to urban areas. By way of example, a property composed of three villas (two rented out to paying guests), grounds of 6,000 m2, a swimming pool, garage and about 5.68 acres of non-adjacent woodland is priced at about 469,000 €. Foreigners from the Netherlands, Belgium, England, Ireland and Scandinavia are particularly fond of ancient stones and their history, and are willing to pay from 100,000 to 500,000 €. Among his most recent sales, Harry Goossens mentions a partly renovated village house of 180 m2 with a garden and garage, sold for 140,000 €, and another of 80 m2 in the countryside, with a farm shed and almost 7.5 acres of land, acquired as a holiday home for a very reasonable 100,000 € by a client from Montpellier.
"The mountain range of Les Corbières, which rises to an altitude of 1,231 metres, is rather like Tuscany with a skein of the feudal history of France wafting in the background," say Laura and Jean-François Mondié of Must Propriétés. Recently, the agency handled the sale of the Château du Puichéric, listed as a national historic monument and surrounded by 11th-C. ramparts, with a 13th-C. tower and Renaissance courtyard : living space of 600 m2 in need of renovation, facing Le Mont Almaric and Les Corbières, 11 km from Lézignan. Currently on its files : a 16th-C. stone castle of 3,700 m2, already rehabilitated, on almost 8.65 acres of land overlooking the valley, offered at 2.4 million euros ; a fully restored 18th-C. property of 350 m2 on 54.35 acres of rolling land including 22.23 acres of AOC Corbières vines, pegged at 1,150,000 € ; and a renovated château of 900 m2 with luxurious appointments in 4,500 m2 of grounds, at 1,415,000 €. These types of properties are of interest to an international client-
ele, usually attracted by the idea of providing tourist accommodation. Finally, the region also proposes opportunities for occasional residents, such as an 1800's tile factory of 230 m2, built of stone, on the banks of a river and surrounded by hills, asking price 319,000 €.
*Source : Association des Sites du Pays Cathare
You will also like