Villeneuve-lez-Avignon and Les Angles
Set on a plateau overlooking the Rhône, facing the widely apprec­iated town of Avignon, these communes with 12,100 and 7,750 residents respectively propose a delightful and practical setting only 500 metres from the bustling town across the Daladier bridge.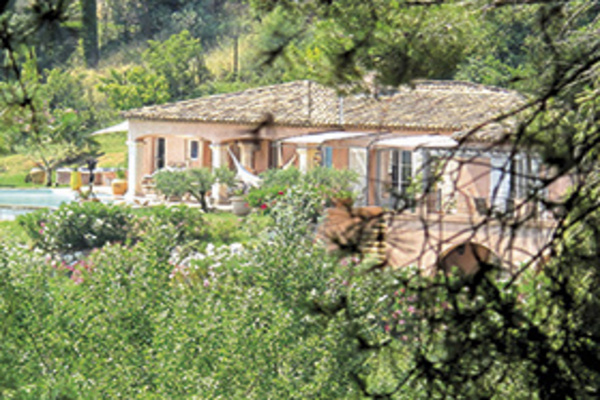 On the hills of Villeneuve, this 5-bedroomed property of 300 m2 stands in grounds of 2,000 m2, benefiting from a pool. 1.290.000 €. L'Immo du Particulier (04 90 86 42 53).
From Villeneuve-lez-Avignon and Les Angles, one can easily reach main roads, the Popes' City and the TGV station, widely used by people coming on holiday from the region around Paris. Their reputations are long-established : both employees transferred to the region and people looking for second homes target these addresses. Part of the "Communauté d'Agglomération du Grand Avignon", Villeneuve boasts a sumptuous historic heritage. As exemplified by the Philippe le Bel Tower, Pierre de Luxembourg Museum, Church of Notre-Dame, Fort Saint-André and Chartreuse du Val de Bénédiction. The plain of L'Abbaye, the hill of Les Mourgues and the old heart of town, all listed sites, are as highly-prized as the wooded areas. A secondary school, clinic, swimming pool and riding club are much appreciated by families. The proof of Villeneuve's popularity lies in the fact that its population has risen by over 20 % over the past 15 years. Les Angles is double-facetted, with old and modern parts ; it also hosts an activity zone. Both residents and visitors appreciate the Parc du Soleil and Parc du Cosmos, the artists' and botanical pathways.
"The fondness felt by Villeneuve's residents for the address is as deeply anchored as that of Neuilly," say Sophie Paris and Luc Boissel of L'Immo du Particulier. "Even former racing car driver Jean Alesi is said to have fallen for its charm and peacefulness." The centre of Les Angles is more restricted. Undergoing extensive development, this commune offers two main aspects : really old buildings and more recent accommodation. Overall, prices are slightly lower than those posted in the neighbouring town. One of the most recent transactions orchestrated by our estate-agents is rather typical : a self-employed professional paid 470,000 € for a house of 230 m2 in need of a revamp, in grounds of 1,700 m2 over towards Villeneuve. A couple of employees transferred to the region then paid 260,000 for an apartment of 82 m2 extended by a terrace, in Les Angles. Here, 70 % of sales concern apartments in recent, comfortable res­idence, sometimes benefiting from a pool. In Villeneuve, on the other hand, 90 % of the sales are for individual houses.
"Of the last ten sales handled by Guy Hoquet Villeneuve-lez-Avignon, eight ranged from 175,000 to 300,000 €, two from 450,000 to 630,000 €, the budget required for a villa of 170 m2 in perfect condition, with a garden of 1,400 m2, in Rochefort-du-Gard," says Laurent Mottet, who is optim­istic for 2013. Rare and expensive, building land is nevertheless in steady demand. Recently, a non-serviced plot of 1,050 m2 with a construction ratio of 0.3, just 10 minutes from the historic centre of Villeneuve, found a taker at 125,000 €. Another of 2,000 m2 with the same construction ratio, this time "in situ", sold for 480,000 €, a price justified by the magnificent view of the Fort Saint-André, Mount Ventoux and the plain of L'Abbaye. First-time buyers also show an interest in building plots. With total budgets of 220,000 €, they don't mind a 15-20 minute drive. All categories combined, demand is very steady, the general context affecting the buyer profile more than the market itself. Some clients search for bargains. By way of example, the owner of a villa for sale at 735,000 € has just been offered 500,000 €. Laurent Mottet says he has received about fifteen offers of this kind over the past few weeks. Villeneuve and Les Angles are, however, blue-chip addresses. One can possibly obtain a reduction, together with low mortgage rates, but not slashed prices of 20-30 %.
The last Christmas holidays were especially busy for Lucie Clap of Côté Sud Côté Rêve. Three couples of seniors from Paris, looking for homes in which to retire, visited a villa of 350 m2 in grounds of 2,300 m2, opening out to Mount Ventoux and the Chartreuse de Villeneuve, priced at 1,390,000 €, and an 18th-century townhouse of 300 m2, rehabilitated throughout, with a courtyard, solarium, pond and garage, at 980,000 €. This level of prices is still seeing demand, according to our estate-agent, whereas the bracket from 400,000 to 600,000 € is apparently harder to shift. 70 % of Lucie Clap's clients come from the region around Paris, senior citizens or people working from home, drawn by the proximity of the TGV station and the varied array of cultural events in Avignon. Some prefer the area to the Alpilles or the Luberon, less lively in winter. They often hesitate between being inside the city walls and the chic and countrified suburbs. Except that on the inside of the ramparts, the tiniest outdoor area is worth its weight in gold. One seller, for example, is asking 1,150,000 € for a townhouse of 270 m2 with a terrace of 500 m2, a pool and garage, ie. 20 % more than in Villeneuve or Les Angles. Old stone still has its fans, bright and practical contemporary homes too. Only compromises between the two, often old-fashioned, are hard to sell.
You will also like