Vannes : between land and sea
Nestling in the Gulf of Morbihan, Vannes is both on the seafront and inland. Relatively high, though declining over the past few years, its property prices now appear to have stabilized.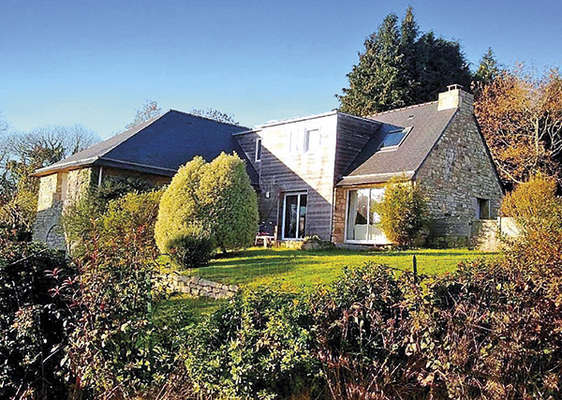 5 minutes from Vannes, this house designed by an architect offers living space of 200 m2 in 1,000 m2 of grounds. 367.500 €. Jego Immobilier (02 97 01 31 32).
The fifth largest town in Brittany with almost 55,000 inhabitants, Vannes is a lively economic and tourist centre with a full array of amenities : to begin with, the prefecture of Le Morbihan benefits from the A82 motorway, placing it 1 hr 15 minutes from Quimper, 1 hr 20 from Rennes or Nantes, and less than 2 hrs from Brest. The agglomeration also benefits from the TGV Atlantique taking passengers to Paris in only 3 hours, and the presence of an airport on the neighbouring commune of Monterblanc. The "Vannetais" also dispose of 33 nursery, primary and elementary schools, seven intermediate schools, eight secondary schools (public and priv­ate), and a number of establishments dispensing higher education (faculties, IUT, preparatory classes, engineering college...). Not forgetting the Bretagne Atlantique Hospital Centre, as well as several clinics. Finally, in terms of heritage, Vannes certainly can't complain : the "Cité des Vénètes" (from the time of the Gauls) boasts over 270 listed monuments, including the Saint-Pierre Cathedral and the ancient ramparts around the Old Town.
Esther Deboulet, manageress of Jego Immobilier, an agency based in Séné (a commune next door to Vannes), describes a property market comprised of several micro-markets whose prices per sq. metre are fairly easy to define. For example, in the case of apartments in old buildings, prices start at 1,700 €/m2 in the Pompidou neighbourhood, attaining almost 3,500 €/m2 in those of La Madeleine and Albert Ier. "In new residences, the price per sq. metre is around 2,700 €, whatever the neighbourhood." In the case of houses, it is harder to determine the price per sq. metre. She nevertheless adds that "houses in Vannes sell on average from 250,000 to 290,000 €". In her opinion, these prices reflect a decline caused in part­icular to "closer attention paid by buyers to energy performance, which has resulted in tougher bargaining".
Charlotte Germain Le Doré, manageress of the Avis Immobilier agency right at the heart of Vannes, confirms this trend : "The local property market, especially for older homes, has been affected by the crunch. Today, however, prices have stabilized. Clients now buy homes for their own use rather than for speculative purposes. The acquis­ition process has been more or less rationalized". Her clients are mainly young executives with children, disposing of budgets ranging from 220,000 to 320,000 €. "Though we also receive enquiries from three kinds of investors : those wanting to build a portfolio of assets, young first-time buyers motivated by profitability, and others looking forward to retirement." Specializing in building land, Charlotte Germain Le Doré mentions a wide difference in prices between Vannes and its periphery : "In town, a building plot of about 500 m2 is worth 250,000 €, versus 150,000 to 200,000 € in the surrounding areas".
You will also like