The west side of Le Tarn : quiet and affordable
Rural, boasting a rich heritage, the western part of Le Tarn offers living conditions that are highly appreciable in close proximity to the lively agglomeration of Toulouse. And its property prices are much more affordable than those in La Haute-Garonne.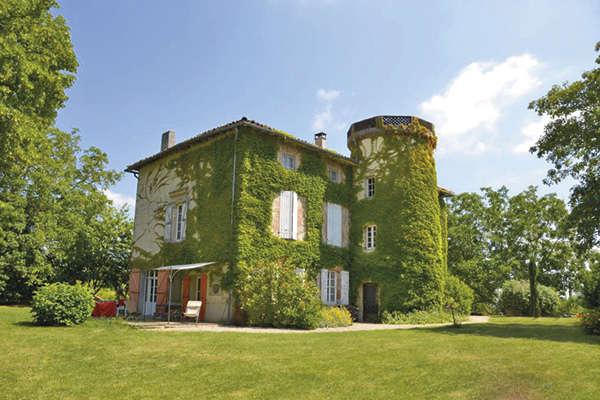 This residence on the hills of Lavaur offers living space of approx. 390 m2 in 4,500 m2 of grounds. 549.000 €. Immobilier Chavanne (05 63 58 36 92).
Thought to be one of the first Albigensian "bastides" (fortified towns built in the 13th century), Saint-Sulpice-la-Pointe is today a pleasant commune with over 8,000 residents to the extreme west of Le Tarn, bordering on the département of La Haute-Garonne. Its closeness to Toulouse, hardly 32 km away and reached in only 25 minutes on the A68, makes it a very appealing fall-back area. "Furthermore, a new interchange giving access to a future commercial activity zone is soon to be built, which will bring us even closer to Toulouse and really integrate Saint-Sulpice into its greater urban area," says Barbara Chabrol, manageress of Belvia Immobilier, an agency based in the centre of Saint-Sulpice since 2008. Prices here are already more attractive than in the Rose City : "A house of 100 m2 with a garden of 600 to 800 m2 sells here for about 200,000 €, a property of higher quality for 250,000 €". As for apartments, a 1-bedroomed example recently sold for 90,000 €, while building plots of 1,000 m2 can also be found at about the same price. Prices "now relatively stable", which draw "first-time buyers who can't afford homes in Toulouse or executives living in the city but looking for quiet, leafy surroundings".
This same clientele also contacts Marie-Céline Chavanne, manageress of Immobilier Chavanne, with two agencies in Lavaur (opened in 1994) and Saint-Sulpice-la-Pointe (2012), specializing in high-end properties : "Clients focusing on Saint-Sulpice are mostly first-time buyers who go from renting homes in the centre of Toulouse to becoming home-owners for the same monthly budget. In Lavaur (15 km from Saint-Sulpice), buyers tend more to be middle-managers and self-employed professionals. We recently sold a 1-bedroomed apartment with a terrace there for 99,000 €, a house of 130 m2 for 232,000 €, a farmhouse of 330 m2 for 445,000 €, and a building plot of 600 m2 for 60,000 €". The price per sq. metre for land in Lavaur is in fact about 100 € for small surface areas. "Though the larger the plot, the lower the price per sqm, as in the case of a lot of 1,500 m2 which sold for 92,000 €, ie. about 60 € per sqm." In Saint-Sulpice, the agency's recent transactions include a house of 115 m2 priced at 248,000 €, and another farmhouse - "a recurrent request" - of 280 m2, priced at 475,000 €. "Prices are now holding pretty steady, except for contemporary or semi-contemporary houses built from the 1980's to today : their prices are declining because there are too many of them on the market," says Marie-Céline Chavanne, 10 % of whose clients are foreigners.
Marie-Clotilde Pontault who runs AG3 Immobilier, an agency opened in 2005 specializing in old properties of character in the country, covers the north-western part of Le Tarn, and more specifically the "Golden Triangle" formed by Gaillac, Cordes-sur-Ciel and Albi, thanks to branches based in all these three towns. Gaillac is particularly renowned for its wine and architectural heritage, Cordes-sur-Ciel for its well-preserved historic centre, while Albi boasts an episcopal city listed as part of UNESCO's World Heritage. "In our area, you can still find houses built of white stone, highly sought-after, most of them proposed from 150,000 to 350,000 €. Overall, however, offerings are very wide, ranging from houses or barns to restore priced between 50,000 and 60,000 €, to properties of over 300 m2 which can exceed 1.5 million euros." By way of example, the agency's most recently sold properties include a stone house of 250 m2 near Cordes-sur-Ciel, partly dating back to the 13th century, in grounds of 2,680 m2, priced at 217,000 €, and a house in Albi of 185 m2 with lots of character in 2,200 m2 of grounds, at 455,000 €. These prices automatically include some bargaining. "Unless the estimate was established by the agency, in which case the sale is usually completed at the price originally posted." What about building land ? "Increasingly rare, building plots on estates sell for 80 to 100 € per sqm." Clients contacting Marie-Clotilde Pontault's agencies have two different profiles : those looking for recent properties all on one floor, near the town centres of Gaillac, Albi or Lavaur and their shops, and those focusing on charming houses in the countryside, who set their hearts on a property with old features such as Provençal floor tiles, exposed beams and stone walls. "Their surroundings are often very rural ; some properties can be in the midst of parks extending to several acres."
You will also like