The Tarentaise valley, an uneven balance sheet
Lying in the upper reaches of L'Isere, this province forming part of Savoy boasts some of the most renowned skiing domains in Europe. With homes ranging from 1,500 €/m2 in villages down in the plain to 30,000 €/m2 for luxury apartments in Courchevel 1850, the site is characterized by incredible disparities in prices. Similarly, some municipalities are thriving again, while others are still reeling from the blow...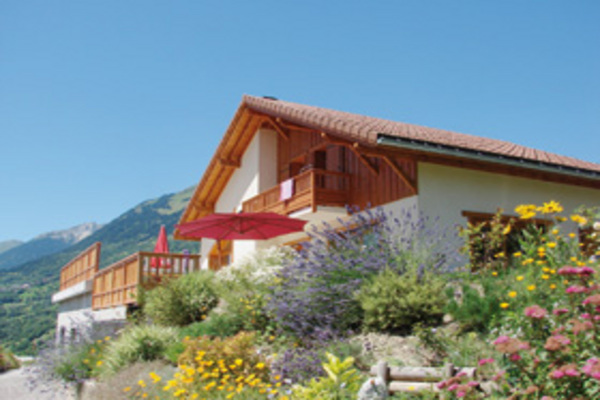 At La Côte d'Aime, this recent house of 140 m2 (four bedrooms) offers quality appointments and grounds of 1,320 m2. Possibility of creating a self-contained apartment. 520.000 €. Urbania Gacon Immobilier (04 79 04 05 47).
This Land of Art and History owes its reputation more to its winter sports resorts than the countless Baroque churches dotted around its scenery. Thirty kilometres away, Moûtiers and Albertville, respectively the capital and the gateway to the Tarentaise valley, are trying to content themselves with the knock-on effect of the market up in the mountains, rather meager since the crisis was announced in October 2008. With 7,650 inhabitants, Bourg-Saint-Maurice is getting by thanks to the TGV station and funicular railway linking it to Les Arcs and the 425 km of slopes at Paradiski. Perched at an altitude of 840 metres, it has a majority of individual homes that rub shoulders with a considerable offering of rented accommodation and holiday homes. The town turned naturally towards tourism at the end of the Second World War. Over the medium term, it will have to face the challenge of handling the transfer, to the benefit of Varces, of the barracks of the 7th BCA, to be replaced by the National Centre for High Level Skiing. For now, the unemployment rate is well below the national average, youngsters stay in school to "lycée" level, and the shops reflect a pleasing diversity. Bozel, with just over 2,000 inhabitants, benefits from its position on a sunny slope at the foot of the Trois Vallées. In the centre, shops, administrative offices and a craft zone are all very active. The skiing domain is composed of Courchevel, Méribel, Val-Thorens, Mottaret, Saint-Bon, Le Praz, La Tania, Les Ménuires and Saint-Martin-de-Belleville, all enjoying reputations extending far beyond European borders. Six km south-east of Moûtiers and 13 km north of Méribel, Brides has a dual role : equally at ease in the treatment of obesity, thanks to its cures, as in its skiing facilities since inauguration of the Olympe cable-car reaching Méribel in just 20 minutes, it collects its fans from among the stars.
"The average price per sq. metre attains 2,700 € for old buildings in Bourg, 3,300 € for new developments, while Savoyard-style homes range from 300,000 to 500,000 €," says Dominique Rivemalle of Urbania Gacon Immobilier. Struggling with ups and downs in activity, this estate agent admits that signs of a real recovery are thin on the ground. The majority of buyers can afford 150,000 € for year-round accommodation while occasional residents are less numerous than in the past. Prices have already fallen by 15-20 %, whereas a good drop of 20-30 % might have helped to boost demand. In Tignes, with prices of 4,200-4,400 €/m2, and Les Arcs 2000, at around 2,000 €/m2, budgets are more modest and buyers more affluent ; parameters that allow for greater elasticity.
Sarah Denney of RMP Immobilier remains optimistic : "The popularity of Courchevel inevitably rubs off on Bozel. People employed in this national treasure find homes here that are both pleasant and affordable, compared to on-site". Apartments cost from 2,000 to 4,000 €/m2, a village house of 80 m2 with a terrace or garden facing the peaks from 200,000 €, and a chalet from 450,000 to 850,000 €, the latter bringing living space of 130 to 250 m2 and a garden, with or without a pool. This in fact means that clients pay 150,000 € for an apartment with 2/3 main rooms, 120,000 € for a barn of 100 m2 in need of renovation. As long as prices have been correctly estimated, all sectors of the market are equally active. For holiday homes, a sector accounting for about 30 % of all transactions, budgets range from 200,000 to 400,000 €. Sarah Denney gives two examples of recent sales : a house of about 140 m2 without a garden for 220,000 €, and a property of the same size with quality appointments, opening out to a park and sold for 335,000 €. Both are situated in Villarnard and were acquired respectively by Belgian and British clients in search of authenticity.
"Brides is doing better today than in 2006. The only effect of the crisis has been a change in behaviour : eight out of every ten clients now pay cash," comments Maurice Marion of Brides Immobilier. These buyers are all looking for a pied-à-terre for holiday use. If the French opt to buy, the English and Russians take winter rentals by storm, readily vacating them for French visitors taking cures in the low season. Considered an excellent reserve asset, the spa town in fact offers a gross return of 7-8 %. Demand always outstrips the number of properties on the files, so prices remain stable. Apartments are pegged from 3,000 to 4,000 €/m2. A desirable house of 180 m2 with a garden of 600 m2 costs around 450,000 €, ie. 2,700 €/m2. Here in Brides, all the various categories are doing well. Studios, for example, sell in just three weeks. In Courchevel, mid-range properties, ie. those in the bracket 7,000 to 8,000 €/m2 at 1650, or 8,000 to 12,000 €/m2 at 1850, are struggling, unlike the top-of-the-range. At the other end of the scale, properties over 120,000 € in Albertville or Moûtiers are hard to move.
You will also like