The rising popularity of Hossegor
A seaside resort on the Côte d'Argent well-known among surfing fans well beyond the borders of France, Hossegor enjoys an image both sporty and elegant. Since 2016, its lively property market has continued to thrive. Buyers now have to be patient, as homes of quality are becoming increasingly rare.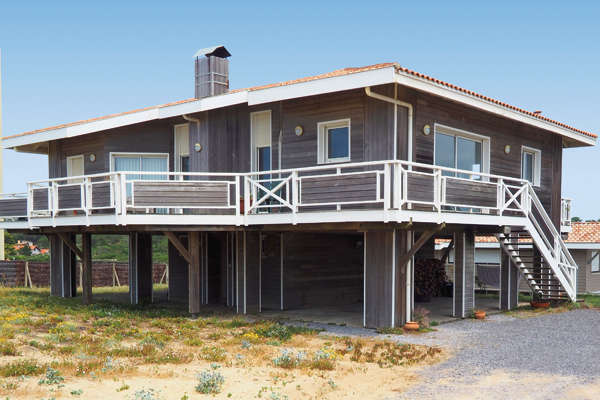 Facing the wild coast, this timberframe villa of 180 m2 designed by an architect enjoys a wonderful view of the ocean. It offers 4 bedrooms including a master suite. 1.050.000 €. Ateliers Lofts & Associés. (05 59 24 67 48).
Between the forest of the Landes and the shores of the Atlantic Ocean, Hossegor benefits from an excellent reputation. It is popular for its casual life-style which attains its peak in the summer season when surf enthusiasts rub shoulders with fans of golf. Launched in the early 20th century, Hossegor began to draw a well-off clientele, mostly from intellectual circles in Paris. From the 1920's, property developments accompanied its expansion as a tourist destination. While the neo-Basque style is the most widely represented, a high level of architectural freedom characterizes its living accommodation. Many contemporary properties of Californian inspiration add a touch of international charm to the resort, whose real-estate market mainly consists of second residences posting prices from 4,000 to 10,000 € per sq. metre.
"Hossegor offers three privileged neighbourhoods. The uppercrust area between lake and sea which hosts villas with generous living space, often exceeding 200 m2. Neighbourhoods near the golf-course and lake are also sought-after, together with Super Hossegor, nestling on the hills, where houses enjoy plunging views of the lake and ocean," explains Julie Lamboley of Ateliers Lofts & Associés, an agency based in Biarritz proposing a collection of contemporary or rehabilitated properties, as well as remarkable homes designed by architects. "We are currently offering a house of 256 m2 for sale, designed by an architect, in the hyper-centre. Its classic Basco-Landaise frontage hides a residence which is extraordinary for its very high level of appointments. Light and airy, it is comprised of a reception area of 127 m2 opening out to terraces and a garden of 1,700 m2. Luxuriously equipped and boasting last-generation home automation, this holiday home ideal for a family is on offer at 2.2 million euros."
"Since 2016, the market has continued to show growing buoyancy," says Serge Pilke, manager of the Terres et Océan agency specializing in high-end properties. As witnessed by numerous transactions underway, involving properties priced from 1 to 2 million euros. "Buyers are very keen to carry their plans through as quickly as possible. The only fly in the ointment is declining availabilities due to sustained demand over the past few months. Activity normally slows down in the winter, which has not been the case this year. Neither the low season nor the pre-election period have had any impact on our activity. We are getting lots of enquiries and transactions are going through at a lively rate." By way of example, Serge Pilke mentions one of his clients, a retired doctor from the Toulouse region, who has just acquired a villa of 220 m2 built in the 1980's and renovated in 2012. In a quiet residential area 2.5 km from the town centre, this property benefiting from a large basement and set in grounds of approx. 1,500 m2 with a pool sold within about 4 months, at the asking price, ie. 1.1 million euros. "Demand is very strong for this type of property. Clients with budgets ranging from 800,000 to 1.3 million euros are the most active in the area. Ideally, they are looking for a house allowing for a pleasant life-style with everything within walking or biking distance. When sellers follow estate-agents' estimates, the average time it takes to sell is now under six months."
You will also like