The property market on the banks of the Rance
A peaceful and and protected area comprised of luxuriant little bays invaded by the sea, Les Bords de Rance are home to pleasant fishing villages that are sometimes listed, full of stone houses offering lots of character. Not forgetting the remarkable medieval town of Dinan...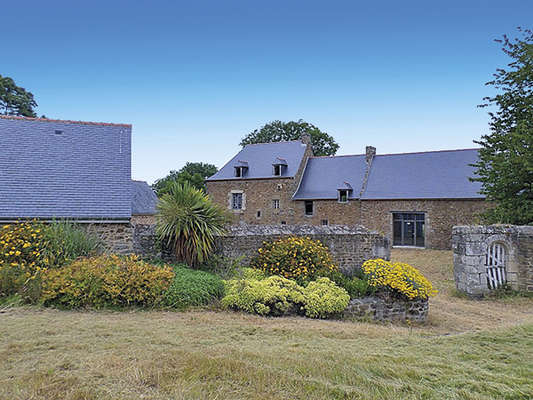 Just 5 minutes from Dinan, this 16th-C. property offers the possibility of a home of 300 m2 plus 4 "gîtes" for paying guests, on almost 7.5 acres of land. Plus de 1 M €. Guy Hoquet L'Immobilier (02 96 87 54 54).
After working for 11 years in a large agency in the centre of Dinan, Martine Tesnière and Jeanne-Elisabeth Daugan launched Armor Invest Immo in 2010 in La Vicomté-sur-Rance (10 minutes north-east of Dinan), with the aim of specializing in the Rance estuary as far as Saint Malo and Dinard on the coast : "The region offers sumptuous living conditions between towns, sea and the countryside. Its addresses include some of the loveliest villages in France - Taden and Saint-Suliac -, while its varied landscapes and reliefs, its many activities - hiking, sailing, fishing - make it an area more highly-prized than ever before". As for its property prices, they are more affordable than those on the coast, making Les Bords de Rance an attractive fall-back area : "For apartments, they range from studios at 30,000 € to low-energy lofts in the hyper-centre of Dinan at 320,000 €. For houses, the starting-price is 45,000 €, rising to 700,000 € for a restored property benefiting from extensive grounds and a magnificent view of the river". The market is in fact tending to stabilize. "We recently completed several transactions at the prices posted, though the trend is still favourable for buyers : it is thus definitely the right time to buy". The agency is contacted by first-time buyers as well as rental investors and people looking for holiday homes with lots of charm (from Paris, Rennes, the UK...).
Based in Dinan since 2004, William Pillons, manager of Guy Hoquet L'Immobilier, describes offerings ranging from typical stone houses to desirable properties, but also building plots and suburban "pavillons" on estates : "Small fishermen's houses with 2 or 3 bedrooms, very highly sought-after, are often terraced, thus creating small hamlets. Some are incredibly stylish. For example, we are currently proposing one such house of 100 m2 in Plouër-sur-Rance (three bedrooms), in good condition, with a garden of 400 m2, priced at 165,000 €". Other homes in high demand are houses on estates. "Ready to move in, easier to maintain and much more efficient in terms of energy performance, they are to be found on communes where urban development is more widely developed." On an estate in Langrolay-sur-Rance, a home of 110 m2 (four bedrooms) with a garden of over 830 m2 is up for sale at 210,000 €. "This type of housing is intended more for clients looking for year-round homes, whereas stone houses are more suited to those looking for second resid­ences," explains William Pillons. Then come residences of character, manors and groups of houses with outbuildings : "Priced from 800,000 to 1 million euros, these outstanding properties benefit from spacious interiors and extensive grounds, as illustrated by a 16th-C. manor house of 800 m2 (25 main rooms) in Saint-Hélen, set in a 7.5-acre park with a view of the Rance, currently up for sale at about 1 million euros". Finally, on the subject of building land, about 30 serviced plots of 450 to 500 m2 just 5 minutes from the banks of the river are available from 75 to 85 € per sq. metre. Prices that William Pillons sees as stab­ilizing after several years of decline. "They have become more consistent with the market."
Stéphane Besrest, a native of Dinan and manager of Avis Immobilier, an agency founded in Dinan in 2006 covering an area of up to 20 minutes around the town (sales, rentals, property management and commercial premises), confirms this newly-found balance in prices : "A stone house of 100 m2 in Langrolay-sur-Rance with a garden of 500 m2 was up for sale at 180,000 € for an entire year. We recently sold it for 120,000 € in just one week. So it's now essential to get the price right. Sellers have to adapt as closely as possible to buyers' capabilities if they are hoping for reasonable completion times". Another example : a house of 150 m2, also in Langrolay, in grounds of 1,200 m2 with a glimpse of the Rance and within walking distance of the river. "After receiving no offers over the past two years because its price was over-estimated, we just found a buyer for it in just 24 hours at 192,000 €." Some localites are, however, less affected than others : "North of Dinan, in Taden or Saint-Samson-sur-Rance, prices are seeing fewer downside adjustments than in Plouër-sur-Rance or Langrolay - further north. Similarly, prices of stone properties are generally more stable than those of houses built from the 1960's to 1980's, or high-end properties". As for sales volumes, Stéphane Besrest maintains that : "Les Bords de Rance still arouse just as much curiosity, especially as compared to Dinard and Saint-Malo".
You will also like