The property market north of the agglomeration of Nantes
Despite the dense urbanization north of Nantes, communes in this part of the agglomeration have managed to preserve a supply of detached homes globally equiv­alent to that of apartments. An area particularly prized by young executives.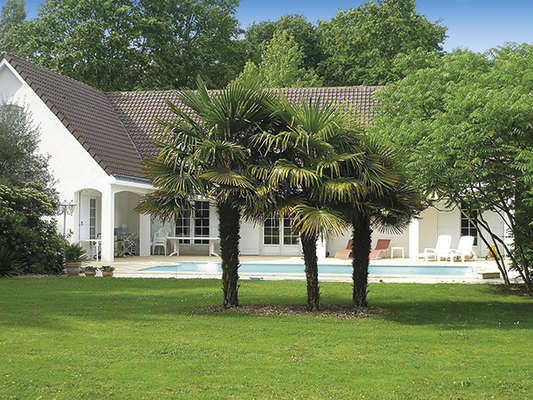 In Orvault, this property of 290 m2 is set in a park of 5,400 m2 with a pool. 700.000 €. AJP Immobilier (02 40 40 47 40 / 02 40 14 32 32).
Benefitting from the cultural and economic liveliness of Nantes, Saint-Herblain, Sautron, Orvault, La Chapelle-sur-Erdre, Carquefou and Treillières prop­ose a quieter lifestyle amidst airy urban development. While high-rise construction is here undergoing extensive development, one can still find to the north of Nantes as many houses as apartments, sometimes more "pavillons" depending on addresses.
"There are considerable differences in prices in these communes, explained by their proximity to the ring-road around Nantes, a site "intramuros", or the existence of bus and tram lines," says Joan Saint-André, manager of the Grand Nantes subsidiary of AJP Immobilier (responsible for five agencies in Nantes and its agglomeration), a network launched 15 years ago, now with about 42 agencies covering the entire "Grand ouest" - from Rennes to the southern part of La Vendée -, and 2 offices in Bordeaux. "Examples of sales are much more meaningful than prices per sq. metre, which only indicate a market trend. We have, for instance, recently sold under Performance mandates (equivalent to "sole agent" mandates) a 6-bedroomed house in Carquefou with a garden of 550 m2 priced at 255,000 €, a 3-bedroomed house in Mauves-sur-Loire with grounds of 5,000 m2 at 355,000 €, and a 4-bedroomed house of 190 m2 in Sautron with grounds of 2,000 m2 at 501,000 €. As for apartments, a 3-bedroomed example of almost 80 m2 at garden level recently found a taker in Saint-Herblain for 172,000 €." Prices showing a slight setback in the first quarter, but described as "stable since June". In the northern part of the agglomeration of Nantes, Joan Saint-André mainly receives enquiries from young senior exec­utives, some of whom are transferred every three or four years, "which maintains constant activity".
Patrice D'Addario, director of Patrice D'Addario Agent Immobilier, opened his agency in Carquefou in 2010. Backed by his experience since 1998, he covers the eastern and north-eastern part of Nantes between the Rivers Erdre and Loire. In this area mainly comprised of suburban houses, or "pavillons", he offers a service encompassing assistance and personalized advice. "We voluntarily deal with a limited number of clients to ensure their satisfaction. The same goes for our mandates, of which 80 % are exclusive." For detached houses, "the starting price for a home requiring renovation is 140,000-150,000 €. Then come classier, more recent properties which can attain 500,000 €. For example, we are currently proposing a 3-bedroomed house in excellent condition 15 minutes from Nantes, priced at 448,920 €". Finally, prestige properties worth over 500,000 € can be found every now and again on this market, such as one 10 minutes from the "intramuros" part of town, comprised of two houses in grounds of 3,200 m2, which sold for 850,941 €. What about building plots ? "As for other properties, they have dropped in price : a plot of 500 or 600 m2 in a good loc­ation which would have sold prior to 2007 for about 150,000 € will not be proposed today at anything over 130,000 €." Prices have thus not been so attractive for almost seven years. "It is thus more than ever the right time to buy, especially as mortgage rates are still at historically low levels." Patrice D'Addario's clientele is mainly comprised of young employees, "often transferred here by their firms", and an extensive net­work of loyal customers.
You will also like