The Port of Nice,
In the capital of the Côte d'Azur, trendies now have a desirable new address below the highly residential hill of Mont-Boron, east of the "Golden Square", and a stone's throw from the Old Town of Nice and the very popular Promenade du Paillon.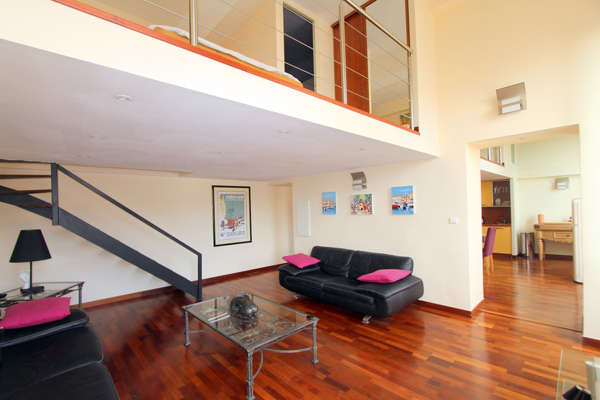 With its plunging view of the port, this superb split-level loft with lots of charm has been renovated throughout. It offers a double lounge, 2 bedrooms, 2 bathrooms. 476.000 €. Vizcaya Immobilier (04 97 08 23 23).
A passing fad or a sound long-term investment ? Estate-agents unanimously agree that enquiries are flooding in from all over the world. Everyone is interested in the vast urban project already underway in this neighbourhood. The port attracts a diverse clientele in search of a certain life-style.
"If I had to define the area, I would draw a large rectangle from Boulevard Franck-Pilatte to the Monument aux Morts, as far as Place Garibaldi, then the Place du Pin," says Benjamin Mondou of Century 21 Lafage Transactions. Clients focus on two different areas. Some insist on the Port itself, offering a view and the authentic charm of tall Niçois buildings - like one English buyer who just paid 605,000 € for a 2-bedroomed apartment of 72 m2. Others prefer the bustling atmosphere of adjacent streets, Place Garibaldi and Place du Pin. Another British client recently paid 6,500 € per sq.m for an apartment of 60 m2 on the Place du Pin which has numerous trendy restaurants and is close to Rue Bonaparte with its many shops. Then, a change of setting attracting different types of buyers : Franck-Pilatte, on the other side of the Port, beneath Le Cap de Nice, where contemporary residences with terraces surrounded by natural greenery draw a "more middle-class than Bohemian" clientele, ready to pay 10,000 € per sq.m for a property of quality. Unlike the first batch of clients, they do not necessarily appreciate the constant flow of fun-seeking people just a 5-minute walk away. The Port also boasts a high-end sector, as exemplified by a property of 135 m2 prolonged by a terrace of 70 m2, on the top floor of a building next to the Monument aux Morts, priced at 1,950,000 €. Up for sale for only three weeks, it has already attracted some interesting offers.
"We have been based on the Port for the past 25 years," say Alexandre Lanfranco and Sylvie de Mersseman of Vizcaya Immobilier. "The enthusiasm aroused by the neighbourhood has led us to open a second agency on Rue Fodéré." The Port reflects the town's identity with its colourful, historic facades. A few years ago, two-thirds of buyers here were foreigners but, with lower mortgage rates, many more French buyers are moving in. The area's appeal is such that all kinds of apartments find takers, on condition that they are priced at the going rate. The heart of the neighbourhood lies around the Place du Pin, nicknamed "Nice's little Marais". It is here that new cafés, restaurants, art-galleries and home decor boutiques are opening their doors... Prices within this perimeter range from around 4,000 to 7,000 € per sq.m, depending on the property's condition and quality. For an apartment on the highly-prized Quai des Docks, prices range from 5,000 € per sq.m for a property to renovate to 10,000 € per sq.m for an apartment refurbished as new. In its continuity, the highly residential Boulevard Franck Pilatte posts an average price of 10,000 € per sq.m. On the outskirts of this new "centre" that the Port has become, Mont-Boron, Le Cap de Nice, Parc Louisa and Parc Saint-Aignan appeal to clients wanting to be within walking distance of the Port while living in a quiet setting. Behind the Port, the Riquier neighbourhood tends to draw a clientele of people working locally, with more modest prices ranging from 3,500 to 5,000 € per sq.m. In 2019, the extension of Line 2 of the tramway to the Port, taking passengers to the airport in 20 minutes, will further boost the neighbourhood's attractiveness.
"The term "Port of Nice" implies a multitude of micro-markets. The Port alone encompasses three," points out Alain Ricciotti of Tosca Nice le Port, an agency belonging to the Arthurimmo.com network. Facing west, the Quais des Docks and Quais des Deux-Emmanuel benefit from views of Nice's Bay of Angels and less heavy traffic. "Le Neptune" with a garage, lift, caretaker, and a very noble courtyard is undoubtedly one of the most highly sought-after residences. An apartment at the front will cost 10,000 € per sq.m. Further on, the little harbour with its traditional "pointus" boats offers undeniable charm. On the other hand, clients find it hard to imagine what the Place Ile de Beauté will look like, with its tramway station now under construction for many months. Foreign buyers hesitate to invest substantial amounts despite these magnificent old buildings with apartments offering high ceilings and generous living space. A few months ago, one seller was asking 1.2 million euros for an apartment of 180 m2 in need of modernization. On Quai Papacino and Quai Lunel, a distinction has to be drawn between lower floors, just above restaurants, and upper floors. Overall, this area with more traffic is worth slightly less than the Quais des Deux-Emmanuel. "Interest rates at record lows have clearly given rise to an upturn, a boost from which the Port is also benefiting."
You will also like