The hinterland, a promising market
Whether in the countryside or up in the mountains, the hinterland in the Alpes-Maritimes meets with great success among a wide public. Active members of the population, families, retirees and foreigners are all drawn by the region's quietness, natural beauty and ideal geographic location.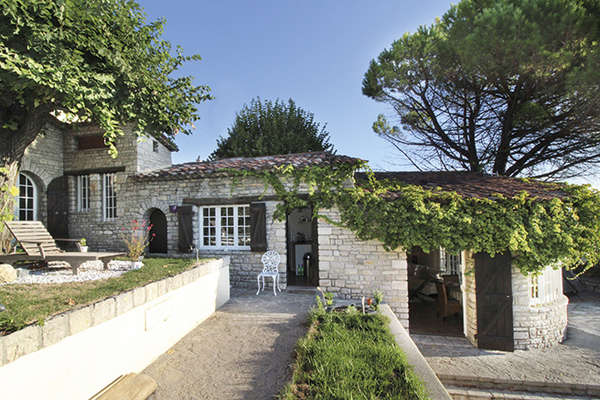 In the highly-prized neighbourhood of Saint-Jacques in Grasse, this stone residence with a clear view down to the sea, comprises 4 bedrooms and a self-contained studio. 550.000 €. Au Contact Immo (04 93 77 05 49).
"The valleys of La Roya, Bévéra and Vésubie in the eastern part of the Alpes-Maritimes are rather rural areas. They offer typical local properties, such as pretty stone houses or renovated old "bergeries" (sheepfarms) at attractive prices," says Cathy Clermont, manageress of the Agence de la Cathédrale. This expert in the back-country behind Menton has been based in the charming little medieval village of Sospel since 2009. "In Sospel, the most sought-after property is a detached house with 3 bedrooms priced from 350,000 to 400,000 €." The village also offers buyers 2-bedroomed apartments pegged at around 120,000-130,000 €. Menton's hinterland usually draws active couples with children who appreciate its quality life-style, and mainly work in Monaco or Menton. "Most of our clients are buying their main homes," explains Cathy Clermont. "They opt to live in quiet areas, in the great outdoors. Our valleys offer one of the loveliest biking sites in Europe, and we benefit from lots of neighbourhood shops, schools and healthcare services." A buoyant market, with the number of real-estate transactions rising significantly in the last six months of 2016, and supply and demand now pretty even.
"In our area, clients tend to look for small properties," says Isabelle Ciais, manageress of the Agence du Mercantour. "In Saint-Martin-Vésubie and villages in the valley of La Vésubie, demand focuses particularly on houses at around 220,000 €, and 1- or 2-bedroomed apartments worth about 120,000 €." In this area, an upturn in demand has also been noticed for chalets, a more up-market sector with a clientele highly attentive to the quality of appointments and amenities. A 4-bedroomed chalet of 107 m2 with a garden in Saint-Martin-Vésubie just sold for 435,000 €. Over the past five years, this long-established agency with branches in Roquebillière, Levens, Puget-Théniers and Nice, has observed rising demand on the part of both the actively employed and young retirees, drawn by the charm and quality life-style offered by villages in the hinterland behind Nice. Prices here are, of course, more affordable, with local taxes lower than those in Nice. "Less than 40 minutes from Nice, the village of Levens is especially popular among families and active young couples," adds Isabelle Ciais. "Here, the most widely sought-after properties are villas of 100-120 m2 with 4/5 main rooms, priced from 300,000 to 350,000 €. A market drawing lots of interest."
"Undergoing extensive development, the Saint-Jacques neighbourhood in Grasse is highly-prized by families. Lots of people working in Sophia-Antipolis, Antibes or Cannes move here, as current offers correspond to their budgets and search criteria," says Aurélie Victoria, manageress of Au Contact Immo for the past three years. A market now seeing considerable growth, with this property expert opening a new agency at the heart of the Saint-Jacques area. "Families are mostly looking for detached 3-bedroomed houses with gardens of 1,000 m2 and occasionally a pool, at around 500,000 €." A few kilometres from Grasse, offering a stunning view of the Mediterranean, the little village of Cabris attracts a different type of client. According to Aurélie Victoria : "Foreign buyers and retirees with high living standards buy properties in Cabris. Here, lovely houses of 250 m2 with pools and panoramic views sell for 750,000 to 850,000 €." For more modest budgets, the village of Peymeinade offers homes at prices lower than those around Grasse. "We are getting lots of enquiries from working couples with young children. Only five km from Grasse, Pey­meinade offers houses with flat gardens from 400,000 to 450,000 €. Since last summer, we have recorded a new peak in terms of sales in this area, which is very positive for the future."
You will also like