The Gulf of Morbihan : diverse and well-preserved
An inland sea dotted with about 30 isles and islands, the Gulf of Morbihan boasts a wild shoreline and splendid, very diverse scenery. An authentic tourist destination with a lively property market.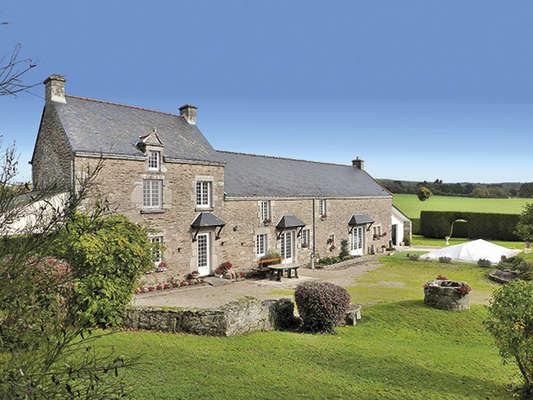 This "longère" farmhouse in the countryside near Theix offers living space of over 300 m2 in grounds of 5,200 m2. 629.000 €. Agence de la Mairie Macé Immobilier (02 97 43 20 20).
Creeks, headlands, mud flats, marshes, moorland : the rugged and protected coast around the Gulf of Morbihan offers a wide variety of landscapes. A remarkable site hosting many species of migrat­ory birds which is, in fact, the subject of a plan for a regional nature park. A paradise for hikers and sailing enthusiasts, especially as the climate is rather favourable. The area's architectural heritage is also well worth mentioning : the old town of Vannes, the Château de Suscinio, a res­idence of the Dukes of Brittany, and the Romanesque Abbey of Saint-Gildas-de-Rhuys.
"Protected by the Quiberon peninsula, the bay enjoys an exceptionally pleasant lifestyle. Urban planning is extremely well-controlled and activities are far from lacking," says Catherine Fournier, manageress of Orpi Fournier, an indep­endent agency based in Carnac since 1995 and a member of the GIE Orpi Morbihan (a group of 12 agencies). For apartments here, one can expect to pay "from 1,700 to 2,500 € per sq. metre without a terrace, 3,200 to 5,000 € per sqm. in the strip 400 metres from the beaches, and 6,000 to 8,000 € per sqm. for a view of the sea". As for houses, prices range "from 100,000 € for those requiring renovation, without a garden, to over 1 million euros for a quiet location with a sea view, bearing in mind that the maj­ority of properties fall into the 300,000-500,000 € bracket". High prices for this département, justified by "the area's special attributes" and underpinned by strong demand, "yet prices which have nevertheless undergone a drastic adjustment". Catherine Fournier's clientele is mostly comprised of people still working, aged 40 to 60, and retirees from the western part of Brittany, Paris and its surrounding region.
Thierry Macé, manager of the Agence de la Mairie Macé Immobilier, has been based in Theix for the past 13 years. Specializing in older properties, he covers the entrance to the Rhuys peninsula, east of Vannes, ie. the communes of Theix, Surzur, Le Hézo, Saint-Armel, Berric, Lauzach, Sulniac and Treffléan. His portfolio mainly consists of houses : "The starting price is 150,000 €, which brings a house of 80 m2 with a garden of 400 m2. Prices then rise to 650,000 € for a lovely, renovated "longère" farmhouse of at least 250 m2 in 3,000 to 4,000 m2 of grounds. We have in fact just sold one, priced at 600,000 €". In this category of properties, "the quality of the renovation is fund­amental when determining the price". Following a significant rise then a downward trend since 2008, the market has now stabilized : "There's no more speculation. But demand for properties within 15 minutes of Vannes is still high, and a property here is seen as a sound investment". Two-thirds of Thierry Macé's clients come from another region (especially that around Paris), and half of them are coming here to retire. "They have usually sold their main homes in order to move here."
Romain Vaquette, manager of the Avis Immobilier agency in Sarzeau (opened in 2007), covers an area stretching from Noyalo to Arzon, in other words, all of the Rhuys peninsula. "In the village of Sarzeau, a 1-bedroom apartment of just over 40 m2 in a recent residence costs around 130,000 €," he explains. "In old buildings, we recently sold, for example, a 1-bedroom apartment of about 30 m2 in good condition for 73,000 €." In the case of houses, demand is mainly for those under 250,000 €, offering living space of about 80 m2. As for building land, "lovely plots of 700 m2 are currently available from 100,000 to 120,000 €". Romain Vaquette agrees that prices have stabilized over the past year or so, following a steady decline since 2007. "Even though our sales volume is still relatively low, it has picked up since the beginning of this year. The market seems to getting back on track." The majority of his clients are young retirees looking for holiday homes where they can entertain their families. "Otherwise, we receive enquiries from a few foreigners - Belgian, Swiss and Dutch -, and French ex-pats returning
to invest in France".
You will also like