The first ring around Vannes
On the southern coast of Brittany, the prefecture of Le Morbihan lies at the centre of an urban area accommodating 144,350 residents. It is comprised of addresses such as Theix with 6,750 inhabitants, Plescop with 5,300, and Séné with 8,700. A trip to the Gulf of Morbihan...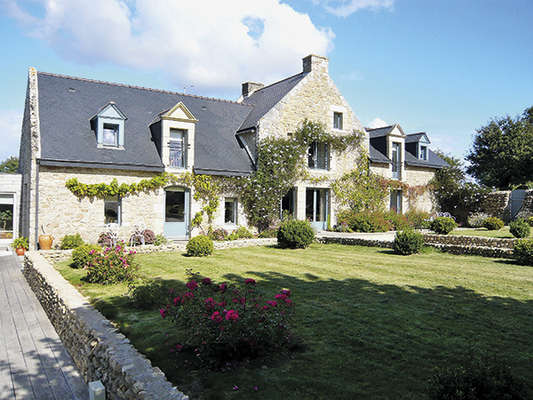 This renovated "longère" farmhouse in Theix offers four bedrooms in grounds of 2,057 m2. 630.000 €. Macé Immobilier (02 97 43 20 20).
10 km from Vannes, 50 km from Lorient and 100 km from Nantes, Theix is not far from the RN 165 leading to the capital of Loire-Atlantique in Brest. From the station in Vannes, a 3 hr 20 minute train-ride at most is required to reach Paris-Montparnasse. The Kicéo bus service lays on 13 round-trips per day to and from Theix. 300 firms, 40 agricultural farms and four activity zones are to be found on this commune which holds a "Festival du Jeu et de l'Imaginaire" twice a year. Plescop combines urban proximity with a rural setting. Housing estates are surrounded by natural greenery, and the countryside with its many trees, hedges and small fields is well-preserved. The direct link to the A82 is a real asset for the area's economic development. A hub for the service sector is being built which has won the Qualiparc label from the Regional and General Councils. The population is young and there is a good choice of lively clubs and associations. Séné covers an area of 4,940 acres dotted with harbours and small beaches. The former salt marshes occupying close on 544 acres are a real sanctuary for birds. The River Noyalo separates the locality from the Rhuys peninsula. Here, the locals once made their living from fishing and farming ; today, tourists flock here for the 47-km coastline.
"Theix, a town with a full array of shops and services, lies at the entrance to the Gulf of Morbihan, 5 minutes from Vannes and 15 minutes from the large ocean beaches, south of the RN 165 forming a junction between the village and Nantes on one side, and Brest on the other," explains Thierry Macé of Macé Immobilier. 85 % of buyers are looking for year-round homes, whether they have been transferred to the region or are residents of Vannes wanting to treat themselves to a house after selling an apartment. Half of them are retirees from Paris and its surrounding region, drawn by the advantages offered by this suburban area. Most of them pay from 220,000 to 350,000 €. A serviced building plot in the centre costs about 200 €/m2. In the country, more generous plots with utilities to be installed range from 100 to 150 €/m2. A recent house of 100-120 m2 with a garden of 500 m2 in town will be priced from 220,000 to 270,000 €, while "neo-bretonnes" of at least 120 m2, built in the 1970's in grounds of 800-1000 m2, range from 250,000 to 300,000 €. One should then dispose of a budget of 350,000 to 500,000 € to obtain a contemporary house of over 150 m2 benefiting from high energy performance. Finally, farmhouses known as "longères" in private, high-quality environments can cost even more. New accommodation finds takers from 2,800 to 3,000 €/m2. North of the expressway in villages such as Sulniac and Treffléan, building plots are priced at around 100 €/m2. With a budget of 180,000 €, first-time buyers can find what they need. Saint-Armel, a highly typical little town, offers stone houses of 60 m2 right at the water's edge, sometimes on offer above 200,000 €. Occasional residents are very fond of this address.
Bertrand Le Gallic, Loïc Buronfosse, Michel Bisson and Elodie Le Gac of Orpi Le Gallic Immobilier cover the area from Plescop to Séné. The first is located at the gateway to shopping and leisure zones around Vannes. Over the years, the dividing line between the two addresses has tended to fade, even though Plescop continues to protect its non built-up areas. The agency's most recent sales range from 100,000-110,000 €, the sum required for a 1-bedroom apartment, to 350,000 €, bringing a recent house of 130 m2, and including small detached homes of 80-100 m2 to restore, opening out to small gardens and priced at 160,000 €. Over and above 350,000 €, the market is less active. Plescop draws year-round residents while holiday-makers appreciate Séné, its numerous beaches and harbours, and its fast access to the port of Vannes. Mostly French, they want to be near bathing and hiking areas. Surrounded by water, this is a very lively address. Prices here are naturally higher, with budgets ranging from 250,000 to 400,000 €.
You will also like