The first ring around Toulouse
If the agglomeration of Toulouse is chalking up the best performance in France in terms of population growth, it's thanks to the attractive first ring around the city : while the rise in intra-muros figures has seen a slowdown since 2006, those of the outskirts are maintaining a lively pace.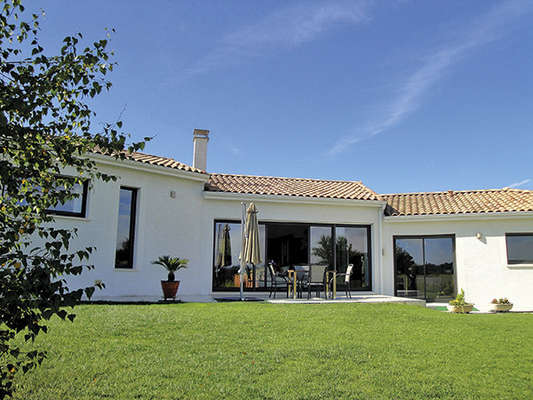 In Castelmaurou, this villa built in 2010 offers living space of 215 m2 in 2,800 m2 of grounds. 618.000 €. Castelmaurou Immobilier (05 61 74 00 33).
The first ring around Toulouse is notably comprised of Lardenne, a suburban neighbourhood to the west, appreciated for its quality lifestyle, and the base for Sabine Duprat-Baert, manageress of the Valimmo agency. She thus covers the entire western part of the city : from the Saint-Cyprien neighbourhood on the left bank of the Garonne to the communes of Tournefeuille and Colomiers, via that of Blagnac and the Faubourgs Saint-Simon and Saint-Martin du Touch. "Our area benefits from its proximity to the sites of Airbus - particularly in Blagnac -, its subsidiaries and sub-contractors," she explains. "It is also a zone in a privileged setting, close to the town centre, with good road connections." Though lower than those within the city, property prices here are thus relatively high : "For 1-bedroom apartments of about 40 m2, they range from 115,000 to 125,000 €, while for houses of approx. 100 m2, one can expect to pay from 280,000 to 310,000 €". As borne out by the agency's last two sales : a 1-bedroom apartment of 50 m2 at 125,000 € and a recent 3 bedroomed "pavillon" of 85 m2 at 262,000 €. What about building land ? "A plot of 500 m2 costs around 180,000 €." Sabine Duprat-Baert's clients are mostly young couples in their thirties, making their second acquisition.
Laurence Guiraud, manageress of Castelmaurou Immobilier, is based in Castelmaurou, a pleasant commune with less than 4,000 inhabitants 12 km north-east of Toulouse. Its advantages : "We are 10 minutes from the nearest metro station and also the terminus of a city bus line, so we are hardly cut off". This agency's clientele in fact includes many people working in the City of Violets and Airbus employees, "even though the company's head office is on the other side of the agglomeration". Prices here are much the same as those to the west : "The market here mainly revolves around detached houses : a classic but recent "pavillon" of about 100 m2 with a garden of 500 to 600 m2 can be had for under 300,000 €".
Another kind of property that is currently selling very well : "High-end villas of 200 m2 or more, in 1,500 m2 of grounds with pools, which are finding takers at prices over 500,000 €". Laurence Guiraud has also noticed that two criteria have become particularly important for buyers : "A property's esthetic appeal and architecture, and its energy rating". Building plots, which are relatively rare, are priced at around 170,000 € for 1,800 m2. "Our latest transaction in this sector was a wooded and fully serviced plot of 1,700 m2 on the prestigious commune of Rouffiac-Tolosan, which sold for almost 200,000 €."
Florent Eychenne, in charge of sales and rentals for Crédit Agricole Immobilier, focuses on a special market : the sale of properties whose tax benefits are coming to an end, which accounts for 98 % of the activity. "This special field requires a relationship based on trust to be maintained over the long term with clients who are owners and sellers." The agency concentrates on so-called "high-end" properties, and covers all four cardinal points of the agglomeration of Toulouse. For 1-roomed apartments of about 25m², it reports a price per sq. metre of 2,700 to 3,200 €. "For apartments of approx. 45 m2 with 2 main rooms, one will pay from 95,000 to 120,000 €, ie. 2,200 to 2,700 € per sq. metre. Idem for 3 main rooms, giving living space of close on 60 m2. On the other hand, apartments of about 85 m2 with 4 main rooms sell from 175,000 to 200,000 €, ie. from 2,000 to 2,400 €/m2." Florent Eychenne receives enquiries from two types of clients : firstly, first-time buyers who are actively employed. "Many tenants are beginning to purchase the properties they live in." Secondly, her clientele includes long-term investors, "now rejecting high prices for new developments in favour of guaranteed profitability of 5 to 7 % in existing properties".
You will also like