The Espace Diamant, for dedicated fans of the mountains
Encompassing five winter sports resorts and villages, the Espace Diamant offers 192 km of slopes for all levels of skills, shared out between altitudes of 1,000 and 2,069 metres in the départements of Savoy and Upper Savoy.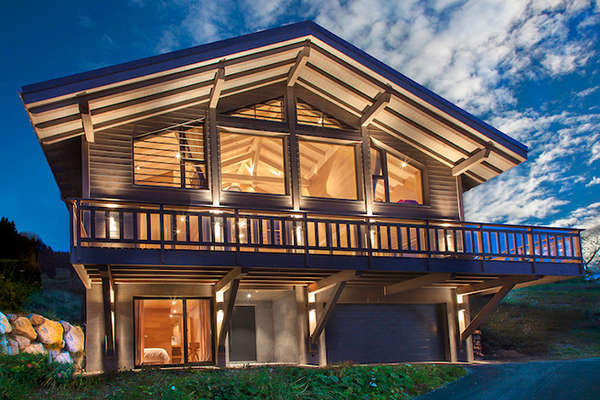 At the heart of Crest-Voland, 150 metres from the slopes of the Espace Diamant, this renovation programme is comprised of 7 high-end apartments from 52 to 105 m2. De 285.000 € à 529.000 €. Alpina Immobilier (04 79 31 66 01).
In its vast skiing areas catering for all levels of ability, 90% of the Espace Diamant's slopes run through forests of spruce trees and Alpine meadows. In the winter season, the closeness of Mont Blanc provides the domain with high-quality snow coverage, and from the top of the crests, the views of this grandiose scenery are quite stunning. In summer, families readily opt for "green tourism" here, taking advantage of a good choice of nature activities.
Based in Crest-Voland since 1989, the Alpina agency markets all kinds of properties ranging from studios priced from 3,500 € per sq.m to superb chalets worth close on 2 million euros. "Mostly French, our clients appreciate the resort's family atmosphere," explains Sophie Rebord. "The village is laid out around a very sunny plateau offering panoramic views of the chain of Les Aravis. With about 450 year-round residents, Crest-Voland is lively in all four seasons." After a price decline of about 10 % in 2016, stability has returned to this well-balanced market proposing a wide array of properties. "We are seeing the appearance of numerous properties built in the 1980's back on the market, both chalets and apartments, which have been treated to quality renovation." By way of example, Sophie Rebord mentions a large house currently up for sale at the heart of the village. Rehabilitated and split into 6 select apartments priced from 5,000 € per sq.m, its appointments include parquet floors in all the bedrooms, wet-room showers... Delivery is scheduled for the end of 2017. "Offerings are very wide for chalets : they start from around 400,000 €, with very desirable examples, such as a recent timber-built chalet of 260 m2 overlooking the village, bearing price-tags of about 2 M €."
Playing host to the resort of Les Saisies with its high performance tourist amenities, the listed village of Hauteluce offers an authentic and typically Savoyard atmosphere. Opened 30 years ago and working with the Imogroup network, the independent Immobilière du Beaufortain agency handles the sale of numerous properties here, whether renovated chalets or apartments, benefiting from high-end appointments. Giving access to the skiing domain of both the Espace Diamant and that of Les Contamines, Hauteluce is regarded as a sound real-estate investment. "We are seeing steady interest on the part of our clients for this address," says a colleague of Marie-Pierre Garbay of the Immobilière du Beaufortain agency. As a typical example from its portfolio, she describes a charming 2-bedroomed apartment of 41 m2 extended by a terrace of about 20 m2 offering a superb view of the Massif du Beaufortain and Mont Blanc. In a good location, fully fitted and furnished, it is on offer at 275,000 €.
You will also like