The charms of the Côte Sauvage
Offering spell-binding authenticity on the fringe of the Côte d'Amour, the Côte Sauvage consists of the southern shoreline hosting the seaside resorts of Le Croisic, Batz-sur-Mer and Le Pouliguen. A very popular destination among fans of lovely old stone in a well-preserved environment.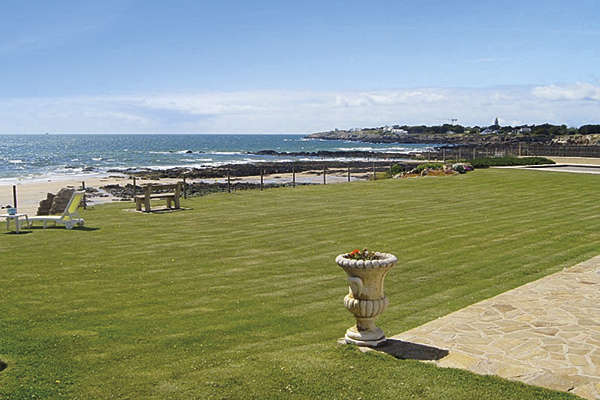 Facing the sea in Batz-sur-Mer, this property with 8 main rooms is set in grounds of 2,500 m2. 2.020.000 €. Agence du Casino (02 40 60 83 84 / 02 40 42 10 27).
Far from the bustle of La Baule, the rocky and sometimes dune-like Côte Sauvage stretches from Le Croisic to the west, a commune with about 4,000 inhabitants, home to France's most important fishing harbour for pink shrimps. Just like the other two addresses on this coastline with varied scenery, it has been particularly successful in preserving its natural heritage, prop­osing living conditions of exceptionally high quality at the water's edge. Its cultural heritage has not been neglected, with its historic Breton identity still very marked. Then there is its architectural heritage : the Menhir de la Pierre Longue, Croix de Kervaudu, Manoir de Kervaudu...
Next comes Batz-sur-Mer, a pleasant commune with 3,000 residents, where one can discover, for example, the Salt Marsh Museum founded in 1887, and the ancient cisterns of Trémondais, dating back to the early 17th century. Finally, on the eastern stretch of the Côte Sauvage, one comes across Le Pouliguen (almost 5,000 inhabitants), a locality renowned for its superb sandy beach, grotto of Les Korrigans, its fishing and sailing harbour, and historic monuments (Chapelle and Croix de Penchâteau, proto-historic camp ...). All in immediate proximity to the TGV station in La Baule, whose many connections take passengers to and from Paris in 3 hours.
Marie Carbonnet, manageress since 2011 of the two Immo sur Mer agencies in Le Croisic and Batz-sur-Mer, specializes in property transactions on the Côte Sauvage : "In the case of apartments, limited here to small residences, the price per sqm. ranges on average from 4,000 to 6,000 € on the seafront, and 2,500 to 3,500 € on the second and third rows. For example, we recently handled the sale of a 1-bedroom apartment of almost 50 m2 in Batz, 100 metres from the beach, with a sea view, priced at 187,000 €". For those more interested in houses, one example of about 120 m2 near the ocean with a garden of 400 m2 recently sold in Le Croisic for 410,000 €. "This type of property ranges from 350,000 to 500,000 €." As for building plots, they are relatively small, given the preservation to which the area is subject : "The largest plot in our portfolio is 700 m2, on offer at 212,000 €". All these prices, "currently becoming more well-balanced", offer the advantage of being more affordable than those in La Baule.
Sophie Michaud Gavlak is a negotiator for the Cabinet Macé, an asset management firm based in La Baule for 40 years, and also manages the sales department created in 2011 : "From studios to 3-bedroomed apartments, prices vary on the Côte Sauvage from 100,000 to 800,000 €, with a decline that became evident in October last year. The most widely sought-after properties are 1- and 2 bedroomed apartments facing the sea, preferably on upper floors and benefitting from parking facilities and good-sized terraces". By way of example : "A 3rd-floor apartment of 50 m2 facing the sea, in need of renovation (estimated at 50,000 €), with a garage and cellar, was just acquired by a couple of retirees for 280,000 €". As for houses, prices can soar to 2 million euros. "We currently have on offer a property of 400 m2 on almost 2.5 acres of land with a pool and tennis court, top-notch appointments and an unimp­eded view, priced at 1.7 million euros."
Brothers and partners, Vincent and Sylvain Cruaud run the Agence du Casino, with two addresses opened in 1989 in La Baule and Saint-Brevin-les-Pins (an agency of which they also own the name can also be found in Le Pouliguen). Prop­osing a hefty portfolio of holiday rentals, they exclusively handle houses on the Côte Sauvage, including outstanding properties such as an early 20th-century residence at the very tip of Penchâteau (which splits the shoreline of Le Pouliguen into two parts) : "Offering an unimpeded view of the entire Bay of La Baule and direct access to the beach, it sold for 2,790,000 €, with minor refurbishment on the agenda". Another property with eight main rooms on sale in Batz, also close to the beach, can be had for 2,020,000 €. "This property benefits in particular from 2,500 m2 of grounds." According to our experts, these prices are, however, too high and will probably see some bargaining. "Today, rarity alone no longer justifies a high price." Contacted by a clientele in search of peacefulness and authenticity, they chalk up two-thirds of their sales in holiday homes.
You will also like