The charm of the southern Loire
Rezé, Saint-Sébastien-sur-Loire, Vertou... Both urbanized and luxuriant, the agglomeration of Nantes is made up of communes with a wide choice of properties ranging from practical apartments to historic estates on several acres of land. A survey of this mixed bag of offerings...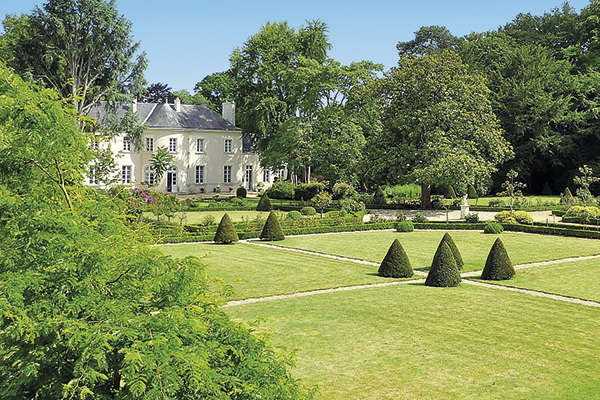 This estate in Vertou is comprised of an 18th-C. Château, beautfully renovated while retaining its original stylishness, on almost 47 acres of land with a classic French garden. 3.400.000 €. Franklin Immobilier (02 40 12 01 70).
Thanks to the tramway taking passengers to the centre of Nantes in just 10 minutes, Rezé is one of the most popular communes among local families and retirees. "Most of our clients have already had experience in buying a home. They are patient and very attentive, analyzing the market in depth, even if they benefit from mortgages on highly advantageous terms. First-time buyers are currently thin on the ground," explains Patrick Renaud, who took over the the Century 21 By Ouest agency in Rezé in the year 2000. "Prices are still on a slightly downward trend. In this area, you expect to pay from 200,000 to 250,000 € for a pleasant family home, or 145,000 to 170,000 € for a 2-bedroomed apartment, depending on the neighbourhood and the property's characteristics. New apartments are pegged at around 4,800 € per sq. metre, depending on the address and the residence's appointments. These apartments sold on plans interest buyers looking for main residences. Rental investors are more rare," says our estate-agent, for whom 2014 looks satisfactory "even if you have remain cautious and highly attentive to each client's project".
A region with lush natural scenery, the agglomeration around Nantes boasts many charming and desirable resid­ences on the outskirts of its towns and villages. For example, a property once owned by Victor Hugo's mother. Offered for sale at 500,000 € by the Century 21 By Ouest agency, it overlooks the vineyards on the hillsides of Vertou. After renovation, it will be a real delight for discerning owners, charmed by its idyllic setting and its annex typical of Nantais vineyard estates, which could even set it on the path to becoming a guest-house of character.
Based in Nantes, the Franklin Immobilier agency also prop­oses properties of charm and originality around Nantes, particularly in Vertou, at the heart of the Nantais vineyards. Just 7 km from Nantes, this commune with almost 22,000 residents appeals for its natural environment and remarkable buildings. "Only 15 minutes from the centre of Nantes, houses of character and large properties are mostly of interest to a local clientele, especially as Vertou is now very well connected thanks to the "busway"," explains Brigitte Turpeau, manageress of the Franklin Immobilier agency. One such property is a 19th-C. Nantais château flaunting architecture typical of the Roaring 'Twenties, overlooking the River Sèvre and enthroned on 22.23 acres of land. Or an 18th-C. estate, renovated with care for its original stylishness, and boasting a classic French garden, almost 47 acres of meadows, woods and vines. Such prestigious hist­oric properties bear price-tags of around 3.5 million euros.
You will also like