The centre of the Upper Rhine : the appeal of Mulhouse
The centre of Le Haut-Rhin is dominated by Mulhouse (population 110,000), the second largest town in Alsace, which forms with the communes of Guebwiller (pop. 12,000) and Thann (pop. 8,000) a particularly active and attractive triangle.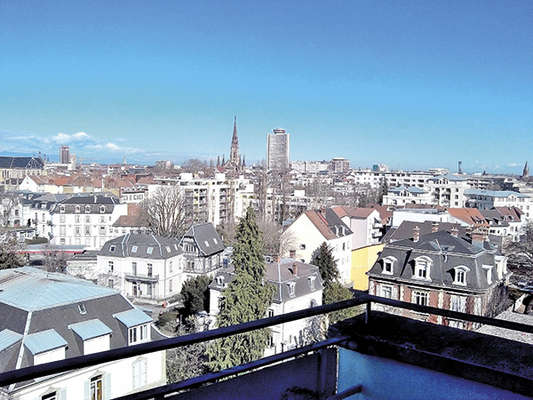 In the centre of Mulhouse, this apartment of over 140 m2 offers five main rooms and a panoramic view. 340.000 €. Weiblen Immeubles (03 89 46 18 60).
With an urban area witnessing constant development and accommodating about 40 % of the population in the Upper Rhine region, Mulhouse has clearly been marked by its glorious industrial past. "There is thus a significant price disparity between traditionally working-class neighbourhoods and leafier, more well-off residential areas, hosting in particular some lovely properties built in the late 19th and early 20th centuries," explain Jean-Arnaud Desaulles and Vianneyte Mougin, respectively president and commercial agent for residential homes with Desaulles CBRE. Founded in Mulhouse in 1962, the agency is extending its coverage to include other markets : Besançon (an agency opened in 2011), Belfort-Sochaux-Montbéliard (a new agency scheduled to open in late 2014) and Colmar (2015). "For old homes and apartments, the price per sq. metre ranges from 600 to 2,500 €. For houses, one should expect to pay from 1,300 to 3,000 € per sqm." Appealing prices which have dropped by 20 to 30 % since 2008 and are now holding steady. "We are even seeing a modest rise which may indicate that the crisis is behind us." Transactions for building land and the low and very high ends of the market (above 700,000 €) are in fact showing some liveliness. Building plots are priced from 13,000 € per 100 sqm. in villages on the outskirts of Mulhouse, to 27,000 € per 100 sqm. in popular neighbourhoods and communes such as Le Rebberg, Riedisheim and Brunstatt.
Pierre-Jean Weiblen, manager of Weiblen Immeubles, an agency opened in 1979 covering a 20-km radius around Mulhouse, confirms : "In old buildings, apartments sell from 500 to 2,500 € per sqm. By way of example, we recently marketed a 4-storey building in the working-class neighbourhood of Franklin-Fridolin, comprising shop premises on the ground floor and three apartments of 110 m2 per upper floor, at 560 € per sqm. But we are also currently proposing in the Nouveau-Bassin area, a quality environment, a recent 1-bedroom apartment of 44 m2 at 108,000 €, ie. over 2,400 € per sqm. Plus a 4-bedroom apartment of 145 m2 at 205,000 €, ie. a middle-range price of 1,400 € per sqm". For new apartments, our estate-agent says that the price per sqm. ranges from 2,700 to 3,200 € in both the town centre and areas around the agglomeration. As for "intra-muros" houses, they are pretty rare : one villa of 220 m2 with a pool and large garden is on offer at 830,000 €, ie. almost 3,800 € per sqm. Weiblen Immeubles' clientele is very mixed : "Our clients can be first- or second-time buyers, or retirees who often part with their houses to acquire large apartments in town, better suited to their requirements". In Pierre-Jean Weiblen's opinion : "We are still a long way off the pre-2008 level of activity, though we have definitely seen an encouraging upturn since September, 2013".
You will also like