The centre of Biarritz : more popular than ever
A flaghip destination on the Basque coast, Biarritz has succeeded brilliantly in transforming some of its central neighbourhoods, while others have preserved their soul and peacefulness. Highly-prized for both year-round and holiday residences, Biarritz offers a very appealing life-style.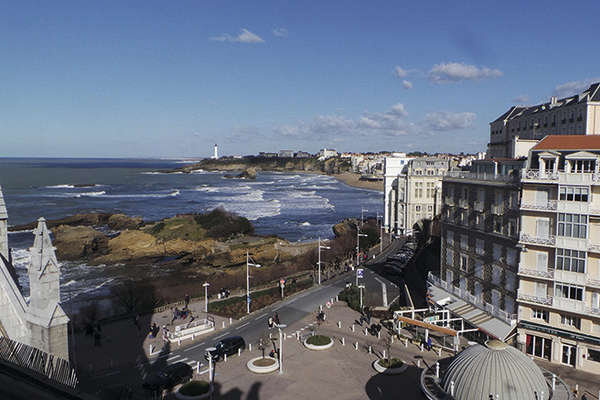 This 2-bedroomed apartment of 85 m2 is in a smart old building in the Sainte Eugénie neighbourhood, a short walk to shops and the beaches. 545.000 €. Portes Immobilier (05 59 22 12 66).
From studios to town houses and vast seafront apartments, homes of all kinds are continuing to draw growing enthusiasm on Biarritz's very buoyant property market. Known worldwide by fans of surfing, this seaside resort is chalking up stronger demand than ever before.
Discreetly installed for about 15 years in a cul-de-sac at the heart of the neighbourhood of Les Halles, the Portes Immobilier agency offers a selection of properties for sale, mainly located in Biarritz's most popular addresses : Les Halles, the Espagne area, Clémenceau, Saint-Charles... "Demand is extremely steady and this is the first time since I have been working as a sales negotiator that I can really talk about a scarcity of available properties," says Anaïs Guérin. Her clients, mostly from Paris, Toulouse and Bordeaux, are increasingly drawn by the neighbourhood of Les Halles, now pedestrian, with a wide array of trendy addresses (restaurants, boutiques, bars...) providing a pleasant life-style, especially as it is near the beaches. Further on, the quieter neighbourhood of Espagne, not far from the Côte des Basques, is also widely acclaimed. Here, you can still find a few properties which have not yet been renovated, such as pretty little town houses of about 100 m2, priced from 450,000 €. "In this neighbourhood, the "Résidence de Sion" is a sought-after address," says Anaïs Guérin. "With a lift and parking facilities, it is comprised of high-end apartments extended by balconies. We have just sold, one after the other, with no bargaining, two 1-bedroomed apartments here of approx. 45 m2, pegged at 6,000-7,000 € per sq. metre. Most frequently, our clients' budgets range from 350,000 to 500,000 €. Even so, as demonstrated by a 3-bedroomed apartment of character near the Town-hall which sold for 872,000 €, and another 3-bedroomed example on Rue Gambetta with a parking place, priced at over 1 million euros, generous budgets also gravitate towards the town centre, for apartments which are thus not on the seafront."
Buyers with very comfortable financial means form part of the clientele of DL Immobilier : based on the Rue des Halles since January 2016, it has just opened a second office on Place Clémenceau. "The upper-crust neighbourhood of Saint-Charles is still highly-prized by well-off clients prepared to pay substantial amounts if the property meets their demands," says Véronique Dessauce. By way of example, she mentions the recent sale of an apartment of 230 m2 on the ground floor of a house of character, dating back to the late 17th century. Tastefully renovated throughout and benefiting from a private garden, this rare property sold for 1,680,000 € within less than three weeks. "The buzz around Biarritz and the entire Basque coast is quite incredible. We mainly work with our address-book to bring in new mandates. The town centre is indeed in very high demand for all types of properties. Prices are stable, though properties benefiting from outstanding appointments and locations can now be estimated upwards. If a property is offered for sale at a fair price, it sells quickly, even if considerable renovation is on the agenda, or if it is on the top floor without a lift.
You will also like