The area south-west of Toulouse : between town and country
The area south-west of Toulouse is dotted with peaceful communes benefiting from the proximity of a go-ahead city and the A64 motorway, known as "La Pyrénéenne", which goes as far as Bayonne. Communes such as Muret and Noé, 25 and 37 km respectively from the Pink City.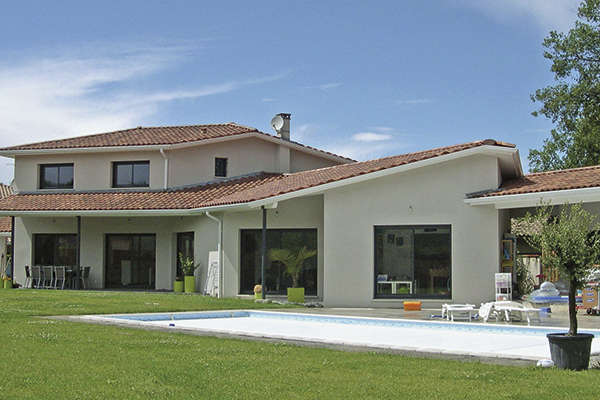 In a residential neighbourhood in Muret, this 4-bedroom villa offers living space of 228 m2 in grounds of 1,400 m2 with a pool. 684.000 €. Pince Immobilier (05 61 51 18 11).
In the 1st century A.D., a Gallo-Roman villa surrounded by high walls stood on the banks of the Garonne. Known as "Murellum", it grew into a village which took the name "Murel" before becoming Muret in the Middle Ages. Today, it is a small town whose 25,000 residents lack for nothing : its infrastructures include primary, intermediate and secondary schools, a library, clinic, retirement home, day hospital, shops and even an aerodrome (on the neighbouring commune of Lherm). The "Muretains" also enjoy a temperate climate thanks to the influence of the Mediterranean, pleasant all year round.
As for its real estate, it is much more affordable than that of Toulouse. "Studios at under 40,000 € to 2-bedroomed apartments for 150,000 €," says Roland Pince, manager of Pince Immobilier. Apartments with more than three main rooms are very rare. In the case of houses, he explains : "There's a wide range, from 180,000 to 600,000 €. However, houses with three bedrooms and a garden costing from 200,000 to 250,000 € see the highest demand". Mainly composed of permanent homes, the market has a clientele of whom 50 % are first-time buyers.
15 km south of Muret, also on the Garonne, Noé is a village with over 2,500 inhabitants which borrowed its name from a very old local family. It is known for having been administered by Jean-Baptiste Doumeng (from 1959 to 1977), a businessman and member of the French Communist Party who made his fortune by trading with Communist countries, thus winning the nickname "Red billionaire". Among other things, the commune benefits from nursery and primary schools, and a new intermediate school inaugurated in Sept­ember. There are few blocks of apartments in Noé. "Standard accommodation is a detached house of 100 m2 costing from 180,000 to 220,000 €," says Jean-Luc Escalin of the TSI agency. This type of home is sought by the maj­ority of his clients : members of the working population, usually first-time buyers, with average income. "Then there are those with lower budgets, ranging from 150,000 to 170,000 €. We have seen many more of them since the beginning of this year". One of his most recent sales illustrates the trend : a house in need of renovation, acquired for 150,000 € by a couple of 50 year-olds wanting to move out of an apartment into a villa. Jean-Luc Escalin also notes "a slightly positive pick-up on the market over the past two or three months".
You will also like