The area around Lorient
Lorient stands at the mouth of Le Blavet and Le Scorff, two rivers which flow into the bay then the ocean, 153 km south-west of Rennes and 158 km west of Nantes. The sub-prefecture of Le Morbihan is home to 61,550 people, while the greater urban area of Le Pays de Lorient, comprised of 19 communes, has 185,100 inhabitants.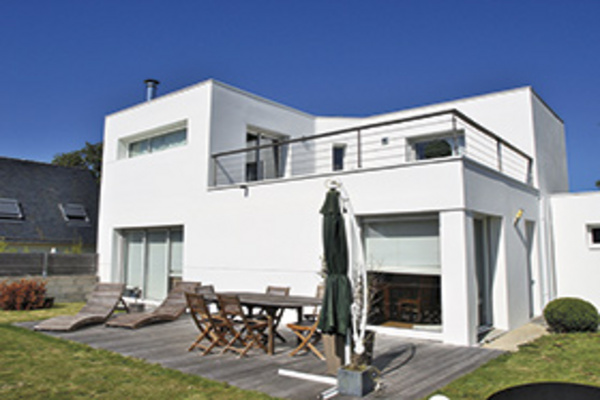 Bright and practical, this recently-built house in Larmor proposes three bedrooms. 431.600 €. Larmorimmo.com (02 97 33 64 48).
Apart from a few buildings dating back to the days of the "Compagnie des Indes", Lorient was badly hit by the Allied bombings in the Second World War. Since the 1950's, it has seen successive waves of urban development. Largely focusing on the service sector, it justifies its nickname as the "town with five ports". Whether related to fishing, commerce, travel, military activity or pleasure boating, its port activities provide 12,000 direct or indirect jobs. Larmor-Plage, with 8,415 residents, lies on the shore facing the island of Groix, at the entrance to the bay of Lorient. Since the first development and reconstruction plan was adopted in 1949, this seaside resort alternating rocky areas and sandy beaches has watched its farming land gradually transformed into resid­ential areas. A real paradise for fans of surfing, it won its letters of nobility over the passing years.
"Buyers of properties in and around Lorient, mostly people working locally, usually target homes up to 200,000 €, the sum required for a house of 90 m2 in good condition, with a garden of 300-400 m2," says Brigitte Le Sant of Nexity. Investors, inclined to pay cash, look for studios at around 50,000 €, bringing in monthly rental income of 300 €. 1-bedroom apartments range from 80,000 to 100,000 €, 2-bedroom apartments from 100,000 to 120,000 €. The so-called standard 3-bedroom apartment costs about 130,000 €, or as much as 200,000 € when it offers quality appointments in a recent residence, with a terrace, lift and garage. This category is popular among seniors looking for practicality and comfort. Only two of the past ten sales handled by the agency were above 200,000 €. They included a 4-bedroom house opening out to a garden of 300 m2, acquired by a family for 205,000 €, and a home of 120 m2, prolonged by an outdoor area of 200 m2, acquired by retirees for 280,000 €. The town centre, Merville and Nouvelle-Ville, neighbourhoods benefitting from lots of shops and services, are in steady demand. Sometimes little-known, other enclaves such as Le Rouho offer attractive settings and properties of character. Some buyers turn their noses up at Le Bois du Château and Kervénanec because of their council housing. An attitude not really justified, given the quality of life and varied types of accom­modation on offer.
"Larmor-Plage is a typical example of a seaside property market, starting with its dual vocation for main and holiday homes, and the inevitable steadiness in prices whatever the context," notes Patrick Le Pichon of Larmorimmo.com. This pleasant family resort attracts windsurfers and fans of sailing. Yet despite all expectations, only 20 % of acquisitions concern holiday homes. They range from the pied-à-terre within walking distance of the beach and town centre - usually a 1- or 2-bedroom apartment priced from 250,000 to 300,000 € - to pre-retirement investments, preferably in Locqueltas or Toulhars - houses of 90-110 m2 with gardens of 250-300 m2, from 300,000 to 350,000 €. Supply is as limited as the sector concerned. Rare building land already costs 750 € per sq. metre. The remaining 80 % of buyers mostly work in Lorient, a 10-minute drive away. Drawn by proximity to the ocean and the area's configuration, with good public transport services, they choose between cubic constructions built in the 1950's/1960's in "fisherman" style, in need of renovation and often synonymous with good addresses, and neo-Breton houses built in the 1970's/1980's on the immediate outskirts. The agency's latest sales range from 350,000 to 500,000 €, the upper end of the bracket corresponding to a recently-built modern home of 130-140 m2 with a garden of 400-500 m2, about 1.5 km from the town. If one wants to be closer to the urban centre, one naturally has to sacrifice living space, overall cond­ition or architectural appeal.
You will also like