The 3rd and 6th "arrondissements" of Lyon
With 88,760 residents in an area of 1,568 acres, the 3rd "arrondissement" is both varied and densely populated. The 6th "arrondissement" with 50,000 people on 931 acres lives up to its reputation as a classy neighbourhood. Their point in common lies in the attraction they exercise on both the people of Lyon and others from elsewhere.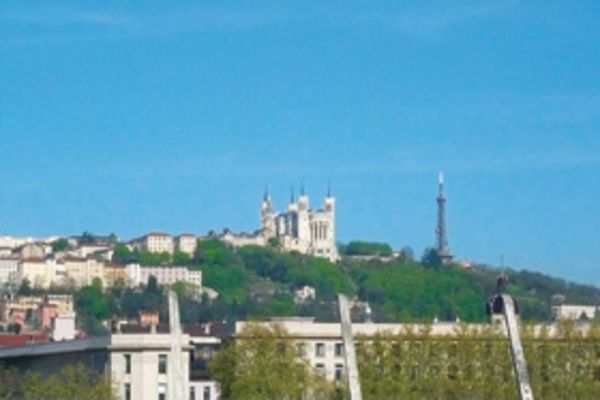 Close to shops, public transport and schools, this duplex of 215 m2 (five bedrooms) overlooks the Rhône and the hills around Lyon. 765.000 €. B.I.C. Immobilier (04 78 60 06 06).
The 3rd district offers a very diverse choice of housing. At Villette/Paul-Bert, a popular and lively area, winding paths cut across straight streets. Industries wishing to set up their activities here benefit from advantageous conditions. The site already accommodates large automobile, chemical, textile, printing and carpentry firms. Houses with gardens can, however, still be found. To the south, Montchat offers a homogeneous urban setting. Its first estate was built in 1858. In the early 20th century, the neighbourhood acquired shops, villas and then hospitals. Even today, the 65 kitchen gardens of 150 m2 are much appreciated by residents. Voltaire/Part-Dieu represents the urban expansion of the 'sixties. In 2006, the concept for the Oxygène tower was introduced, 117 metres high, near the TGV train station and Part Dieu tower - 11,000 m2 of commercial premises and 28,000 m2 of offices. InCity, billed as an ecological tower, could rise to a height of 200 metres by 2013. A vast urban embellishment plan was launched in 1985 in the Mutualité/Préfecture/Moncey area. Pleasant and well-served, the site has a good network of go-ahead associations. Finally, the memory of great members of the Resistance in World War II still wafts over Sans-Souci/ Dauphiné. Regarded as the most select "arrondissement" in the city, the 6th, with good metro and tram services, boasts wide avenues lined with buildings and private mansions sometimes facing the Parc de la Tête d'Or, including the Boulevard des Belges, Rue Duquesne, Avenue Foch, Cours Vitton and Boulevard des Brotteaux. The old railway station now houses one of five "brasseries" owned by the illustrious Paul Bocuse. This chic neighbourhood keeps a careful and discerning eye on its future development. As evidenced by the Cité Internationale, Palais des Congrès, office complexes, the Contemporary Art Museum, cinemas, car-parks, casino and hotels.
"The excellent reputation of the 6th "arrondissement" at both regional and national level, is partly explained by the proximity of the Parc de la Tête d'Or, the "green lung"of Lyon, and the attractively laid-out riverbanks," says Daniel Brun of B.I.C. Immobilier, an agency founded in 1992. The enthusiasm of transferred employees, evident as soon as they arrive, for the 6th, the Presqu'île and the 3rd, Préfecture or Montchat, is significant from this point of view. The 3rd district is both vast and varied. Haussmann buildings stretch from Rue Vendôme to the banks of the Rhône. Priced from 3,500 to over 4,000 €/m2, they enjoy sust-ained popularity. Unfortunately, estate-agents are confronted by a severe shortage of such properties for sale. Bordering the 7th "arrondissement" and Saxe-Gambetta, Gambetta-Guillotière with its hospitals and more heterogeneous areas nevertheless offers commendable properties from 3,000 to 3,500 €/m2, suiting buyers looking for convenience. One of the assets proposed by Montchat is its array of 1930's houses - usually offering living space of 150 m2 with gardens of 400 m2 - at around 600,000-650,000 €, though occasionally pegged at over 1 million euros.
"In the Préfecture area, old properties can attain 4,500 €/m2, precisely because of their rarity, whereas the 3rd "arrondissement" ranges overall from 2,000 to 4,000 €/m2, bar exceptions," says Anthony Martins of Solvimo Kumer Immobilier. The economic boom experienced by La Part-Dieu brings a resulting influx of employees. Very convenient, metro line D is naturally very popular, as is the route linking the train station to the Place de la Reconnaissance, seeing real change since the introduction of the tramway, especially as its prices are still appealing. Among recent sales, Anthony Martins mentions a 2-bedroom apartment of 69 m2 towards Dauphiné with a garden of 70 m2 at 272,000 € ; a 1-bedroom apartment of 50 m2 near Sans Souci, at 190,000 € ; and a 4-bedroom apartment of 110 m2 at Montplaisir at 450,000 €.
"The 6th "arrondissement" benefits from its short distance from the train station of La Part-Dieu, linked by tram to the Saint-Exupéry airport, without suffering from its noise and bustle," says François Leroy of Guy Hoquet l'Immobilier. Unlike the 3rd, it only proposes apartments, offered in the best areas at 4,000-4,500 €/m2. An apartment in a luxury residence on Boulevard des Belges, enjoying a generous terrace, quality appointments and private access to the Tête d'Or, easily exceeds 5,000 €/m2. Recently, one example of 180 m2 in need of complete renovation in Les Brotteaux found a taker at 720,000 €. The real difficulty faced by the estate-agent is establishing a property's value, ie. the balance between the price expected and the level of quality on offer. Generally, residents in the 6th district do not want to leave : they appreciate the setting and the excellent schools, which include the Lycée du Parc and Lycée Edouard-Herriot.
"One should, however, split the district into four distinct subdivisions," notes Dominique Rémy of L'Immobilière des Brotteaux. La Tête d'Or, the quietest, ranges from 3,500 to 4,500 €/m2, more in the case of a mansion or an outstanding apartment. La Cité Internationale, a new area, appeals to fans of recent, comfortable accommodation with comparable budgets. With lots of shops and lively by day and night, Les Brotteaux ranges from 3,500 to 4,200 €/m2, and even beyond. Just after the railway track not far from Villeurbanne, Bellecombe attracts a young and trendy clientele capable of paying around 3,200 €/m2. While sellers are still demanding in terms of asking prices and completion lead-times, buyers are selective and mindful of the long-term value of their investments.
You will also like