The "community of communes" of Les Trois Frontières
Ten entities comprise the "community of communes" created in the year 2000 and covering an area of about 23,940 acres, opening out to the east towards the Rhine and Grand Canal of Alsace. It is home to 50,000 people of whom 20,125 live in the town of Saint-Louis. The region's special feature is a frontier shared with Germany and Switzerland.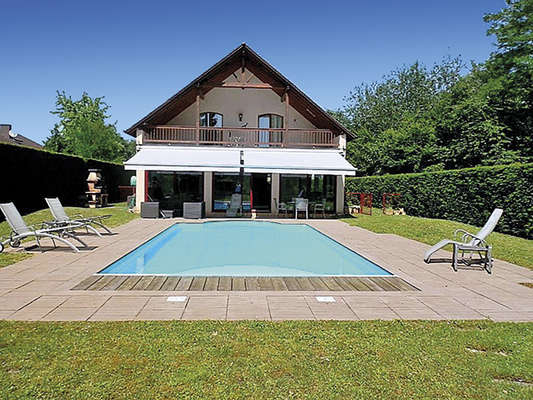 This villa of approx. 260 m2 offers three bedrooms in a garden of 320 m2 with a pool and chalet. 884.000 €. Staub Immobilier (03 89 89 72 30).
Reached from the north and south by the A35 motorway and the railway line linking Mulhouse and Basel, the area benefits from high-quality road and train services. The international Mulhouse-Basel Airport provides flights to the main European cities, Africa and the USA. The geographical position encourages large companies to move in, creating jobs on the French side, complementing economic activity both German and especially Swiss, a country known for its chemical and pharmaceutical industries. Slightly more than 300 years old, Saint-Louis is the third most densely-populated commune in the Upper Rhine, the last French town on the road from Strasbourg to Basel. It is 3.5 km from the centre of Basel, 4 km from Weil-am-Rhein, and 21 km from Mulhouse. The foothills of the Jura are only 7 km away, those of the Vosges 40 km.
"The area comprised of Saint-Louis and Les Trois Frontières is clearly indissociable from its two neighbouring countries, Switzerland and Germany. Basel is the main driving force," says Joël Chéron of L'Adresse Au Pôle Immobilier. The market encompasses people working in Switzerland and local employees. The first benefit from an enviable purchasing power and therefore nurture high demands. Most are looking for new or at least recent housing, comfortable, with high-quality appointments. In the case of houses, they usually pay from 350,000 to 450,000 €, the sum required for a home of 120 m2 with a garden of 500 m2. Fans of apartments pay up to 3,000 €/m2 as long as they offer a full range of amenities. Clients working in France find it hard to pay more than 250,000 €, the budget needed to acquire an old semi-detached house. Prices rise the closer one gets to the borders. Most clients want to be within 10 km or a 15-minute drive at most. Current activity, reflecting a wait-and-see attitude, is more complicated. Whence the need to stand out by means of a property's condition or value for money... The conditions necessary to ensure a reasonable selling time.
"Saint-Louis offers all the shops and services essential for daily life," says Sébastien Ciavarella of CGA Immobilier. "The protected site known as "La Petite Camargue" is ideal for walks. Biking paths encircle the area, even crossing frontiers. Urban amenities facilitate inter-connections between the three countries. By way of example, a footbridge crosses the Rhine, taking you into Germany." This undulating region with its golf-courses is not far from the Jura, Vosges and Black Forest. Out of every ten transactions, seven or eight concern a Swiss employee, two or three, people working locally. Holiday homes are rare and rental investments on the decline. Nevertheless, the cruising speed remains satisfactory, with activity fuelled by a geo­graphic and economic context still seen as favourable. Many buyers come from outside the region, start by renting, then acquiring a property. Basel, and especially its chemical and aeronautical sectors, are important job providers. Not forgetting the airport, just 5 minutes from Saint-Louis. Today, over-valued properties have no chance of selling ; potential buyers are very well-informed.
"The prestige sector still meets with some success," notes Stéphane Zwingelstein of Staub Immobilier, also responsible for a service dedicated to this market segment. Very desirable houses ranging from 700,000 to 1.2 million euros - bringing living space of over 230 m2 on 25 to 37.5 acres of land with sweeping views - appeal to executives in the pharmaceutical industry, working in Basel, where property prices triple for equivalent homes. Drawn by the dynamic pool of employment, English and German clients also set their sights on the "community of communes". High demand from first-time buyers should also be mentioned, for semi-detached or small detached homes priced up to 230,000 €. When they reflect going market prices, these homes change hands without any difficulty. Whatever the segment, stocks are currently scarce, which explains the market's steadiness and its stable prices.
You will also like