Student rentals in Toulouse : an enticing market segment
The university of the "Rose City" was created in 1229. Today, out of a total 459,450 inhabitants, the capital of "département 31" accommodates nearly 97,000 students. A third of the population is between 15 and 29 years old. The town does not intend to do things by halves : it is determined to rank soon amongst the world's top 50 university towns.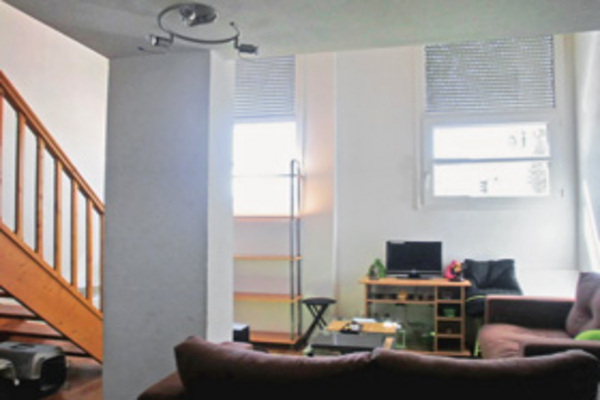 At Saint-Michel, this apartment with 1+/2 main rooms offers living space of 45 m2 with parking place. 118,000 €, currently rented 450 €/month plus charges. Deisieux Immobilier (05 31 98 22 19).
The magazine "L'Etudiant" has published a survey placing the City of Violets at the top of the list of French towns with commendable student facilities. Aerospace, on the site of Montaudran, is apparently tagged to become Europe's largest campus focusing on aeronautics, space and embedded systems. Law, political science and economics have their own lair a stone's throw from the Garonne, Les Allées de Brienne and the Capitole, ie. at the very heart of town. For literature, foreign languages, sociology, history and geography, one sets off for Le Mirail. Science and medicine are housed at Paul-Sabatier, a faculty working in close liaison with the University Hospitals of Rangueil and Purpan. As for the National Polytechnic Institute, it encompasses the ENSAT, ENSEEIHT, ENSIGC, ENSCT and INSA. Not wanting to confine itself solely to university courses, Toulouse also hosts a wide array of "grandes écoles", including colleges of fine arts, architecture, meteorology, veterinary studies, the Conservatory and the very dynamic "Sup de Co" (business management).
"The Prefecture of Haute-Garonne is France's third largest student community after Paris and Lyon. Nearly one person in four has a student card. And this clientele is a real blessing for estate-agents. In addition to the potential for rentals, it makes the address very popular among investors," says Cyril Trouche of the Urbania agency. Said investors have to choose between immediate returns or long-term asset appreciation. The town centre offers an excellent compromise. Buyers pay 65,000 € - the sum required for 18-20 m2 to renovate, at ground level or on an upper floor without elevator - to 150,000 €, for 30 m2 in perfect condition, Rue des Lois, Rue de la Pomme, Rue du Taur or on Place Saint-Georges. The first example brings 350-380 €/month excluding charges, the second, 600-700 €. With a ceiling of 5 % prior to the crisis, the yield on investment can today attain 6 % gross, and even 7-10 % in Le Mirail, for an acquisition ranging from 1,800 to 2,300 €/m2. In the working-class neighbourhood, priority should be given to immediate proximity to university buildings. Parents wanting to house their offspring generally account for 20-30 % of private buyers. At Paul Sabatier, the only area of the three likely to offer new developments, they constitute the majority. Depending on the property's age, they pay from 2,500 to 2,800 €/m2 with a return of 7-8 %. Apartments also draw the interest of buyers from the south-west, aged between 35 and 50, taking advantage of low interest rates to acquire assets from which they will benefit when they retire, while entire buildings are coveted by investors from all over France.
"Toulouse is, without doubt, the safest investment in the region with, perhaps, some competition from Bordeaux, a more affordable city but also less student-oriented," notes Nicolas Deisieux of Deisieux Immobilier. In choosing the historic heart of town, the buyer assumes zero risk. Here, demand structurally outstrips supply. Over the past 18 months, prices have hardly flinched at all. Properties sell easily and quickly. Small surface areas, modest prices and proximity to amenities are recurrent criteria. Living space of 20 m2, costing 80,000 € and rented for 380-420 € per month, is the most popular product. The financial crisis has in fact strengthened this segment of the market. During the collapse of the stock exchanges, many savers withdrew their money from the banks, preferring the security of bricks and mortar. Half of today's clients are still looking for sound investments. The gap between sellers and buyers has been reduced. No need to be professionals, both parties know both the costs and all the implications. A high rate of mobility and degradation are inherent risks, often guaranteed by insurance policies. On the other hand, there are fewer unpaid rents than on the normal market, thanks to underwriting by parents and the support of the CAF (family/student allowances). "Right now, I have on my books a 1-room apartment with balcony on the corner of Pargaminières-Capitole at 135,000 € and an aparmtent of 40 m2, completely redesigned by an architect, on Rue de Rémusat, at 180,000 €. While these two examples offer intrinsic advantages, they do not really meet demand," says Françoise Maurel of the Centre Immobilier Toulousain. Parents do not want monthly loan repayments to exceed the income from renting, which means a top price of 100,000 €. By way of information, an apartment with 1 main room rents for 380 €/month, 1+ rooms for 450 €, and 2 rooms 500 €. Shared rentals work well : in a 3-room apartment of 60 m2 leased for 700 €/month, students share both rent and expenses. For equivalent cost, they enjoy more living space than in a studio. Owners of 3-room apartments are not, however, fond of this type of clientele, considered too volatile and noisy. In all events, investors would be well-advised to choose residences very close to metro lines.
You will also like