Strasbourg : heritage and dynamism
Home to the European Parliament and a leading student destination, Strasbourg is one of the foremost economic hubs in north-eastern France. A lively agglomeration which also boasts a remarkable architectural heritage.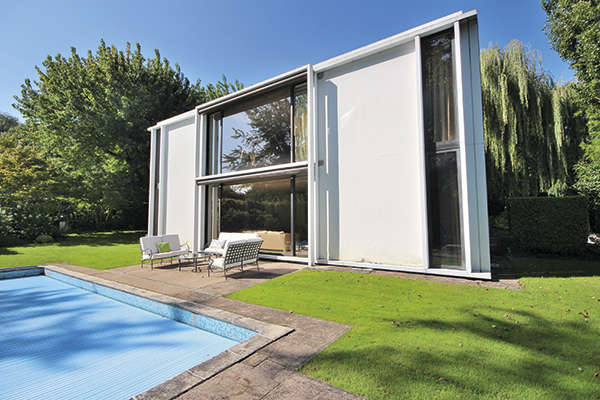 Designed by an architect, this house of 330 m2 in La Robertsau benefits from a garden of 900 m2. 1.537.000 €. Immobilière Catherine Chevreux (03 88 44 01 56).
Hosting the headquarters off many international institutions including the Council of Europe, the European Parliament and European Court of Human Rights, Strasbourg (pop. approx. 275,000) is renowned well beyond the borders of Alsace. Fuelled by a modern and diverse secondary sector and a service sector seeing constant growth, the city is clearly focusing on the future. Each year, its university and "grandes écoles" also bring in over 50,000 students of about 100 different nationalities. Furthermore, its architectural heritage is inestimable with, in particular, an historic town centre (known as the "Grande Ile" or "ellipse insulaire") listed by UNESCO.
Catherine Chevreux, manageress of l'Immobilière Catherine Chevreux (an agency opened in 2004), specializes in the highly-prized neighbourhoods of La Robertsau, Les Contades, Les Quinze, Les Musiciens, L'Orangerie and the town centre. In this last neighbourhood, she is currently proposing a new high-end development consisting of some 50 apartments, already meeting with great success : "Priced at about 5,500 € per sq. metre, "Le Plaza" stands out from residences in the hyper-centre because it offers large terraces, lifts and parking facilities, while conforming to the latest energy standards". In L'Orangerie, she describes prices ranging from 3,500 to 5,000 € per sqm, as illustrated by a top-floor apartment of 220 m2 with a terrace of 50 m2, which recently sold for around 4,500 € per sqm. Prices which are pretty much ident­ical to those posted in Les Contades : "We recently handled the sale of two apartments there of 150 and 180 m2, priced from 4,000 to 4,500 € per sqm". On the market for houses, one example of 300 m2 designed by an architect, in perfect condition, found a taker in La Robertsau at 1.1 M €. "Prices have now stabilized," adds Catherine Chevreux, who is mainly contacted by company directors, self-employed professionals (doctors, dentists...), and young couples already established in comfortable careers, who rarely need to raise a mortgage.
Jean-Yves Rodier manages HRD Immobilier in L'Orangerie (an agency founded in 1976 which became part of the HRD group in 1993), a residential neighbourhood particularly appreciated for its houses : "In need of renovation, they cost around 800,000 €, whereas those in very good condition are worth close on 1.8 million euros. Which is also the case for Les Quinze and Tivoli. In more affordable neighbourhoods such as Koenigshoffen, Hautepierre and Cron­enbourg, prices range from 250,000 to 450,000 €". Rental investments are productive everywhere : "They are appealing in the best areas as the markets there are very steady, but also in other neighbourhoods because they obtain a higher yield". Wealthy investors in fact comprise the larger part of the agency's clientele, together with first-time buyers. "In La Robertsau, clients are more likely to be families with children and substantial income," explains Grégory Kihl, manager of the HRD Immobilier in this neighbourhood (opened in 1997). In this privileged part of town, our estate-agent mentions prices ranging from 2,900 to 3,200 € per sqm. By way of example, he recently sold a top-floor apartment of 90 m2 with 4/5 main rooms in a quiet leafy setting, priced at 3,000 € per sqm. "For houses, one can expect to pay from 400,000 to 800,000 €, a few rare exceptions aside."
You will also like