Strasbourg, a multi-speed market
On the left bank of the Rhine, the prefecture of département 67, with headquarters of international institutions just like Geneva, New York or Montreal, is the largest commune in France's "Great East" with about 271,800 inhabitants. Its economy relies on both the secondary and tertiary sectors, and more particularly finance, consultancy and research.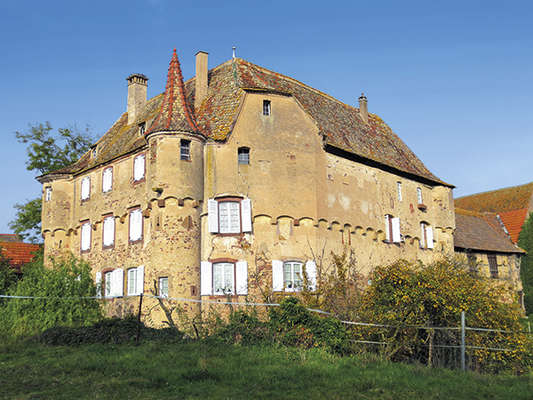 This magnificent 12th-C. castle comes with over 500 m2 of farm buildings on 8,270 m2 of land. 1.050.000 €. Eckert Immobilier (06 07 26 81 61).
The aptly-named "European parliamentary capital" plays host to the European Council, European Parliament and European Court of Human Rights, as well as two competitivity clusters, the first focusing on life sciences, biotechnologies and pharmaceuticals, the second dedicated to avant-garde vehicles. On the border with Germany, the area boasts a remarkable architectural legacy. In 1988, the centre of Strasbourg, on the Grande Ile, was listed as part of UNESCO's World Heritage. The Notre-Dame Cathedral and La Petite France are the standard-bearers of this cultural centre, France's second liveliest congress town after Paris. Among the students enrolled at the University or one of the city's "grandes écoles", 20 % are foreigners of over 100 different nationalities. About 30 kilometres from the Black Forest and about 40 from Les Vosges, Strasbourg benefits from a central position in Europe. In 2005, the commune had about 135,300 homes. Less than 7 % consist of houses, 35 % were built before 1949, and 38 % have at least four main rooms.
"Properties under 300,000 €, especially houses of about 100 m2 in satisfactory condition, opening out to small gardens, meet with some success despite the tense context, because they correspond in terms of both comfort and budgets to the requirements of most families," says Guillaume Minges of Groupimmo Strasbourg Ouest. The only fly in the ointments is the scarcity of such homes on offer. Up to 400,000 €, there is a steady flow of activity. From 500,000 to 800,000 €, demand shows a clear decline, picking up above that level and up to 1.5 million euros, the sum required for a property or private mansion of 300 m2 in perfect condition, benefiting from an outdoor area of 500 m2. The market for apartments is pretty much heterogeneous in terms of price and quality. In the centre, it ranges from 2,500 to 5,000 € per sq. metre, and can attain 7,000 € when irreproachable appointments are joined by a select address. Such is the case of a new residence with a swimming pool, terraces, cellars and parking facilities in La Robertsau, a chic neighbourhood comprised of about 1,217 acres of forestland. The west side of Strasbourg is undoubtedly the most affordable area bearing the 67200 postcode, as evidenced by the large presence of first-time buyers. Here the sq. metre ranges from 1,100 € - applying to 1960's and 1970's residences near a "dodgy" neighbourhood - to 3,000 € - for Haussmann and Germanic buildings benefiting from high moulded ceilings, parquet floors and fireplaces. The centre is doing well, while the west side of Strasbourg has been hit hard by the crisis. Suffering much more from the drop in prices, it leaves owners with no other choice than losing money or postponing their plans to sell. As soon as one leaves the town in the direction of Kochersberg and the Route des Vins, the style of housing changes radically. Here one finds substantial residences with generous surface areas both inside and out, highly-prized by large Alsatian families.
"The current year has been particularly active for homes priced from 100,000 to 350,000 €," says Guillaume Eckert of Eckert Immobilier. 70 % of transactions involve year-round residences : 50 % concern the actively employed, 25 % first-time buyers, struggling with drastic mortgage conditions and the obligation to come up with a deposit, and 25 % retirees, often benefiting from high purchasing power after selling a home on the outskirts of the town. The scarcity of town houses, especially popular among families with children, is proving to be a real problem. 30 % of clients are looking for rental investments, either an entire building with a yield of around 10 % or a small apartment suitable as a student rental, producing a return of 5 % in the select neighbourhoods of Neudorf, Orangerie, La Robertsau, Schiltigheim and Illkirch. "While over-valuation, all sectors combined, is now totally rejected, there are lots of visits and the crusing speed of overall activity is satisfactory," adds Guillaume Eckert.
"Less than 30 km north of Strasbourg, Haguenau provides an alternative to the city and its high prices," notes Julien Schneider of the Immoteam agency. A real pool of jobs in the industrial and service sectors, it benefits from good public transport services and the motorway. Haguenau's 34,300 inhabitants can acquire a house for the price of an apartment in Strasbourg. A "pavillon" of 90 m2, for example, with a garden of 300 or 400 m2 can be found for 200,000 €, though most transactions in this category range from 250,000 to 300,000 €. Old 1-bedroom apartments of 40 m2 start at 90,000 €, while an apartment of 110 m2 in a residence will fetch 240,000 €. Also specializing in the top end of the market, Julien Schneider insists : "It's not rare for us to sell houses from 500,000 to 600,000 €. Currently, one owner is asking 1 million euros - a price which is already much more unusual - for a property of 500 m2 with an indoor
pool and spa".
You will also like