Southern Ardèche : an area offering character and leisure activities
Fascinating natural sites, a Mediterranean climate, a priceless architectural heritage, traditional gastronomy and wine production, a wealth of sports activities... The southern Ardèche is certainly not lacking in tourist attractions. And its property market is still affordable...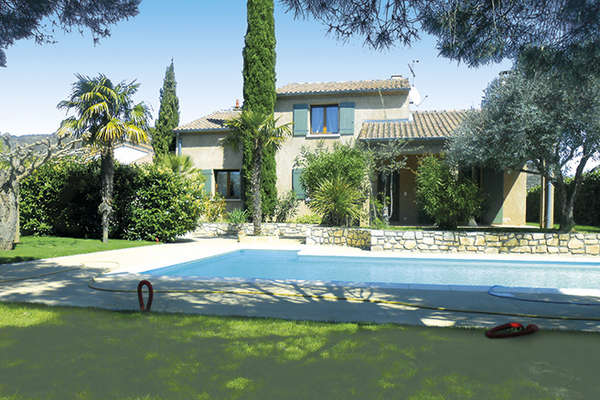 Near Vallon-Pont-d'Arc, this Provençal house offers living space of 185 m2 in 2,000 m2 of grounds. 367.500 €. Immo-Loc Ardèche (09 86 21 74 54).
Characterized by a particularly favorable climate, the southern Ardèche (between the Rhône valley and the foothills of the Cévennes) boasts an impresssive number of remarkable sites attracting tourists from all over Europe. They include villages of character, steeped in history (with châteaux, churches, dolmens, menhirs...), such as Joyeuse, Viviers, Balazuc, Labeaume, Largentière, Vogüé, Labastide-de-Virac, Saint-Alban-Auriolles and Saint-Montan. But also the gorges of the Ardèche (classified as a nature reserve), those of La Beaume, and the forest of Païolive. Not forgetting the grotto of Chauvet (part of UNESCO's World Heritage, with a replica that can be visited) and the Aven d'Orgnac ("Grand Site de France"). Sports and leisure activities are also legion : hiking, canyoning, canoing-kayaking, climbing, pot-holing, bungee jumping... As for the area's property market, it is more affordable than that of neighbouring Provence...
"Demand here is mainly for traditional villas priced at around 250,000 € for living space of 100-110 m2," says Julien Suarez, manager of Provans Immobilier, an agency based in Les Vans since 2009, specializing in sales in the southern Ardèche, the northern part of Le Gard and some areas in Lozère. Covering this pleasant and well-preserved region with a rich architectural legacy and a full array of amenities, Julien Suarez also receives enquiries about old "mas" built of stone. "We just sold one such property, for example, with living space of 200 m2 on almost 10 acres of land, for about 450,000 €." Building land also proves to interesting : "For a plot of 1,500 m2, one can expect to pay from 70,000 to 80,000 €. And several Local Urban Planning Projects that are underway are increasing the number of offerings, which also tends to keep prices down". Overall, the market is active and prices have stabilized. "Our clients mainly consist of seniors, both French and foreign - from Belgium, Switzerland, the Netherlands and Germany -, who hope to settle in the region after selling their homes."
Since December 2014, Fabienne Grivelet, manageress of Immo-Loc Ardèche, has been based in Vallon-Pont-d'Arc, a commune at the entrance to the gorges of the Ardèche (its name comes from the famous Pont d'Arc, a natural arch over 60 metres long) with numerous grottos (including the famous grotto of Chauvet) testifying to the presence of Man in this region over 30,000 years ago. Specializing in holiday rentals, the agency also handles sales and rental management, within a radius of 30 km around the village. "Activity here is very steady, especially as our speciality bringing income from the properties we sell is of interest to our clients, particularly in the field of holiday homes," explains Fabienne Grivelet. "Demand mainly involves budgets between 200,000 and 250,000 € for houses with gardens of around 1,000 m2. Otherwise, old Ardèche "mas" priced well over 300,000 € are reguarly sought after, as well as properties consisting of "gîtes" (self-catering accommodation) costing close on 500,000 €, and rental investments such as small holiday homes under 100,000 €." Building plots at around 50 €/m2 for surface areas attaining 1,000 m2 are also in demand. "Our clients include seniors from northern France looking for holiday homes which will become permanent once they retire, rental investors and local buyers wanting to move into a different kind of home - all on one floor, for example."
You will also like