Sarzeau, between gulf and ocean
22 km from Vannes in Le Morbihan south of Brittany, this commune on the Rhuys peninsula is home to close on 7,700 people. Benefiting from a coastline 65 km long and including several islands, it offers a pleasant alternation of sandy beaches and wild creeks.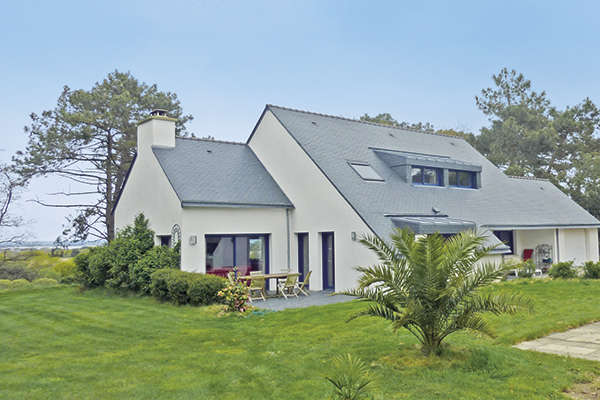 Near the town centre, this villa built in 2005 with a panoramic view of the Gulf offers four bedrooms in mature grounds of 2,800 m2 with a heated pool. 694.000 €. Antoine Bonnet Immobilier (02 97 48 08 08).
Set between the marshes and the forest, the Château de Suscinio, one of the favourite residences of the Dukes of Brittany in medieval times, is Sarzeau's main historic monument. This area of about 14,820 acres opens out to both the Gulf of Morbihan and the ocean.
"The seaside resort is lively year round, offers all the shops and amenities essential for everyday life, a healthcare centre and schools up to intermediate level," says Jean-Hervé Rondot of Ofic Immobilier. Holiday homes still account for 85 % of the activity. Given the tight economic situation, budgets have retract­ed to about 250,000 €. Buyers looking forward to the end of their careers combine an investment with their own personal enjoyment. Unfortunately, the market segment concerned - ie. houses of 60-70 m2 with 2 or 3 bedrooms, preferably less than 1 km from the beaches and shops - suffers from a real scarcity of offerings. Clients from the "great West" of France have a long-standing bond with the region, whereas traditional Parisians are more hesitant. The market for main residences is shared out between retired locals, looking for a central and practical address (usually an apartment with 2 or 3 bedrooms, from 250,000 to 300,000 €), and senior citizens from other départements who, after selling their apartments in large French cities, treat themselves to houses from 350,000 to 400,000 €, bringing living space of 100 m2 with a garden of 400-500 m2.
"Sarzeau has some very persuasive arguments, starting with one of the longest shorelines in the country, a double outlook towards the gulf and the ocean, and a temperate climate," notes Romain Vaquette of Avis Immobilier. "Not forgetting a busy summer agenda and island scenery of spectacular beauty. You have the choice of a sandy beach facing south with a watersports centre or the more private option of an intimate creek." Today's average budget of 250,000 € should be compared with that of 300,000-350,000 € in 2007. Yet it's hard to point to a straight loss in buying power as property prices have since fallen, just like mortgage rates. The buyers come from Rennes, Nantes, Angers, Le Mans or Laval, all towns which have done well over the past decade. While many of these clients are capable of paying cash, they prefer, given today's very low interest rates, to leave their savings invested and take out a mortgage. Apartments built in the 1970's and 1980's without any real comfort are not drawing much interest. Only those in quality residences are likely to sell. Likewise, there is more demand for houses close to the village, gulf or ocean. As soon as one goes 2 km beyond these centres of attraction, surface areas increase together with budgets.
"Acquisitions of year-round homes seem to be gaining ground ; this segment is fuelled by French retirees looking for good-sized houses with gardens, usually up to 400,000 €." By way of example, Noyale Boulio of Antoine Bonnet Immobilier cites a home of 140 m2 with a garden of 700 m2 in Le Bois d'Anic, sold for 448,000 €, and another of 100 m2 in grounds of 1,200 m2 in the town, priced at 350,000 €. For this clientele from outside the region, turnkey condition is a determining factor - together with the micro-climate. The choice of the ocean, golf-course or village is often made well in advance. The first means being close to the beaches and a constantly level waterline, the second, being close to the creeks with their tides and pathways, while the third means prac­ticality and convenience.
You will also like