Saint-Quay-Portrieux and Erquy, pearls of Brittany
Only a few kilometres from Saint-Brieuc, these two communes have kept the charm of authentic Brittany completely intact. Lively all year round, they both see their population figures soar in the summer season.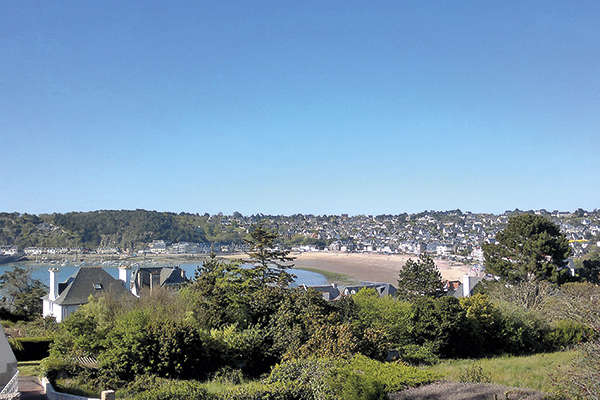 This property in Erquy is comprised of 3,000 m2 of grounds and a house of approx. 240 m2 with 8 main rooms (4 bedrooms), a garage, wine cellar and workshop. Almost 570.000 €. Agence Rémy Cabaret (02 96 72 44 99).
Saint-Quay-Portrieux is an micro-market in which holiday homes account for 50% of the properties. The commune has a total 3,000 residents, half of whom only live here for part of the time, mainly in summer, but also during school holidays, long weekends and nat­ional holidays. The deep-water harbour plays host to some 1,500 boats and, in addition to amenities essential for everyday life (schools, a doctor, supermarket...), Saint-Quay-Portrieux benefits from an 18-hole golf-course, tennis courts and a listed cinema. Sport is part and parcel of its life with, in particular, the Figaro race, world championships in Match Racing and a volleyball cup. The French capital is only 3 hours away by train, which explains the fondness of Parisians for this well-preserved corner of Brittany. Old buildings rub shoulders with more recent developments, and the accom­modation is shared out between old houses (on the harbour and in the old town) and new offerings. All categories combined, prices range from 70,000 €, the starting-price for a studio, and 450,000 € for a 3-bedroom apartment. A 1-bedroom apartment costs from 90,000 to 150,000 €, a 2-bedroom apartment from 170,000 to 300,000 €. Price-tags which vary depending on the property's loc­ation and condition. "The market is buoyant and, overall, supply meets demand," comments Jean Morvan of Mila & Immo. "We are witnessing a change more than a crisis. And today, buyers pay much more attention to being able to hand down their properties."
30 km from Saint-Brieuc, Erquy is known as the capital of Saint-Jacques scallops. Its fishing harbour is still very active with no fewer than 80 fishing boats. Jean Anouilh had a house here and came for frequent stays. And Uderzo borrowed inspiration from the town to create its "village inhabited by indomitable Gauls who still put up resistance against invaders and always will", as demonstrated by the three small rocks off the cape of Erquy. Recent and older buildings stand side by side, even in the town centre where some buildings have been demolished and replaced by new residences. The price per sq. metre ranges from 2,500 € in old buildings to 4,000 € for a property with attractive appointments and a sea view, above all to the taste of retirees wanting to be close to amenities. The Tu Es Roc neighbourhood offers numerous fishermen's houses, facing south, with views of the sea. The red sandstone quarries are no longer in activity, though nearby houses are colourful witnesses to a bygone era. Renovated or not, these homes are popular and one has to spend from 250,000 to 300,000 € to become the lucky owner of an example of 80 to 110 m2. "Also on the seafront, the Caroval neighbourhood attracts families wanting to benefit from a holiday home ; the sandy beach stretches out as far as the eye can see, and Parisians, Dutch, English and German clients share the houses whose prices start at 250,000 € for the most modest to attain 500,000 € in the case of lovely stone villas from 200 to 300 m2 with pretty gardens, at the edge of the dyke", says François-Xavier Le Chanu of the Rémy Cabaret agency. The locals mostly live on the Boulevard de la Mer or near the hospital, or sometimes in certain neighbouring communes such as La Bouillie or Plurien, which are seeing estates of small, affordable houses rise from the ground. As for year-round rentals, the market is somewhat stretched, with demand largely outstripping supply. One would have to pay 400 to 500 € for an apartment with 1 bedroom, 500 to 600 € for 2 bedrooms, 650 to 750 € for a 3-bedroomed house. Highly-prized by tourists, Erquy has a flourishing seasonal rental market. The main criteria of those who stay here for their holidays are to be able walk to the beach and, ideally, enjoy a sea view. For this, they pay 500 € per week in July and August for a 1-bedroom apartment or up to 700 € for a large house in a good location. The price of getting away from it all in Brittany !
You will also like