Real estate market development in the plain of L'Ain
Created in December 2002, the "Intercommunalité de la Plaine de l'Ain" unites 33 predominantly rural communes with a local programme for shared home construction and a common desire to enhance and boost this area at the gateway to Lyon.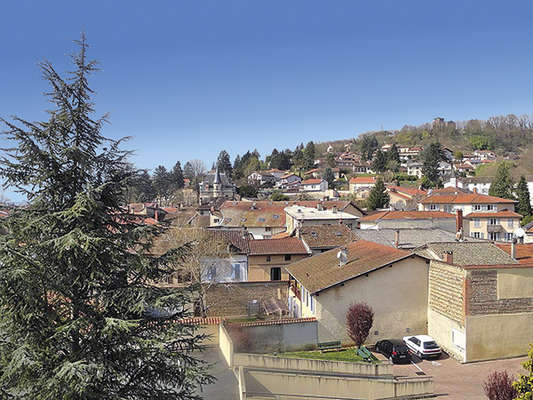 In Montluel, renovated 2-bedroom apartment of 83.5 m2 in an old building, offering an open view of the rooftops and benefiting from a parking place. 180.000 €. Gestion et Gestion et Patrimoine de la Dombes (04 78 88 72 94).
Montluel, Meximieux, Lagnieu... These rural communes with well-preserved charm have succeeded in carrying out intelligent modernization, thanks especially to well-prepared urban planning regulations, careful management of open green spaces, and an efficient public transport policy. With 800 passengers per day, the station in Montluel sees a good many residents hopping on the train to reach their workplaces in Lyon in just a few minutes. Proposing varied accommodation at attractive prices, these communes are increasingly acclaimed by local workers wanting to leave the city centre to enjoy quieter family lives and, above all, treat themselves to housing of quality at prices sharply lower than those posted in Lyon and its first ring. Especially as Montluel is admirably equipped to cater for children from their earliest years. The result has been construction of numerous developments of houses on subdivisions, as well as total renovation of small residences with functional apartments at prices in line with the budgets of first-time buyers.
Guillaume Martin, Deputy CEO of Gestion et Patrimoine de la Dombes in Villars-les-Dombes, opened an agency in Montluel in September last year. The only local agency to propose not only transactions, but also rental and co-ownership management, this new entity is accompanying the development of the zone in Montluel where demand is rising steadily. "Many first-time buyers, especially young couples planning to have a family, can afford a 2-bedroom apartment here, in good condition, at around 2,000 € per sq. metre, while continuing to work in Lyon thanks to efficent train services," explains our specialist, citing several 2-bedroom apartments in the centre, priced from 140,000 €.
Fabien Bazin also chose the commune of Montluel in which to open the Solvimo agency in January, 2013, covering the area extending from Meximieux to Saint-Maurice-de-Beynost. He has identified two distinct markets : firstly, the Meximieux zone, with rural-style accommodation, and secondly, Montluel, proposing a mixed bag of houses and small blocks of apartments in the town centre. "Clients from Lyon are drawn not only by the prices, but also the amenities and quality life-style offered by these addresses," he explains. "Here, with an average budget of 200,000 to 250,000 €, they can set their sights on a charming family home with three or four bedrooms, and a garden of 300 to 400 m2, even in the numerous new developments which are now rising from the ground." As exemplified by an estate with 15 new villas, these property developments are the result of a desire to "densify" the villages in the plain of L'Ain. In Pérouges, one can thus envisage acquiring a new 3-bedroom house with a terrace, garden and large garage for 225,000 €.
You will also like