Prized neighbourhoods in Anglet
Bordering on Biarritz, Anglet is home to almost 38,000 residents. Vast and airy, the commune stretches out along a shoreline of 4.5 km edged by 11 pleasant beaches. Its various neighbourhoods offer wide diversity in terms of properties.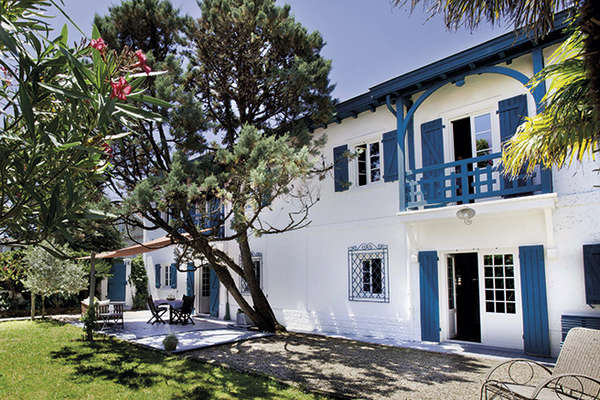 In the midst of a quiet neighbourhood, this tastefully renovated 1920's house of 130 m2 offers 3 bedrooms and a mature garden sheltered from view. 530.000 €. Ateliers Lofts & Associés (05 59 24 67 48).
Between Bayonne and Biarritz, Anglet is a largely wooded commune bearing the imprint of both Basque and Gascon culture. Its beaches, thalassotherapy centre, golf-course and biking paths along the forest provide a peaceful, countrified backcloth. Its economy relies on tourism, surfing, the food industry, and the aeronautics industry (the Dassault plant builds part of its Falcon jets and Rafale aircraft here).
"Anglet's property market consists of a series of neighbourhoods," says Julie Lamboley of the Ateliers Lofts & Associés agency in Biarritz. "There is no real town centre. Disparities in the prices and categories of properties can be wide, depending on the area." The most prestigious properties are to be found in Chiberta, the golf-course area running along the beach. Quiet and leafy, this up-market neighbourhood is largely comprised of villas, mostly priced from 800,000 to 2.5 M €. Conveniently located for the main road leading to the airport and motorway, the Chassin-Aguilera area on the periphery of Anglet is also one of its most popular addresses. Very close to Biarritz, it offers some very desirable properties, such as a contemporary house of 190 m2 which was sold for 850,000 € within three weeks by Ateliers Lofts & Associés. "We are also seeing ever-growing interest in the old working-class neighbourhood of Blancpignon, on the road to Bayonne. Young couples drawn by the more affordable prices of houses here set their sights on properties from 150 to 200 m2, in good condition, priced around 500,000 €." The neighbourhood enjoying real popularity and, inevitably, constantly rising prices, is that of Les Halles des 5 Cantons. "We participated in the marketing of a new development just above Les Halles. Priced from 5,000 to 6,000 € per sq. metre, the apartments sold really fast."
Inaugurated in the summer of 2015 after three years of construction, the new Halles des 5 Cantons on Rue Paul Courbin accommodate a selection of caterers and food industry artisans in a surface area of 800 m2. This new market centre has brought amazing vitality to the neighbourhood. Local families and tourists go there every day to do their gourmet shopping. "The Halles des 5 Cantons have really boosted property values here, especially as the beach is within walking distance," explains Veronique Dessauce, a professional in local real estate who opened the DL Immobilier agency in Biarritz one year ago. "80 % of the offerings consist of houses in good condition or requiring renovation. When correctly estimated, properties can sell within two weeks, demand is so steady." By way of example, she mentions a 1960's house of about 200 m2 in need of renovation, in divisible grounds of 1,900 m2, up for sale at about 1.3 M €. "Our clientele comprised of French and a few English and Spanish buyers are fond of this neighbourhood and that of Chiberta, where pretty villas are seen as perfect holiday homes. The loveliest loc­ations are sought-after by clients willing to raze a property they find obsolete to the ground, in order to build a home to their taste." As evidenced by a plot of 1,163 m2 offering a view of the Golf du Phare : the existing house is to be demolished by the new owners, who parted with about 1 million euros to acquire this prime location.
You will also like