Pornic, a pearl on the Jade Coast
A seaside resort offering lots of character with its fishing harbour and famous customs path, Pornic has succeeded in preserving all the charm of historic Brittany. For fans of authenticity...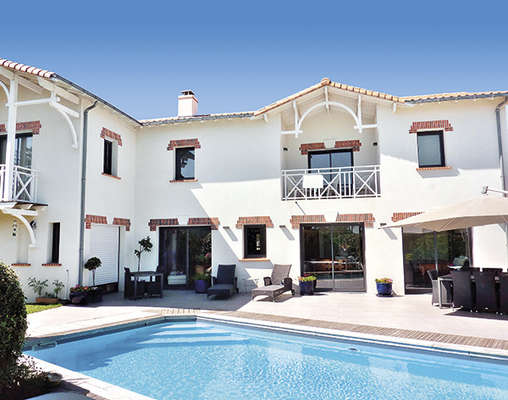 This exceptional new villa in seaside style has just been sold. Entre 800.000 et 900.000 €. Agence du Vieux-Port (02 40 82 04 95).
The most iconic commune on the Côte de Jade with about 15,000 residents, Pornic enjoys on-going popularity whether for holiday homes or, increasingly, year-round residences. Here, 45 km from Nantes and 20 km from Saint-Nazaire, home-owners and holiday-makers appreciate an authentic life-style on the shores of the ocean. The commune is well-known for its arts and crafts - especially its pottery -, its thalassotherapy centre, casino and 18-hole golf-course. Attractions which guarantee quality stays with the accent on well-being. In 1973, Pornic merged with the old communes of Sainte-Marie-sur-Mer. Typically developing around its harbour, Pornic covers an area of over 25,000 acres, on which many seaside villas of character were built on the seafront as far back as 1830, by wealthy fans from Nantes.
"Our clientele is now much the same as that of La Baule. It consists of people working south of Nantes aged between 30 and 50, and retirees from northern France," says Didier Léandri, in charge of sales for the Cabinet Aprogim, based in La Baule with an office in Pornic. "Many people from Paris, Rennes, Angers and Le Mans hope to acquire a lovely seaside property, built of stone, with lots of character, dating back to the early 20th century. Ideally facing the sea or in good locations in the town, the loveliest examples are pegged from 650,000 to 750,000 €." Another type of property typical of the area ? "Vendéenne houses all on one floor, with brick roofs. Offering living space of about 80 m2 with small gardens of 600 to 1000 m2, they can be found from 200,000 €." Housing further back from the coast is comprised of properties built in the 1980's : small "pavillons" and a few 2-storey apartment blocks laid out around the golf-course. "Mainly intended for leisure purposes, this type of property costs around 3,000 € per sq. metre," says Didier Léandri.
Also specializing in Pornic and its immediate surroundings within a 15-km radius, the Agence du Vieux-Port, taken over in 2009 by Maguy Delaire and Emilie Maiche, focuses on houses of character with price-tags from 400,000 €. They embody the "property of charm" in Pornic, and especially the Sainte-Marie-sur-Mer area. "We have just sold two outstanding properties at prices around 900,000 € : a sublime new villa in seaside style, and another on the seafront," say these associates, confident about 2014, which has gotten off to a better start than 2013, even though "buyers are past-masters in the art of bargaining". This year, the agency is developing its activity for properties sold as "viagers" (for which one makes a down payment, then fixed monthly installments until the demise of the owner(s)), a service which should be popular in Pornic. The most highly-prized neighbourhoods ? "La Noëveillard - the area around the sailing harbour - and the residential zone around the golf-course," say these agents, who also propose a few apartments with sea views in pleasant res­idences, currently priced from 4,500 to 5,000 € per sq. metre.
You will also like