Northern Isère : Heyrieux and Pont-de-Chéruy
Heyrieux stands at the centre of the Lyon-Vienne-Bourgoin triangle. It is a lively locality offering quality living conditions. Pont-de-Chéruy is 87 km from Grenoble and 40 km from the capital of the Rhône region. Like Heyrieux, it offers its residents a pleasant setting.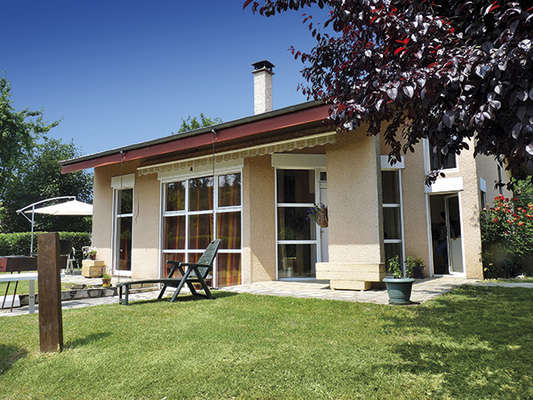 This villa with a full basement in Villefontaine offers three bedrooms, a mezzanine and a garden sheltered from view. 240.000 €. Guy Hoquet L'Immobilier (04 72 09 10 15).
Heyrieux is home to 4,750 people, 60 sports and cultural associations, and 70 neighbourhood shops. Linked to the A43 and A46 motorways, it is not far from the Lyon Saint-Exupéry Airport and the TGV train station. With a long rural trad­ition, this town 25 km south-east of Lyon between the Alps and the Massif Central contemplates the future with serenity. The Château du Bourg, manorhouse of Le Colombier, Château de Maille and the Notre-Dame-de-la-Salette church and oratory all recall its rich past. From Pont-de-Chéruy with almost 5,200 inhabitants, it takes just 15 minutes to reach the airport. Founded in 1867, it owes its name to the bridge forming a junction between the two banks of La Bourbre. On the road to Saint-Jacques de Compostelle, this authentic and picturesque town has also preserved various testimonials to its past. There are some pleasant strolls to be enjoyed in the park of the Château Grammont.
"In this spread-out area, Heyrieux is a lively shopping centre, a fall-back market for the Greater Urban Area of Lyon, mainly offering houses as opposed to apartments," says Pascal Bayle of Guy Hoquet L'Immobilier. The average budget of local buyers ranges from 230,000 to 270,000 €, bringing a detached home of 100 m2, about 20 years old, with a garden of 500 m2. A more recent and spacious house costs arounds 350,000 €. The interested parties usually work in Saint-Quentin-Fallavier, at the Saint-Exupéry Airport or in the activity zones of Lyon. Following a relatively quite period, the property market is again showing signs of picking up. Nowadays, people buy or sell only if they really have to. No more changes simply for the sake of personal preference, only changes driven by personal necessity or professional reasons. Buyers place importance on space and greenery at the gateways to large agglomerations, without moving too far from amenities and public transport. Residents appreciate the area and clearly want to stay put.
"It's hard to talk about Chéruy without mentioning the effects of de-industrialization at the end of the last century and the transfer of locally-based employment to the nearby outskirts of Lyon," says Michel Carre of Citya Urbania. "Paradoxically, population figures have not decreased. Quite the contrary. Which proves that value for money on its real-estate market is still competitive." Far from turning itself into a dormitory town, the commune has a lively array of clubs and associations, and has preserved a real village life. A few neighbourhoods, representing a tiny portion of Chéruy, are in need of rehabilitation. Several developments are underway. 40 % of transactions concern "pavillons" of 100 m2 with gardens of 400 m2 on relatively recent estates, pegged between 200,000 and 220,000 €, 60 % consist of apartments, revolving on average around 1,700 €/m2, ie. from 110,000 to 140,000 € for those with 2 or 3 bedrooms. Over the past decade, construction of high-rise apartments has developed considerably due to the lack of build­ing land. The majority of clients are first-time buyers in their thirties, with children, who take the plunge for monthly repayments almost the same as rents. The volume of sales has not been spared by the crunch, but is managing to get along as long as prices reflect current market realities.
You will also like