North-Isère, ideal for those working in Lyon
Heyrieux, Vienne and Bourgoin-Jallieu, three communes in "département 38", offer as many alternatives to living in the capital of the Rhône. As well as an enticing compromise between town and country, they propose a quality life-style and attractive prices between Lyon and Grenoble.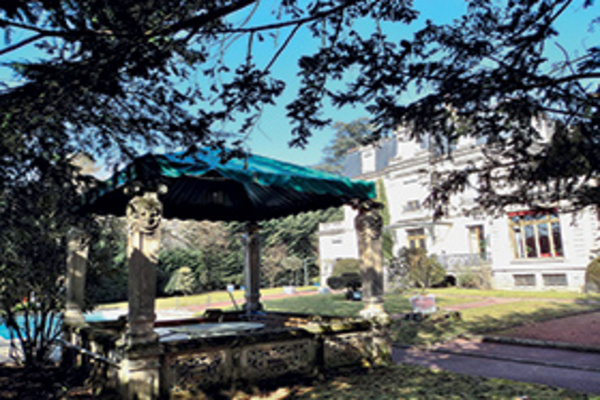 This private mansion in Vienne offers living space of 500 m2 on three floors, in a park of 2,500 m2 with swimming pool, not overlooked. 1.250.000 €. Foncia (04 74 31 43 44).
Heyrieux lies within a triangle formed by Lyon, Vienne and Bourgoin. It plays host to 4,750 inhabitants, 60 associations and 70 neighbourhood shops, and relies on strong public infrastructures. Served by the A43 and A46 motorways, it is close to the first TGV station and the Lyon Saint-Exupéry airport. With a rural tradition, it has stepped onto the bandwagon of modernity without sacrificing its soul. 25 km from the prefecture of "département 69", it falls within its greater urban area. The origins of Vienne, with 29,650 residents, dates back two millennia. Its 41 historic monuments and four museums testify to the rich history of the town, well-known in the Age of Antiquity, and one of the most important in all Gaul. Apart from a few spearhead firms, this seat of the Chamber of Commerce and Industry of North-Isère now concentrates on the service sector. Between five hills and the Rhône, Vienne produces "Côte-Rôties" and "Condrieu" thanks to its hillsides covered with vines. Each summer, its jazz festival attracts many visitors. And more importantly, it only takes 25 minutes to reach Lyon. Finally, Bourgoin-Jallieu hosts 25,550 residents and no less than 1,418 companies, mostly focused on the service sector, though also with a buoyant industrial component. Its two cantons, North and South, lie 42 km from the centre of Lyon, 70 km from Grenoble, not far the Saint-Exupéry airport zone. In the early 20th century, Bourgoin-Jallieu helped itself to a significant share of the market for printing on cloth. 2003 saw its final death pangs. Each new economic venture is reflected in the urban landscape.
"Heyrieux is a large village within the "community of communes" of the North-Dauphiné," explains Yves Deprez of Guy Hoquet l'Immobilier. "Its good array of shops is appreciated by people living in the surrounding villages. The industrial zones of Saint-Quentin-Fallavier and Saint-Priest are only 10 minutes away. When you cross over from "département 69" to "département 38", there's a noticeable change in prices : for equivalent properties, they in fact drop by 15-20 %. And if it takes a 30-minute drive to reach pools of employment, they drop even further." Detached "pavillons" of 100 m2 with gardens of 600-800 m2, priced from 250,000 to 270,000 €, are the most highly-targetted homes, apartments being somewhat thin on the ground. Potential buyers - families looking for larger living space -, rank a congenial setting, tranquillity and closeness to urban centres high on their lists. Over and above 300,000 €, stocks are more limited, just like demand. While the market is still active, buyers' decision-making and responses from banks seem to take more and more time.
"Vienne, in the Rhône valley, benefits from high-quality roads and social facilities. Combined with affordable housing costs, these assets explain the area's very real popularity," says Jean-Marc Partamian, sales manager for Foncia Vienne. 60 % of the agency's clients are first-time buyers. They pay 200,000 to 250,000 € for classic homes of at least 100-120 m2, with gardens of 600-800 m2. Fans of apartments pay 150,000 € for two, or possibly, three bedrooms, depending on the neighbour­hood. The zero interest loan also encourages acquisitions of building plots. A serviced plot of 800 m2 costs around 130,000 €. Beyond 300,000 €, our estate-agent notices a tip in the scales, in terms of supply and demand. Given the decline in prices, those who bought properties in 2007, and are now sellers, have inevitably lost out. At the time, people were looking for a pleasant environment and a high-class address ; now- adays, they pay close attention to appointments, convenience and comfort. Main roads dotted with houses, within walking distance of the historic centre and train station, are still in steady demand. Unfortun­ately, they are a rare commodity.
"Bourgoin-Jallieu offers a central location between Grenoble, Lyon and Chambéry, and is thus a natural solution for couples working in different job centres," says Sébastien Ferry of Immobilier Centre Investissement. A 2-bedroom apartment here costs from 110,000 to 170,000 €, depending on its condition, location and amenities : a 3-bedroom house ranges from 185,000 to 240,000 €. The market is stable, and the balance between properties on the files and client expectations acceptable. As long as prices are fairly estimated, properties sell within a perfectly reasonable amount of time. Surrounded by rural communes with very pleasant life-styles, natural and peaceful open land, Bourgoin is something of a cocktail conforming to the ideals of today's buyers, midway between amenities offered by towns and the charm of the countryside.
You will also like