New urban elegance for Hossegor
Known to surfers all over the world, this seaside resort on the Côte d'Argent is also a highly-prized address among those looking to acquire holiday homes. Whose prices are holding steady, as long as they offer prime locations.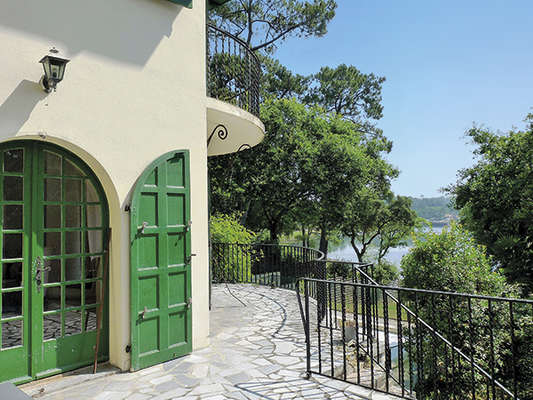 At the edge of the marine lake, this charming property offering 8 main rooms features a spacious lounge opening out to the lake. 1.595.000 €. Moser Immobilier (05 58 43 51 05).
Launched in the early 20th century, Hossegor, a charming commune between the forests of Les Landes and the Atlantic Ocean, saw num­erous property developments appear from the 1920's onwards, to keep pace with the development of its tourist industry. With a type of urban planning described as "cité-parc", these residences adopted an elegant neo-Basque style which drew a well-heeled clientele comprised of industrialists, doctors and university professors – including several authors -, mostly from Paris and south-western France. A surfing spot of worldwide renown, Hossegor welcomes top international surfers every year in September, for an event which counts in the professional world championships. It is, in fact, the town chosen by the French Surfing Federation as the site of its headquarters. Focusing on well-being and high-end sports, Hossegor also hosts the "Grand Prix des Landes" for golfers. The best amateur players from France and Spain confront each other here each summer.
Over the past two years, the town has been pursuing embellishment work on its urban centre. This year, Hossegor unveiled its new look, with biking lanes, wider pavements, landscaped terraces, manicured vegetation and a carefully modified traffic plan. More than ever before, the town has become a very pleasant place to stay and explore, between land, lake and ocean.
"Hossegor's property market is relatively stable ; our sales volume was higher in 2013 than in 2012," says Julien Moser of the agency Moser Immobilier, founded 50 years ago. "Over the year, most of our transactions concerne properties priced from 100,000 to 300,000 € for apartments used as pieds-à-terre." The most highly sought-after neighbourhoods ? "Mainly the town centre, the beaches, and the area between the ocean and the lake. For 100,000 €, you can aspire to a charming apartment with 1 main room on the seafront. From 300,000 to 350,000 €, there are practical 2-bedroomed apartments for holidays." The sector for apartments flows along smoothly, especially as most buyers hardly ever need to obtain financing for these amounts. They can thus quickly give in when they see something that takes their fancy. On the other hand, Julien Moser informs us that potential buyers of properties at the very top end of the market - with price-tags from 1.5 to 2 million euros - are now thin on the ground. "Villas which sell today are more inclined to be estimated at prices between 600,000 and 1 million euros."
Villas in fact account for the core of sales of the Agence Atlantic. "Mostly from Toulouse or Paris, our clients are looking for pleasant houses as holiday homes offering the potential to become semi-main residences later on," explains Irène Mirakian, manageress for the past 20 years of this historic agency. Ideally between the lake and the ocean, authentic villas with Basco-Landaise charm are favouties among these buyers. These are the ones to be found the most often on today's market. One needs an average budget of 900,000 € to acquire a desirable home of this type in Hossegor, about 20 to 30 % less on the neighbouring commune of Seignosse, the main fall-back market. "As for ultra-contemporary villas designed by architects, they are certainly in demand, but very rare."
Rare though not impossible to find. Serge Pilke, manager of the Terres et Océan agency, concentrates his search for sales mandates on properties of charm and character in strategic locations : Basco-Landaise houses, impeccable or in need of renovation, timberframe or timberclad villas, properties designed by architects... Among his recent sales, he mentions a modern single-storey house of 180 m2 in grounds of 1,150m2. "Situated in a pleasant neighbourhood between the lake and the sea, it sold for 930,000 €." Another charming property, 3 km from the beaches, a timberframe house of 220 m2 : with its pool and grounds of 1,500 m2, it found a taker at 945,000 €. "With a mainly French, German and Swiss clientele, our agency chalks up 65 to 70 % of its sales in holiday homes." A flaghip address on the Landes coast, despite an economic climate hardly favourable for investors, Hossegor demonstrates the soundness of its reputation in a market that has become healthier, proposing properties of charm and quality for buyers in search of both personal enjoyment and strategic investments.
You will also like