Narbonne, a certain ambivalence
Built by the Romans in 118 B.C., Narbonne offers the charm of the Age of Antiquity and traces of the medieval era. Vineyards and the "garrigue" surround this site, listed as part of UNESCO's World Heritage in 1996. This lovely town in the Aude is home to 51,000 people, 87,500 in its greater urban area.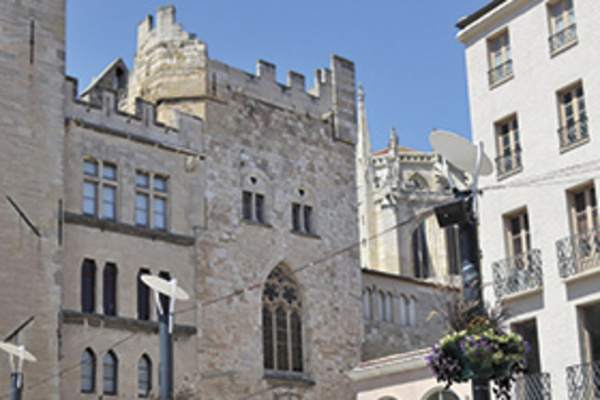 Narbonne bears the architectural traces of its chequered past.
The canal of La Robine runs through the sub-prefecture, which lies in the Regional Nature Park of La Narbonnaise between the lakes of Bages-Sigean and the Massif de la Clape. A distinction should be drawn between the town and the seaside resort, 10 km away. In fact, only a quarter of the 42,720 acres of land sandwiched between the Mediterranean and the maritime part of Les Corbières has been urbanized. The commune with the largest surface area in Le Languedoc-Roussillon, Narbonne benefits from a good road network and easy access to Toulouse, Bordeaux, Marseille and Tarascon. This advantage has given rise to housing which focuses 80 % on generous living space, in the guise of 2- and 3-bedroomed homes. Every day, train connections link the town with Paris, Lyon and Lille. Narbonne also offers sports complexes, a theatre, cinemas, a mediatheque, golf-course and a university dedicated to law, economics and social sciences.
"Compared to those observed in 2009, prices now posted in Narbonne-ville show a decline of 10 %," says Nathalie Vidal of L'@gence. "Currently, 1-bedroom apartments with no real renovation required range from 70,000 to 80,000 €, 2-bedroom apartments from 120,000 to 130,000 €." The first, which can bring rental income of 450 € per month, a gross return of 7-8 %, draw interest from investors, while the second appeal to young couples and first-time buyers. The market for houses is much more disparate. Quai Victor-Hugo, EDF, Sous-préfecture and La Mayolle, all neighbourhoods within walking distance of the the town centre, are in steady demand. Their popularity is further enhanced by quality construction and the guarantee of being in a "good neighbourhood". A 2-storey house of 150 m2 in good condition with a garden of 300 m2 is worth 360,000 €. A commodity sought 80 % by local buyers already enjoying a comfortable life-style, and 20 % by employees transferred from all over France and retirees in search of an address in the sun. It all boils down to a matter of value for money. The market only flows along smoothly if both sides are aware of the fact.
"Investors are drawn by new developments in booming areas south-east of Narbonne, heading towards Perpignan," notes Fabien Rojas of Century 21 Domitia Immobilier. A 2-bedroom apartment benefiting from a terrace of 8 m2 and a small garden of 80 m2, only 10 minutes from the centre, can be rented here for close on 570 € per month. Traditionally slighted by the locals despite its real potential for progression, Réveillon, together with Roches Grises and Les Hauts de Narbonne, offer first-time buyers solutions for affordable housing. A "pavillon" with a garden starts at 180,000 €, with houses representing the core of the demand ranging from 200,000 to 250,000 €. As soon as he has the financial means, the "Narbonnais" sets his sights on central locations, especially as the urban area is not especially dense. Buildings and natural areas share the available space pretty much half and half. Fabien Rojas mentions two such houses : a terraced home of 170 m2 with a garden of 300 m2 and swimming pool, priced at 418,000 €, and a semi-detached house with the same surface area and a garden of 400 m2 but no pool, at 385,000 €. Forty and fifty year-olds are keen on practical homes, preferably all on one floor, with outside areas and easy to maintain. The notion of investing and the prospect of re-selling are underlying factors in each transaction. Obviously, priority is given to the location and potential for improvements. Fabien Rojas is carrying out a study based on statistics published by the INSEE. Out of 24,635 households, including 10,000 with only one parent, 47 % are home-owners. An impressive 79 % of the accommodation in Narbonne consists of houses. The rate of rotation is 6 %, giving 1,000-1,200 transactions per year. The migratory influx remains positive and the rental market is very buoyant. Apartments on the files range from 45,000 to 212,000 € at an average 1,700 € per sq. metre. Houses range from 180,000 to 520,000 €, at around 2,000 €/m2.
You will also like