Molsheim and its surrounding area : an ideal location
A small town on the famous "Route des Vins" in Alsace, Molsheim benefits from its closeness to Strasbourg and a central position in the département of Le Bas-Rhin. It also proposes attractive property prices.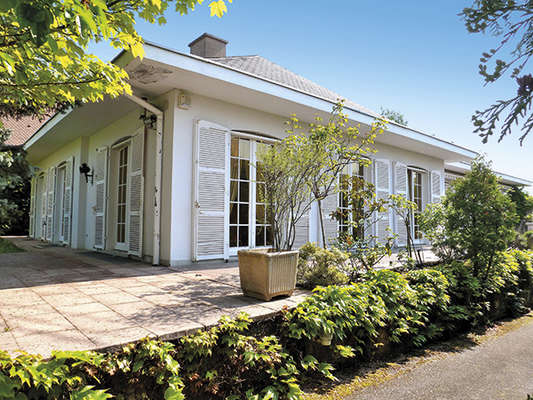 This house in a residential area in Molsheim offers living space of 280 m2 in 1,160 m2 of grounds. 449.500 €. Eckert Immobilier (03 88 47 27 10).
Known for playing host to the historic headquarters of Bugatti, the prestigious sports car manufacturer, the commune of Molsheim (population approx. 10,000) lies 10 km north of Obernai, 27 km south of Saverne, 28 km west of Strasbourg and 36 km north of Sélestat : an advantageous location, especially as all these towns are easily and quickly accessible thanks to quality infrastructures (the A352 motorway, several express roads and railway lines). In particular, the capital of Europe, from which trains arrive every 30 minutes. Offering an attractive pool of employment, Molsheim also disposes of a full array of essential amenities (several nursery and primary schools, two intermediate schools, three secondary schools, lots of shops, the leisure zones of Le Trèfle, the town's status as a sub-prefecture...).
"The area is thus ideal for people working in Strasbourg," comments Guillaume Eckert, manager of Eckert Immobilier, an agency based in Rosheim (10 mins. from Molsheim), backed by 10 years of experience in the local property market. "Especially as prices here are much more appealing : for a 2-bedroomed apartment in an old building, for example, one can expect to pay from 140,000 to 170,000 €. In new resid­ences, prices per sq. metre revolve around 2,800 €. And for houses, which account for the largest share of demand, those with 2 or 3 bedrooms cost from 200,000 to 270,000 €." Building plots are also widely sought-after. "In Molsheim, serviced plots of 500 m2 sell for about 25,000 € per 100 m2, as compared to almost 22,000 € per 100 m2 if serviced in villages in the surrounding area." Prices which are often subject to bargaining, to get about 10 % knocked off. "We in fact specialize in estimating properties in order to operate in a market proposing the fairest prices possible."
Pierre Scheuer is the manager of the Cabinet Scheuer which has two agencies in Molsheim (one of the first to open in the area, in 1980) and Strasbourg (in the residential neighbourhood of La Robertsau), proposing sales, rentals, new developments, management, co-owned "syndics", property administration and legal expertise. He confirms the attractiveness of Molsheim's prices : "You can become the owner of a house here for the price of an apartment in the Urban Community of Strasbourg". A 1980's house of 120-130 m2 in need of a revamp in fact costs from 220,000 to 250,000 €. Which doesn't prevent the town from offering higher price levels : "For sophisticated appointments or a prime location, they quickly attain 350,000-400,000 €, or even 500,000 € in a few exceptional cases". As for apartments, those with 1 bedroom cost 100,000 to 120,000 € on average. "A 2-bedroomed apartment to renovate will be pegged at 130,000-140,000 €. Though if it is recent and in a highly-prized neighbourhood, it may be put up for sale at 200,000 €." One of Pierre Scheuer's most recent sales was a 1970's house of 110 m2 in need of renovation, near the centre of Molsheim, with a garden of 500 m2, priced at 270,000 €.
You will also like