Lyon, new look for the 3rd arrondissement
The most densely populated district in Lyon, the 3rd is undergoing a metamorphosis guided by a desire for sustainable development which nevertheless preserves its architectural heritage of very real character. A winning combination !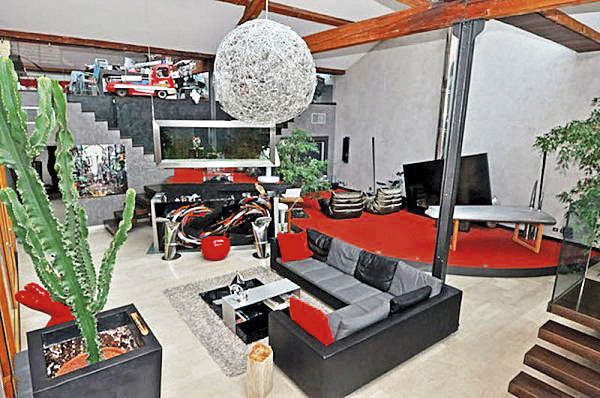 This loft-style house of 550 m2, including a garage of 110 m2, offers a living-room of 150 m2, home movie lounge, spa and swimming pool. 1.300.000 €. Groupe Mercier (04 72 54 95 00).
Stretching from the Rhône as far as Montchat, the 3rd arrondissement is henceforth indissociable from the iconic business district of La Part-Dieu, now the city's economic powerhouse. It is here, next to Les Halles Paul Bocuse, on the corner of Rue Garibaldi and Le Cours Lafayette, that the Incity tower is being built, France's first HEQ standard tower which should be inaugurated in October, 2015. At a height of 200 metres (39 floors of office premises), it will be the highest tower in Lyon, outdoing the Tour Part-Dieu, Tour Oxygen and Tour Swiss Life.
The property scene in this arrondissement consists of very charming areas, bourgeois roads and more recent neighbourhoods. A real village, quiet and leafy, Montchat offers lots of pretty villas built in the 1920's/1930's. "Offering four bedrooms and usually a small garden of about 200 m2, they are a rare commodity highly-prized by families, who also appreciate the proximity of the Charles de Foucauld school, a private establishment with an excellent reputation. Priced at around 700,000 €, they are usually snapped up on the very first visit," says Chantal Dumas, a specialist for this area with the Groupe Mercier. Embodying the renewal of the 3rd arrondissement's housing possibilities, the neighbourhood of La Buire symbolizes the go-ahead construction in the Part-Dieu area. Formerly an industrial wasteland, it is now one of the largest rehabilitation urban space programmes launched by the town. Covering over 12.5 acres, it consists of seven residential developments as well as shops, schools, crèches and council housing. "With their modern architecture, these apartment buildings meeting low-energy BBC standards appeal to many people working in the city centre, especially as the neighbourhood is very well provided for as regards public transport. Apartments here sell from 4,000 to 5,000 € per sq. metre," explains Chantal Dumas. This neighbourhood embellishes the immediate surroundings of La Part-Dieu, where energy consum­ing residences built in the 1960's and 1970's no longer meet today's norms and therefore post more affordable prices. "In these large towers with 15 to 20 floors, apartments cost around 3,500 € per sqm, depending on their condition. Here, first-time buyers can obtain 1-bedroom apartments for under 200,000 €," adds Pascal Sauzay, manager of Pôle Transaction, part of the Régie Pedrini, a family-run firm based in Lyon since 1946. Finally, a very highly-prized neighbourhood, the quays of the Rhône on the Préfecture side are comprised of bourgeois roads lined with noble residences designed by Haussmann in the 19th century. They contain apartments with carefully preserved old features : parquet floors, fireplaces, lovely high moulded ceilings... "These buildings even have real wooded parks in their inner courtyards, some of which are listed," says Pascal Sauzay. And they cost ?... "From 4,500 to 5,000 € per sqm," answers our specialist, admitting that certain outstanding properties can even soar beyond this level.
You will also like