Lyon 6th : a lively and classy arrondissement
Considered, with the 2nd, as the most highly-prized arrondissement in Lyon, the 6th offers high-quality housing benefitting from public transport, shops and restaurants. A market with stable prices which draws families, executives and investors.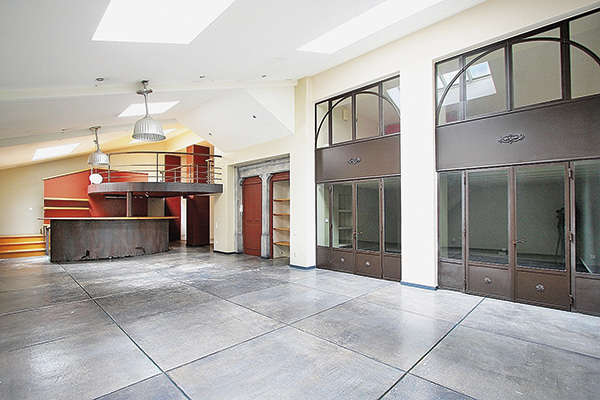 Close to Cours Vitton and the Masséna metro station, this old warehouse transformed into a loft offers living space of 195 m2. 695.000 €. Espaces Atypiques (04 78 30 10 83).
If Lyon's 6th arrondissement (50,000 inhabitants) is so highly sought-after, it is especially thanks to the Parc de la Tête d'Or, a real source of oxygen for the agglomer­ation, occupying some 289 acres. "Around what is one of France's largest urban parks, smart mansions post very high prices. One example is a 3-bedroomed apartment of 122 m2 on the Boulevard des Belges with a terrace on the upper floor, which recently sold for 735,000 €, ie. over 6,000 € per sq. metre," says Bruno Tronel, manager of the Agence Tronel Orpi founded in 1962, which he joined in 1976. "6,000 € per sq. metre, and occasionally much more, is in fact the going rate for outstanding properties in the 6th. Otherwise, the average price is 4,000-4,300 € per sqm." Other popular neighbourhoods : that of Les Brotteaux, now young and lively, following successful rehab­ilitation (with a concentration of bars and restaurants), and Foch (especially 200 metres around the metro station), benefitting from public transport, shops and renowned schools. "With high and constant demand and relatively limited supply, prices here are stable," adds Bruno Tronel.
"The 6th arrondissement is a sound investment. Prices for the most highly sought-after addresses are even seeing some progression," explains Alexandra Hyron, manageress of Espaces Atypiques, which specializes in the sale of contemporary properties (lofts, workshops, duplexes, houses designed by architects...) in Paris, Marseille, Bordeaux and Lyon (an agency opened just over a year ago). "This is the case, for example, for certain apartments around the Place du Maréchal Lyautey, which can attain 6,000 € per sqm. Prices can, however, vary : in the Belle­combe neighbourhood, more working-class but also popular for its proximity to the centre, they start at about 3,000-3,200 €. Prices in new residences range from 4,400 to 5,200 € per sqm. As for houses : "Rare and thus highly-priced, they sell from 5,000 to 8,000 € per sqm, especially near the Parc de la Tête d'Or". Alexandra Hyron's clientele is mainly comprised of families and executives whose budgets range from 500,000 to 800,000 €. "Retirees or couples whose children have left home fall back on smaller surface areas. Their budgets thus range from 400,000 to 600,000 €, while first-time buyers can only afford on average 300,000 to 500,000 €." Investors are also in evidence here, attracted by the market's stability and the ease with which properties can be rented out. "Finally, we have clients looking for properties over and above 1 million euros : senior executives and company directors, but also politicians, artists, sportsmen and foreigners." Many buyers are originally from the Paris region.
You will also like