Luxury, charm and character, at the heart of the Alpilles
2 hrs 40 minutes from Paris via the TGV station in Avignon, this magnificent territory forms a kind of crown 10 km long and 15 km wide. Buyers in search of authentic and luxurious properties are currently offered a diverse and substantial choice.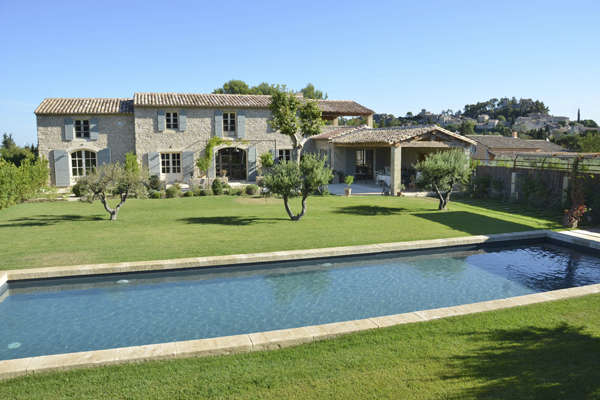 A 5-minute walk to the centre of Eygalières, this stone house of 300 m2 is built on two floors. A converted basement of 90 m2, a garage, a car-port for 3 cars, a pool and its technical unit complete the property, set in grounds of 2,500 m2.
Listed in 1965 in the inventory of remarkable sites, the Alpilles encompass 16 communes in Provence, including the famous "Golden Triangle" formed by Saint-Rémy-de-Provence, Maussane-les-Alpilles and Eygalières.
"Our portfolio currently contains about 50 high-end or exceptional properties, priced from 2 to 8 million euros," says Olivier Valancogne of Valancogne Immobilier, founded in 1984 in Eygalières and now with a branch in Bonnieux. "Transactions that we are handling today are shared out evenly between a foreign clientele (UK, Belgium, Canada...) and French buyers, usually from Paris." In search of authenticity and typical Provençal charm, clients readily set their sights on Eygalières and Maussane. "Those targetting an address in Saint-Rémy are motivated by a different approach. They appreciate the busier lifestyle offered by this much larger commune with numerous restaurants, shops, cultural activities...," explains Olivier Valancogne. "There is a varied choice of properties, and even though buyers have the upper hand in the market, prices for exceptional, top-quality properties are currently stable." As an exemple of residences offering the most widely prized attributes, Olivier Valancogne mentions a restored, late 18th-C. "mas", 3 km from the centre of Eygalières. Offering living space of 520 m2, it stands in 33,725 m2 of grounds comprised of a landscaped 5-acre park, a pond, a pool with pool-house, bowling terrains and a meadow. Also benefiting from a guest cottage of 81 m2, this property enjoying views of the Alpilles and the Luberon is up for sale at 4.8 million euros.
Launched by Martin Wehrle in September 2017, the Von Peerc agency (anagram of Provence) is comprised of two offices. The agency in Saint-Rémy-de-Provence offers a selection of houses that stand out for their charm, location, authenticity, and often a combination of all these qualities ; the agency in Maussane is dedicated to following up building projects and the decoration of properties, not necessarily sold by the agency, especially as it has only just opened its doors. A designer and decorator with a talent for unearthing remarkable houses, Martin Wehrle confesses to an unconditional passion for the Alpilles, whose smallest nooks and crannies he knows very well. "Our properties are intended for clients who appreciate esthetics, wanting to live in a home of character with generous volumes and noble materials," says this professional whose portfolio currently consists of about 20 properties, including Provençal "mas" and contemporary villas all over the Alpilles, priced from 700,000 to 3 million euros. "Mostly from Paris and northern Europe, our clients currently benefit from a good array of availabilities in the Alpilles. Here in the Von Peerc agency, we are not looking to offer a multitude of properties. We focus on a finely-tuned selection in order to build a harmonious collection of residences likely to get a "love at first sight" reaction." Which does not mean only offering properties with extraordinary volumes : smaller properties endowed with unique charm or potential also have their place in the Von Peerc files. "Our clients do not search solely on the flagship communes in the Alpilles. They are curious to discover insider addresses if the property we propose corresponds to their dream of Provence, whether it be a stone residence amidst bucolic scenery or a more contemporary villa on the outskirts of villages known for their fine art of living."
You will also like