Lorient, land and sea
58,400 people live in this commune in Le Morbihan. Le Blavet and Le Scorff flow into the bay of Lorient before joining the Atlantic Ocean. A job provider, but a lot more than that, this Breton town offers buyers a choice between the coastal strip and the inland area.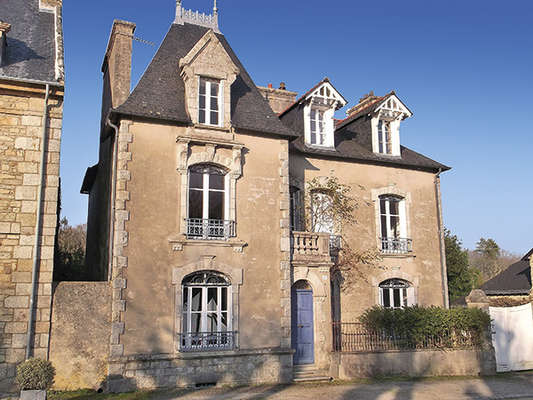 Built in 1911, this bourgeois house in Pont-Scorff offers living space of approx. 230 m2 in fenced grounds of 1,144 m2. 498.000 €. Immobilier du Scorff (09 81 32 42 33).
"The town with five harbours" certainly deserves its nickname. Fishing, trade, pleasure boating, travel and military activities all pursued within the port premises account for 12,000 jobs. 23 % of the population then make their living from the building or tourist industries. A third of the people living in Lorient are employed in administrative services. The town is made up of three distinct areas. Larmor-Plage mainly consists of a stretch of sand dunes, the rocky coast and sandy beaches, the foundations of seaside tourism. Slightly set back, the countryside offers a wide range of housing, while Lorient-centre provides shops, schools and cultural facilities, the mediatheque and a concert hall. Not forgetting close on 80 sports centres, plus sailing and aquatic centres.
Maxime Josselin of Côté Mer Immobilier focuses solely on the coastal area, Larmor and Ploemeur. The creeks and sandy beaches benefit from direct access to the town, just behind. Homes are shared out equally between main and holiday residents, with a slight tendency for the first to gain on the second. The locals target recent houses, bright and spacious, with four bedrooms, near amenities and preferably all on one floor, priced from 300,000 to 500,000 €, exceptions aside, which can be acquired by retirees and some executive-level families. Buyers of holiday homes look for addresses within walking distance of the beach. Demand ranges from small apartments costing 100,000 € to houses priced at 400,000 € maximum. Clients seem to be waiting for prices to fall, which looks likely though it should only be seen as a correction. Cond­itions are favourable : mortgage rates have never been so low, the stocks available offer an appealing diversity, and sellers are proving to be more open to negotiations.
"Pont-Scorff is a countrified, middle-class out-post of Lorient. With few blocks of flats, it mainly proposes stone mason­ry "pavillons"," explains Stéphane Bouvier of Immobilier du Scorff. The site is popular among all clienteles, including first-time buyers, mostly hoping to find a home for 150,000 €. However, at this price, renovation is inevitable. A recent house of 120 m2 with a garden of 600-700 m2 on an estate costs 220,000 €. The majority of today's transactions are in the 180,000-220,000 € bracket, though a large percentage of the properties on the files are pegged at 250,000-300,000 €. Only those offering coherent value for money still find takers. Inland, 80 % of the accommodation consists of year-round homes, 20 % of holiday residences, a blessing which is tending to develop as a result of high prices on the Atlantic coast. In fact, Pont-Scorff is only 15 minutes from the beach of Le Guidel.
You will also like