Les Vans and Saint-Ambroix, complementary markets
In the southern part of the Ardèche, the village of Les Vans is well-known for its charm. On the periphery of the Ardèche and Le Gard, near the national park of the Cévennes, Saint-Ambroix can make the same claim... Popular tourist destinations, these two communes are attracting more home-buyers from one year to the next.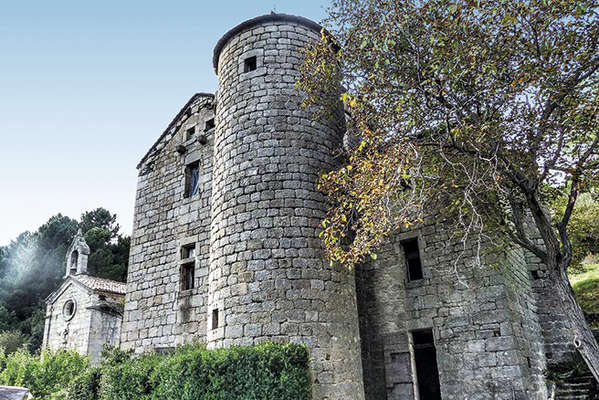 In a magnificent environment, this superb 14th-C. château offers living space of 194 m2, two outbuildings, a workshop, shed, cellar, and a terrace overlooking the ruins of a former school. 400.000 €. ITC immobilier Saint-Ambroix (04 66 24 10 10).
As confirmed by Julien Suarez of the Agence Provans : "The property market in Les Vans is very buoyant". This tourist area welcomes lots of visitors in the high season, but also in winter. There are thus many holiday homes, most destined to become year-round residences later on. The majority of buyers are not from Les Vans, but from the Parisian region, Lyon, the Côte d'Azur or abroad : Belgium, Switzerland, the Netherlands and Germany. The market mainly offers three kinds of properties. Firstly, village houses of 80 to 150 m2 with small outdoor areas, priced from 150,000 to 210,000 €. Then, traditional villas of about 120 m2 built from the 1970's to the years 2000, with gardens of 1,000 to 1,500 m2, ranging from 160,000 to 250,000 €. Finally, the top end of the market : stone properties offering appointments of higher quality, larger grounds, and living space from 250 to 400 m2, priced from 350,000 to 700,000 €. "These properties are often sought after for a B&B project," explains Julien Suarez. Good illustrations of the current market, a stone "mas" of 150 m2 with a garden of 250 m2, recently sold by the agency for 417,000 € to clients from Le Var, and a single-storey villa of 120 m2 in grounds of 2,000 m2, acquired by Swiss retirees for 258,000 €.
Caroline Mazure, manageress of the ITC Immobilier agencies in Saint-Ambroix and Les Vans, explains that there is a high degree of complementarity between these two addresses in the Cévennes and Garrigues. "Enquiries are often similar in Saint-Ambroix and Les Vans. And offers encompass all types of properties, for all kinds of budgets. In Saint-Ambroix, the prices are what appeal most to clients. We are in the South of France, very close to the Ardèche with its authentic scenery : for the same type of properties, our prices are much lower than in Uzès or the Luberon." For a recent house in a good location, with easy access and a pretty view, one can expect a wide range of prices, from 200,000 to 500,000 €. "In the hill-country in the Cévennes, very lovely properties on 7.5 to 100 acres of land can be found from 400,000 to 500,000 €," adds Caroline Mazure. There is strong demand for holiday homes offering a sound investment and a sizable advantage : that of seasonal rentals. In fact, international clients and others from northern France are discovering the region and finding it quite awesome. The agency just sold a typical stone "mas" of 300 m2 in Bordezac on 108 acres of land, priced at 590,000 €, to a young English-speaking couple living in Africa. In Les Mages, a very smart contemporary villa of 200 m2 was acquired by a couple of Parisian retirees for 465,000 €. "As for the majority of our clients, it was love at first sight that led to this sale. As long as prices hold steady and interest rates remain low, the property market in Saint-Ambroix and the surrounding area will continue to be very lively."
You will also like