Les Vans : a lively address in the southern Ardèche
A leafy village in the southern Ardèche with a remarkable natural and architectural heritage, Les Vans welcomes lots of tourists throughout the summer. Though its shops and other facilities ensure appreciable liveliness all year round.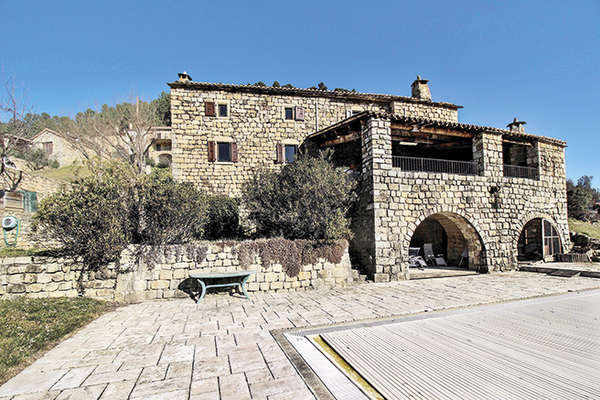 This 17th-C. "mas" offers living space of 160 m2 in 9,395 m2 of very private grounds with a swimming pool. 480.000 €. ITC Immobilier (04 75 38 78 38 / 04 66 24 10 10).
A neighbour to the regional nature park of the Monts d'Ardèche and the national park of the Cévennes, also playing host to the regional nature reserve of Grads de Naves, Les Vans (pop. almost 3,000) offers a varied and well-preserved environment allowing for a good range of outdoor activities (hiking, riding, climbing, canoing kayaking, paragliding...). With its Mediterranean climate and buildings centuries old (Eglise Saint-Pierre, historic centre, several villages with lovely old residences...), the commune is thus a popular tourist destination, especially as it is easily accessible. A good array of amenities and economic activities (such as wine production, including the Gris de Grenache du Pays des Vans) also make it an active centre all year round, providing a boost for the entire area.
"The property market in Les Vans with its typical stone architecture illustrates a real art of living specific to the southern Ardèche which we are proud to show off, particularly to a foreign clientele," says Romain Nadal, director of ITC Immobilier, an FNAIM agency with 30 years of experience based in Saint-Ambroix (Gard) which recently opened a branch in Les Vans. "This special feature and the size of outdoor areas makes it impossible to set prices by the sq. metre, so professional estimates are indispensable. In the case of houses, you can say that prices range from about 80,000 € for a village house to 950,000 € for a very desirable property. In the apartment sector, which is more limited, studios start at 50,000 €, with 3-bedroomed apartments rising up to 200,000 €." Building plots are available from 50,000 to 150,000 €. "Business if lively if the prices proposed are in line with market reality. The time it takes to sell then becomes relatively short." Romain Nadal's clients are mainly comprised of young retirees, both French and foreign, and foreigners aged over 45 looking for main or holiday homes.
As manager of Provans Immobilier, an agency focusing on sales founded in Les Vans in 2009, Julien Suarez prop­oses houses, villas, "mas" and building land all over the southern Ardèche, the northern part of Le Gard and in certain areas in Lozère : "The starting-price here is about 180,000 € for a small traditional house : a stone "mas" of 60 m2 on the immediate outskirts of Les Vans in grounds of 5,300 m2 recently sold for 165,000 €. One can then climb to 1 million euros for a beautiful stone "mas" in an outstanding location". On average, one can expect to pay 250,000 € for a villa, 300,000 € for a "mas", though some atypical properties sell for more : a villa of 140 m2 designed by an architect in 3,000 m2 of grounds recently found a taker at 460,000 €. As for apartments in the centre of Les Vans, most demand is for 1-bedroomed apartments costing from 70,000 to 80,000 €. "Finally, building land is showing a certain vitality. Depending on their distance from the centre, plots of 1,000 to 1,500 m2 can be found from 70,000 to 80,000 €." Mostly aged from 40 to 60, Julien Suarez's clients are shared out between year-round and holiday homes. "Half of them come from abroad : we mainly receive enquiries from buyers from Belgium, the Netherlands, Germany and Switzerland."
You will also like