Les Monts du Lyonnais and the surrounding region
With increasingly improved public transport and a life-style with a countrified atmosphere, communes west of Lyon and in Les Monts du Lyonnais post genuinely appealing arguments, including affordable prices for first-time buyers.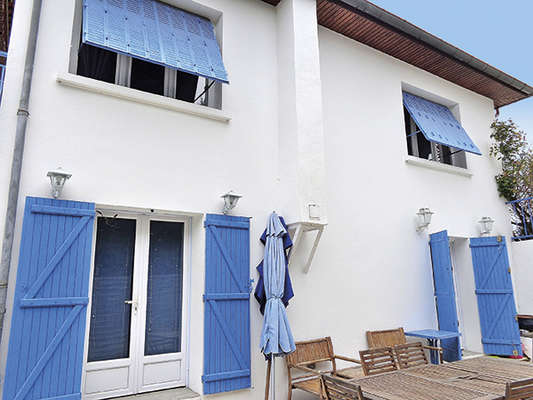 In Francheville, this 1950's house of 170 m2 offers 5 bedrooms and a vast living-room leading out to the garden. Recently renovated, it benefits from a vaulted cellar and a car-port for 4 cars. 435.000 €. Pagnon Immobilier (04 78 59 32 87).
A few months ago, Yannick Pochet inaugurated the ERA Solimmo Conseil agency in Brignais, specializing in markets forming the "Golden Triangle", ie. Millery, Charly and Vourles, as well as Vernaison, Irigny, Orlienas, Taluyers, Mornant and, of course, Brignais. "These communes mainly offer houses at the heart of the villages, on residential estates or out in the country," he explains. The most residential communes such as Millery, Charly and Vourles post prices close on 4,000 € per sq. metre. Benefiting from good reputations and situated close to Lyon, they form an interesting fall-back market with prices now more attractive than those on the communes comprising Les Monts d'Or. They natur­ally decline the further one gets from the outer rings around Lyon. "Our clients choose a life-style based on compromises. Driving 45 minutes to one's workplace while living in a comfortable large house with a garden where the children can play and you can light up a barbecue in fine weather is without any doubt a pleasant way of life." In Brignais, a commune with 11,000 residnts, houses to renovate are available from 250,000 €. Already renovated, the most inviting are pegged from 350,000 to 400,000 €. One such example is an old residence of 150 m2 right in the centre (without a garden), on offer at 315,000 €.
Another market at the gateway to Les Monts du Lyonnais is that of Francheville. Here, Jean-Michel Pagnon opened the Pagnon Immobilier agency in 2007 to focus on the west side of Lyon, mainly Francheville, Chaponost and Sainte-Foy. "Since the introduction of the Tram-Train linking Francheville to the Lyon Saint-Paul station in 15 minutes, many people employed in the city but looking for a village life-style have tried to find homes in this area. They may be looking for a house, an apartment or even a building plot," says our estate-agent. Francheville is specially popular as an intermediate school was opened here two years ago. An important argument for local families. "The market in Francheville can be split into three zones : Le Haut, Le Bas and the Bel Air neighbourhood," explains Jean-Michel Pagnon. Highly sought-after, Francheville-le-Haut proposes sturdy villas with three or four bedrooms and good-sized gardens. Depending on their living space and amenities, they cost from 350,000 to 600,000 € for the most recent, built in the 1990's. Apartments in 1960's or 1970's residences sell from 2,300 to 2,500 € per sq. metre. In one of the area's many new developments, prices range from 3,600 to 4,300 €/m2. "Buyers are looking for family apartments with two or three bedrooms, but also small surface areas popular among investors looking for good rental income." In Francheville-le-Bas and Bel Air, apartments start from 2,200 € per sqm. while terraced houses with small gardens on estates built in the 1980's range from 280,000 to 300,000 €. Prices which are certainly attractive for first-time buyers. These areas offering good value for money are drawing more and more interest. As evidenced by the numerous new developments which have risen from the ground over the past few years, to meet constantly rising demand.
You will also like