Les Monts d'Or, a blend of modernity and tradition
Located north-west of Lyon, this mountain range extends over roughly ten kilometres, with the River Saône flowing east. The site offers areas of national and regional interest, such as natural springs and quarries, already exploited during the Roman era.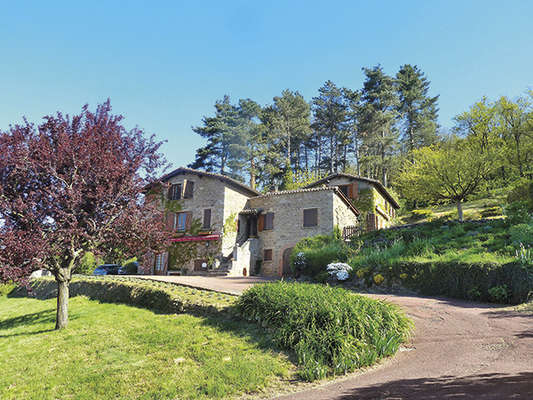 Offering a panoramic view, this stone property stands in grounds of 6,000 m2 with a swimming pool. 1.090.000 €. Murs et Tradition (04 78 36 66 94).
Extending over a stretch of about 10 km, Les Monts d'Or consist of the communes of Albigny-sur-Saône, Champagne-au-Mont-d'Or, Chasselay, Collonges-au-Mont-d'Or, Couzon-au-Mont-d'Or, Curis-au-Mont-d'Or, Limonest, Poleymieux-au-Mont-d'Or, Saint-Cyr-au-Mont-d'Or, Saint-Didier-au-Mont-d'Or, Saint-Germain-au-Mont-d'Or and Saint-Romain-au-Mont-d'Or.
"Our clients are mostly executives, company directors and self-employed professionals from Lyon. They are looking for villas ideally located in Saint-Cyr-au-Mont-d'Or, Saint-Saint-Didier-au-Mont-d'Or, Tassin-la-Demi-Lune, Collonges-au-Mont-d'Or or Ecully," explains Julien Michaud, director of the Immo Saint-Cyr agency based in Saint-Cyr-au-Mont-d'Or for three decades, and also in Champagne-au-Mont-d'Or. "The most important factor is the property's precise location. Our clients are increasingly drawn to contemporary homes. And as villas designed by architects are rare in this area, some decide to acquire a detached property with potential for enlargement and transformation." Currently, this clientele has lots to choose from. "We are seeing a phase of renewal for existing properties. They come onto the market in good condition. With stable prices and advantageous mortgage rates, our clients know that it's the right time to buy. Demand is there and contracts are being signed, even if decision-making periods are particularly long, as the overall economic context still requires prudence," says Julien Michaud. The starting price for properties of quality on the market in Les Monts d'Or is around 600,000 €. Those with multiple assets and desirable locations easily pass the 1 million euro mark. In Collonges-au-Mont-d'Or and Saint-Didier-au-Mont-d'Or, there are more offerings of apartments. New developments here are pegged at around 5,300 € per sq. metre, and a few large old properties have been split into apartments. Luxuriously renovated and appointed while preserving attractive old features, they offer lofty living space of 200 to 250 m2, and sell for about 700,000 €.
Specializing in the west side of Lyon and Les Monts d'Or, the Murs et Tradition agency is directed by Muriel Rambaldi, a jurist by training. "We are indeed witnessing enthusiasm on the part of many people from Lyon, especially for communes on the hills such as Saint-Didier-au-Mont-d'Or, Saint-Cyr-au-Mont-d'Or and Limonest. Demand for the contemporary style is clear to see, though the warm, traditional side of stone houses still has its fans, as demonstrated by a small stone house of 130 m2 in Limonest." With its pretty "vicar's garden" and plunging view of Fourvière, it is up for sale at 540,000 €. Another stone property of 250 m2 in grounds of 6,000 m2 with a pool, offering a panoramic view from Lyon to Fourvière and as far as the Beaujolais hills, is on offer at 1,090,000 €. "These properties are good examples of the market. They meet the expectations of well-off families looking for a charming home in classic French style."
You will also like