Le Tarn-et-Garonne : the countryside near Toulouse
Echoing the diversity of its scenery and relief, Le Tarn-et-Garonne proposes a highly heterogeneous property market. Illustration focusing on the sectors of Montauban in the middle of the département, and Saint-Antonin-Noble-Val to the east.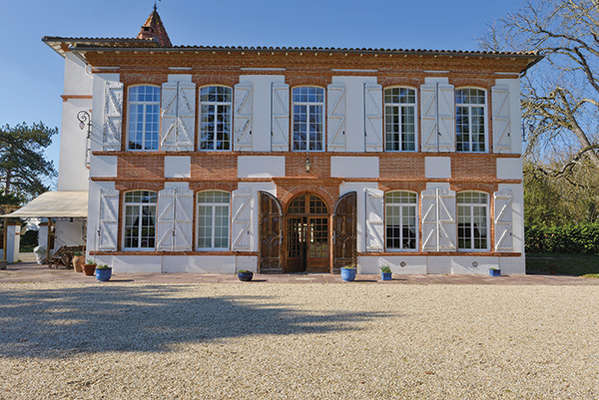 Near the centre of Montauban, this late 18th-C. residence offers total living space of over 470 m2. 795.000 €. ABI Agence Bourdarios Immobilier (05 63 66 99 66).
A mainly rural area comprised of both plains, plateaux, hills and gorges, Le Tarn-et-Garonne proposes extremely varied bucolic scenery. Renowned for its wine and appreciated for its mild climate, its built-up areas are rather limited : Montauban, the largest town in the département with close on 60,000 residents, is followed by Moissac and Castelsarrasin, both with slightly less than 15,000 inhabitants, while the other communes all accommodate less than 10,000 people. Even so, Le Tarn-et-Garonne, crossed by the A20 and A62 motorways and criss-crossed by an efficient rail network, is far from isolated. Benefiting from the proximity of Toulouse, it will also see an important change with the arrival of the LGV from Bordeaux to Montauban (scheduled for 2022).
Charles-Henri Bourdarios, manager of ABI Agence Bourdarios Immobilier based in Montauban, is looking forward to this new rail connection : "It will certainly have a positive impact on the price structure in the département and predestines Montauban and its nearby area to become an extension of the suburbs of Toulouse". The agglomeration should then become a "market of opportunities", especially for "those confronted by the high prices of properties in Toulouse", as those practised in Le Tarn-et-Garonne are "two or three times less expensive". Focusing on the middle and upper end of the market, Charles-Henri Bourdaios recently sold two town houses with gardens and garages in the lively neighbourhood near the station : "The first of 80 m2 priced at 168,000 €, the second of almost 100 m2, at 174.000 €". Prices of building plots in Montauban start at 60,000 € for 700 to 800 m2. "On the outskirts, plots are at least 1,500 m2 and cost around 45,000 €." The surrounding countryside is, however, currently ignored by potential buyers : "Demand mostly centers around properties in the town or in its immed­iate proximity, due especially to limited transport facilities".
Régine Raphel Paris, manageress of Guy Hoquet l'Immobilier, an agency also based in Montauban, covers an area stretching as far as Montech (to the south-west), Lafrançaise (north-west) and Nègrepelisse (north-east). She confirms this preference for urban convenience. "The town centre, which has been fully rehabilitated, is becoming more sought-after with each passing day." Here, the price per sq. metre for desirable apartments ranges from 1,400 to 1,800 €. "It can even attain 2,000 € for outstanding properties." The heart of the town also has "Toulousaine" houses, "properties which are especially highly-prized despite their prices". One of her most recent transactions, "completed in just ten days", was in fact a house of this kind, with living space of over 300 m2, a garden and double garage, priced at 475,000 €. Otherwise, the Montauban neighbourhoods of Lalande, Pomponne and Le Petit Versailles "are in steady demand", and the first ring around the town "still has a lively market for recent 3-bedroomed houses priced between 170,000 and 180,000 €". Very affordable prices, which suit a clientele of first-time buyers and retirees, usually coming from outside the area.
Jane Smallwood, manageress of L'Agence l'Union, is based in Saint-Antonin-Noble-Val, a medieval village with about 900 residents 40 km east of Montauban (2,000 inhabitants on the entire commune). Specializing in properties of character, she has a clientele both French and foreign (mostly British, Australian, American and Belgian) willing to consider properties beyond the boundaries of the département. A very different tourist zone : "Prices vary here from 50,000 € for a village house without a garden, to 1.5 million euros for a château. Between the two, one can find country houses of about 250 m2 in 6,000 m2 of grounds, for 500,000 €". By way of example, an old stone house offering this same surface area, a swimming pool and "pigeonnier", which recently sold for 499,000 €. Apartments here are extremely rare. The most highly coveted home is an old stone property "close to villages and shops". Such as one of 350 m2 in proximity to Saint-Antonin-Noble-Val, set in 5,000 m2 of grounds, recently
snapped up for 305,000 €.
You will also like