Le Tarn, a mixed bag of offerings
Bordering L'Aveyron, L'Hérault, L'Aude, La Haute-Garonne and Le Tarn-et-Garonne, this "département", composed of the dioceses of Castres, Albi and Lavaur, is home to almost 370,000 people. The area, which already has over 7 % of holiday homes, can claim many attractions, including an Episcopal City which became part of UNESCO's World Heritage in 2010.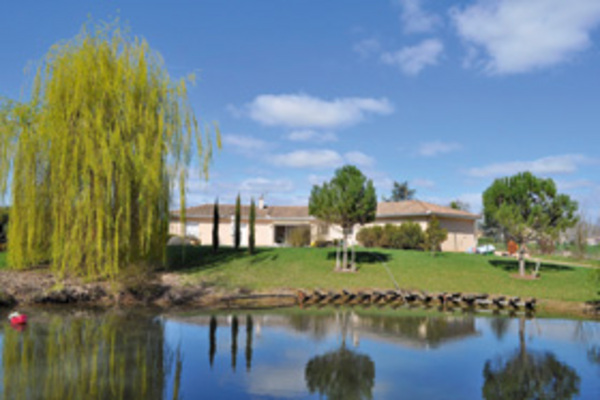 This house is comprised of a lovely living-room, a study and three bedrooms in mature grounds with a pool and lake, not far from shops and the motorway. 400.000 €. Barthe Immobilier Gaillac (05 63 57 03 21).
The Tarn Valley winds its way through the plains : the centre of the "département" gives pride of place to small valleys, while the south finally comes up against the Montagne Noire. Visitors seem to like the varied scenery, the richness of its architectural heritage and the array of savours proposed by its colourful cuisine. If the primary and secondary sectors of its economy are active, it is also worth mentioning the Laboratoires Fabre and the glassworks of Albi which, together with Castres, boasts the region's densest concentration of shops, as well as university outposts. Tourists appreciate the fortified villages, churches and castles, communes characterized by red brick to the north-west and stone to the south, the Toulouse-Lautrec, Goya and Jean-Jaurès Museums, the listed Pont Vieux in Graulhet, the Saint-Alain Cathedral in Lavaur and renowned wines from Gaillac. The "Circuit des Bastides" highlights Castelnau-de-Montmiral, Cordes and Lisle-sur-Tarn, while municipalities such as Brassac, Ferrières, Lacaune and Mazamet tell the tale of the Wars of Religion. Sports enthusiasts dispose of 3,500 km of itineraries devoted to hiking, horse-riding or cycling, golf-courses and water sports. The Cap'Découverte multi-leisure centre covers an area of almost 620 acres near Carmaux.
"Here in Albi, demand is strong, though prices have not risen significantly," says Bruno Maurel, who manages an agency in the capital of the Tarn, Pacfa Immobilier, and another in Castres, P&B Patrimoine. Values in the episcopal city were upheld in the past by the motorway factor ; today they are benefitting from recent classification of its old neighbourhood as part of UNESCO's World Heritage. Situated near the cathedral, the agency notes a significant proportion of enquiries for the historic heart of town on the part of French retirees, ready to pay from 250,000 to 400,000 € for more or less prestigious apartments with 4 main rooms. Other buyers set their sights on houses in the centre. An example of 150 m2 with a small garden costs 250,000 €. Forced to move away from the protected inner area, local buyers are more inclined to pay from 120,000 to 200,000 €. With the exception of a few workers transferred to the town, Castres is solely of interest to the locals. For comparable housing, it posts prices 20-25 % lower and does not offer many properties of the same quality as traditional examples at the heart of Albi. Never-theless, the market is holding up and could progress in coming years, thanks to the construction of a stretch of motorway making Toulouse accessible in less than an hour. Even so, Bruno Morel is not expecting a massive influx of buyers from the Rose City : he bases his hopes more on the employment pool to be found in the southern part of "département 81".
"Compared to those observed in Gaillac, Albi, Lavaur, Saint-Sulpice and Rabastens, the appealing prices posted by Graulhet and towns on its periphery tend to be their most persuasive arguments," says Didier Mornas of Laforêt Immobilier. The disparity - explained by the fact that Graulhet has no train station and is slightly further away from the motorway -, is particularly noticeable in the case of building land. Plots can be up to 50 % cheaper, even though these two areas are sometimes only 8 km apart. First-time buyers, young retirees and employees transferred from Toulouse acquire building plots from 20,000 to 45,000 €, whereas houses range from 60,000 to 200,000 € - the price required for a middle-class property of 180-200 m2 in good condition in grounds of 1,000 m2 without a pool. Fans of new homes pay 150,000 to 180,000 € for bungalows of 120-140 m2. The market is active up to 200,000 €. Yet this region, equidistant from all the towns in the "département", also offers some desirable properties, opportunities not to be missed at around 350,000 €.
"Whenever people talk about Gaillac, they inevitably mention its high-quality amenities. It offers a choice of schools from kindergarten to BTS, cultural and sporting facilities, shops and services for everyday needs. With the forest of Grésigne and the "circuit des bastides", it is also attractive to tourists," says Brigitte Barthe of Barthe Immobilier. Again quite numerous in the bracket below 200,000 €, potential buyers work on site or, more generally, in the greater South-west. With main roads nearby, they reach Albi in 15 minutes, Montauban and Toulouse in 30 minutes, or Castres in 45 minutes. Among her latest sales, Brigitte Barthe mentions a property of 500 m2 in a park of about 7.5 acres with a swimming pool, acquired by a couple of Parisians for 600,000 € in anticipation of their retirement : they intend to enjoy it to the full with their family before possibly transforming it into a guest-house. Seniors from outside the region invested 340,000 € on a renovated town house of 200 m2, opening out to a garden. A couple of local buyers working in the prefecture of Le Tarn and Haute-Garonne paid 250,000 € for a 5-bedroom house in grounds of 3,000 m2 in the country, not far from the motorway. Recently, British clients acquired a restored 3-bedroom house built of white stone for 315,000 €, on the plateau of Cordes.
You will also like