Le Pays de Gex, a market in its own right
Lying in the midst of luxuriant landscapes between the Massif du Jura and Lake Geneva, Le Pays de Gex offers immediate proximity to the border with Switzerland as its N°1 feature. This strategic location endows its with a unique and persuasive argument.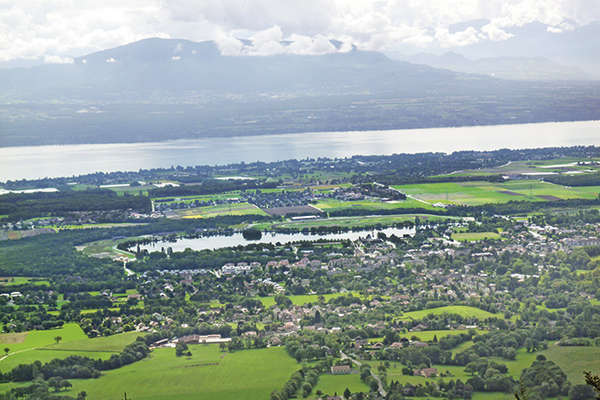 Lying between the Massif du Jura and Lake Geneva, Le Pays de Gex benefits from a strategic location at the gateway to Switzerland.
Mostly turned towards the agglomeration of Geneva, the flagship communes of Le Pays de Gex - Ferney-Voltaire, Divonne-les-Bains, Saint-Genis-Pouilly, Gex, Ornex, Thoiry, Prévessin-Moëns - benefit from efficient urban planning. Following a wait-and-see period resulting from the implementation of reforms concerning people working across the border ("frontaliers"), the property market is clearly picking up. Especially as the CERN, one of the world's largest and most prestigious science laboratories, extending in particular over the communes of Saint-Genis-Pouilly and Ferney-Voltaire, is seen as an international hub of excellence, which naturally boosts the property market.
"Rather disparate, the property market in Le Pays de Gex nevertheless has a few constant factors," explains Gilles Corbet, manager of the Agence des Damiers. "The communes closest to the border are in the highest demand and thus the most expensive. Mainly living off its "frontaliers", Le Pays de Gex attracts a clientele with high purchasing power. Faced by steady demand, numerous communes have welcomed new developments, pegged at around 6,000 € per sq. metre. This strong advance on the part of new apartments has taken with it the prices of older housing whose popularity has risen. The concept of "market price" has thus been forgotten by sellers, many of whom now over-estimate their property's value. The result is an offering comprised of over-priced properties which stay for a very long time on the files. In general, the market is averse to any suggestion of lower prices due to the unique structure of the region. The most frequent type of demand is for detached houses of 90 to 100 m2 with gardens of 400 to 500 m2. They start from 450,000 €. However, most of the properties we sell cost around 600,000 €. The most substantial examples start from 800,000 € and can easily exceed 1 million euros." The most highly-prized communes are Saint-Genis, Ferney-Voltaire, Prévessin and Thoiry. With its infrastructures dedicated to high-end leisure activities (casino, hippodrome, thermal spa...), Divonne is a micro-market which appeals in particular to Middle Eastern clients. Prices here are 20 % higher on average than those posted in neighbouring communes.
Active in Le Pays de Gex and Upper Savoy for about 15 years, Aquarelle Immobilier proposes 2 or 3 developments per year, ranging from detached villas to timberframe properties, homes of recognized quality and a concept of construction giving priority to top-notch insulation for unequalled comfort matched by well-controlled energy consumption. "In Divonne-les-Bains, demand for new houses is very steady, though the properties available do not always meet the expectations of buyers, who are mostly "frontaliers" and investors," says Anaïs Boudiaf, negotiator for Aquarelle. "We are currently launching commercialisation of four houses in a quiet wooded environment a few minutes from the centre of Divonne, the customs and the motorway. Offering living space of 154 m2, these 5-bedroomed villas all on one floor come with gardens of about 730 m2 and are designed for family living. Each house can be personalized to meet the buyer's taste and lifestyle. Priced from 699,000 €, they are scheduled for delivery in the spring of 2017." As Aquarelle has already built properties in Divonne, potential clients can visit them to judge the quality of their construction in situ. "Our properties offer excellent value for money and are really competitive as compared to the market for older homes," adds Anaïs Boudiaf.
You will also like