Le Morbihan, the southern part of Brittany
From a wild coastline to luxuriant forests, surprising menhirs to flower-flanked canals, inland countryside to the islands in the gulf, all these authentic landscapes steeped in legends beckon to French retirees while offering their residents a life-style of genuine quality.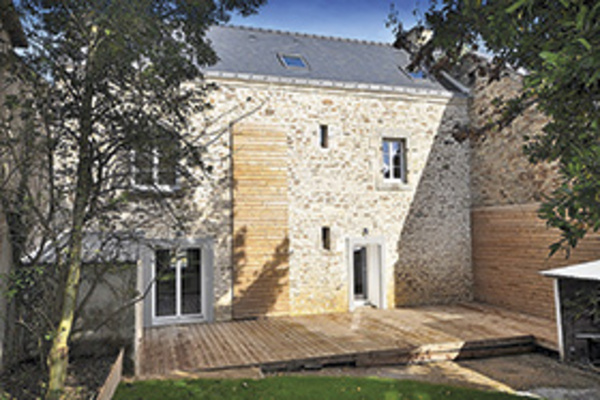 A few minutes from the centre and amenities of Vannes, this fully renovated town house offers six main rooms in a fenced and wooded garden of 310 m2. 338.000 €. Turpin Immobilier Orpi (02 97 47 46 61).
The "département" of Brittany covers an area of 6,823 km2, shared by 716,200 people. Neighbouring on Le Finistère, Les Côtes-d'Armor, Ille-et-Vilaine and Loire-Atlantique, Le Morbihan is the most densely wooded part of the region and the least involved in agriculture, even though 57 % of its territory is devoted to cultivated land. Counting the islands in the gulf - 42 in all -, it boasts a coastline 800 km long. It makes its living from agriculture, fishing, oyster farming, tourism in particular and the service sector in general. Its main commercial centres are Lorient, Vannes, Auray and Pontivy. The population is mostly concentrated on the coastal strip. In 2008, almost 20 % of its accommodation consisted of holiday homes.
"Vannes, a prefecture with 52,700 residents, takes the form of an amphitheatre facing the Gulf of Morbihan," says Eric Turpin of Turpin Immobilier Orpi. "Sheltered by its ramparts, the pedestrian old town is laid out around the Saint-Pierre Cathedral. Very attractive, just like the yacht harbour, it brings in many visitors. And let's not forget that this is the main town in the urban area in the southernmost part of Brittany. Vannes in fact often finds itself competing with La Rochelle among seniors wanting to live out their retirement on the coast." Parisians account for 12.5 % of those looking for old apartments, 18 % for new ones, versus 14 and 18 % respectively of French clients from outside the "département". Among today's buyers, locals represent 50 %, over 60 year-olds 31 %, and under 30 year-olds 12 %. Apartments cost 2,100 €/m2 on average, ie. a budget of 115,000 €, whereas houses, acquired 80 % by local buyers, cost close on 270,000 €, a sum bringing living space of 110 m2 built in the 1980's, with a garden of 400 m2. Prices for older accommodation are declining, with buyers showing a preference for practical and comfortable residences with lifts and terraces. The centre and harbour are the most highly-prized addresses. New developments here post prices ranging from 4,500 to 5,000 €/m2. The plateau of La Garenne and the Albert-Ier neighbourhood offer homes of character up to 600,000 €. In the first ring around Vannes, a building plot of 400 m2 costs from 80,000 to 100,000 €; with the cost of construction at around 1,500 €/m2, the undertaking thus requires a total budget of 260,000 €. For the same amount, the client could obtain a Nantaise house built in the 1950's to 1960's ("Nantaise" implying a living-room on the upper floor), within the town walls and in need of some refurbishment. Recently, after 15 other visits, one couple opted for a home of this kind priced at 300,000 €. Longer lead times for sales are explained by rising stocks of available properties. Fin­ally, there is an active market in rental investments, often acquired by clients looking forward to retiring on the coast. Yield is about 4 %, though the acquisition is mainly seen as a sound long-term asset. Up to 350,000 €, this market is lively, largely stimulated by historically low interest rates. Beyond that level, activity begins to slow down.
"Questembert, a commune in the country benefitting from a train servce, is 15 km from the ocean and 28 km from Vannes, at the crossroads of the dual-lane carriageways heading towards Nantes and Rennes," says Anthony Juhel of Proximmo Immobilier. It offers two primary schools, two intermediate schools and a secondary school, shops and associations appreciated by local families and retirees, as well as buyers from outside the region looking for supportive community links and friendly neighbourhoods. Its 7,320 inhabitants mostly work in Vannes, reached just as easily by road as by rail. Accommodation here is 30 % cheaper than in the prefecture, 15 % cheaper as compared to prices in the villages closest to the coast. A 4-bedroomed house of 110 m2 with a garden of 600 m2 and a garage, on an estate, costs about 180,000 € net to the seller, and drops the further one gets from the town. This type of property has its fans, unlike apartments, which are currently seeing very few sales. The high number of retirees explains transactions paid in cash, ie. with no need for a mortgage.
Colette Sinic and Jean-Pierre Josse of Project'Immo cover the region around La Ria-d'Etel, a "community of communes" on the coast between Lorient, the Quiberon peninsula, Carnac and Vannes. Belz, Etel, Locoal-Mendon and Erdeven are home to 12,000 residents. Estate-agents talk about a transitional period and recommend a certain distrust of national statistics, much less pertinent than an analysis based on individual sectors. They put the market's current sluggishness down to the tense economic context, but also to overkill by the media. In high demand until a few weeks ago, building land is now suffering from the switch to the RT 2012, which will mean a rise of 10-15 % in construction costs. Meanwhile, the market for holiday homes is doing relatively well. Among their latest sales, the managers of Project Immo mention an unusual house of 123 m2 in perfect condition, with a garden of 675 m2 but no garage, acquired by a Parisian client for 310,000 € without any bargaining, and after being on the market for only two months. Building land posts substantial disparities in terms of prices, depending on addresses and mains connections. Under these conditions, it's not easy to lay down a clear pricing schedule. By way of example, an enclosed and wooded plot of 1,213 m2 in Erdeven, which can be connected to the main sewage system, has just found a taker at 120,000 € (98 €/m2), whereas small serviced plots cost 175 €/m2. Year-round homes account for 60 % of sales. Most buyers work in Auray, a 10-minute drive away, in Lorient or Vannes, 20 to 25 minutes away.
You will also like